Ragamuffin-Loyal second home
Ragamuffin-Loyal came home second in the Rolex Sydney Hobart, almost five hours behind the record breaking Wild Oats XI, after gear damage hampered the defending champion's bid to win. The crew pumped their fists in the air and shared elated hugs as they passed the Rolex finish buoys at Hobart's Castray Esplanade at 1208 AEDT, surrounded by thousands of fans.

Speaking from Constitution Dock, skipper Syd Fischer said it was an "unfortunate" finish after the team so dramatically defeated Wild Oats XI by three minutes and eight seconds last year.
"We had a bit of trouble," the 85-year old said after finishing his 44th Rolex Sydney Hobart in one day, 23 hours and eight minutes and 44 seconds. "We're new to the boat, we've only had it two months. I think we did pretty well. The boys pushed the boat really hard, it's just unfortunate that things broke or went wrong."

The team damaged headsail gear on the first night of the race, which meant they couldn't fly their biggest sails for the remainder of the race.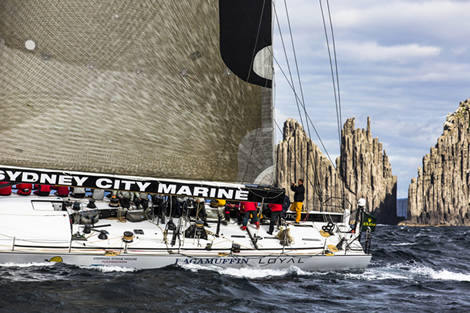 Navigator Andrew Cape said tactically it was a challenging race and commended Wild Oats XI on setting the new race record of one day, 18 hours, 23 minutes and 12 seconds. "We didn't have a lot of time to prepare and Oats did a great job,'' he said. "A bit more time with the boat, and a bit more time with the equipment we would have been a little better, but that's not how it was."

Olympic silver medallist Geoff Huegill said it was incredible surfing down waves at speeds in excess of 30 knots in his second Rolex Sydney Hobart. But, he admitted it was more challenging than swimming. "At the start of the race there was a comparison there between getting up behind the blocks and doing the Hobart,'' he said. "The upside to getting up behind the blocks is that my race is over in 50 seconds. Learning to pace myself is one of the biggest things I've had to learn."

After finishing Ragamuffin-Loyal was cleared of any wrong doing for jumping the start on Boxing Day. The International Jury ruled that Ragamuffin-Loyal was not at fault when she failed to restart after crossing the line early. They found that race officials failed to notify Ragamuffin-Loyal after five minutes that they had jumped the start, leaving the crew unaware that they should return and restart. With the crew facing virtual disqualification if the jury had ruled against them, Ragamuffin-Loyal's David Witt said, "justice has been done". The Race Committee brought the redress action to the International Jury on behalf of Ragamuffin-Loyal.
Continuing on the race course is the battle to secure the final piece of silverware, the Tattersall's Cup, for the overall IRC handicap winner. Still on track for this are Quest, Calm, Loki, Jazz and Shogun, but Wild Oats XI is looking set to repeat her 2005 treble and claim the line honours, the race record and the overall win.
Meanwhile, the crew on board Calm is hopeful they can claim the overall win and upset Wild Oats XI's bid for another treble. Meanwhile, skipper of Calm, Jason Van der Slot is banking on a south-westerly change to drive home his team's hopes for an overall victory.

The TP52 must finish before 0131 hours AEDT tomorrow if the crew is to have a chance of claiming the Tattersall's Cup, which is awarded to the handicap winner. The team's ETA is currently around 0330 hours, but Van der Slot reckons they'll pick up pace as they edge down the Tasmanian coast. "We're quite comfortable at the moment,'' he said. "Loki and Black Jack are probably about 30 to 40 miles in front of us now, so we think we've got that covered.

"With regards to say Wild Oats XI, if the southwester comes in around Tasman Island we can get some speed up and we might be able to grab hold of those and have the outright handicap honours. At the moment we're just sailing as we normally do. It's not playing on our mind at all. We're just trying to keep boats that are around us and behind us simply at that; behind us and around us."

Lahana and Black Jack are positioned third and fourth respectively and are expected to reach Hobart's Constitution Dock after 2000 hours tonight. 71 boats remain at sea.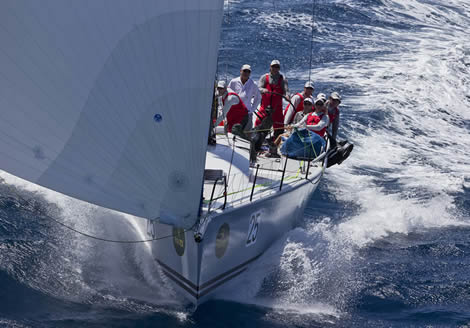 Back to top
Back to top