Second generation Mini sailor
A story to follow in 2013 will be that of new Artemis Offshore Academy recruit Nikki Curwen as she takes to the Mini. For Nikki is a second generation sailor to take to the pint-sized 21ft long ocean racers. Her father Simon still holds the accolade of being the UK's top placed finisher in the Mini Transat, when he came home second overall in 2001 (beating Mark Turner and Alex Bennett's fifth-places in 1997 and 1999 respectively), a record that remains unbeaten.
The Curwens have been sailing-mad since before Nikki was born, both in dinghies and keelboats. Nikki, the middle of three daughters, reckons that pretty much from the moment she was born she was being taken out in the family boats. In her own right, after some sailing courses in Oppies, she began racing aged 8 with the Cadet fleet on Frensham Pond, close to where they lived just outside Farnham in Surrey. She remained in the Cadet fleet for seven or eight years first crewing and then helming.
Nikki was 10-11 when her father undertook his highly successful year-long Mini campaign and the family would occasionally come out to the various events. The Christmas before the Mini Transat their family holiday was in Barcelona, coinciding with a Mini qualification event as well as the start of The Race. As a result Nikki spent her teenage years with posters of the PlayStation and Club Med maxi cats adorning her bedroom walls.
The family went to see dad off at the start of the 2001 Mini Transat and subsequently followed his exceptional progress in that race. It came as some surprise that an amateur sailor coming from a Sigma 33 and Fireballs, should beat seasoned pros such as Sam Davies and Brian Thompson, only losing the race to future Vendee Globe skipper Yannick Bestaven. As Nikki says of her father: "He can just jump in the boat sail it fast and do well still, which is frustrating."
Fellow competitors, Sam Davies and Brian Thompson, have since become family friends, whose subsequent careers up the solo offshore racing ladder Nikki has followed with interest.
Aged 17, Nikki grew out of the Cadet class and while she continued to tinker in dinghies, sporadically sailing 420s and 29ers, she says she mainly raced on the family keelboat. By this time, having returned from the Mini, her father had graduated up from a Sigma 33 to a more racey J/105. While he used to (and still does) mainly sail Voador shorthanded, the boat competes fully crewed in the Hamble Winter Series and the J/105 Nationals, occasions when Nikki would get to sail on board. However she also did her first doublehanded races with her father at the tender age of 14-15, although she admits that then she was more of a passenger and didn't really enjoy it.
Typically her father would race doublehanded with his fellow former Mini Transat competitor Paul Peggs in major events such as the Transquadra and the Royal Western YC's Shetlands Round Britain and Ireland Race. It has only been in the last two or three years that Nikki admits she has started to enjoy shorthanded offshore racing herself. Conveniently this has coincided with Paul Peggs retiring and moving to France, so the opportunity has arisen for her to sail on Voador more and last year she and Alex Adams, her former Cadet helm (turned Moth sailor, Vestas SailRocket shore crew and also a regular Voador crewman) got to race her without paternal guidance doublehanded in the Rolex Fastnet Race.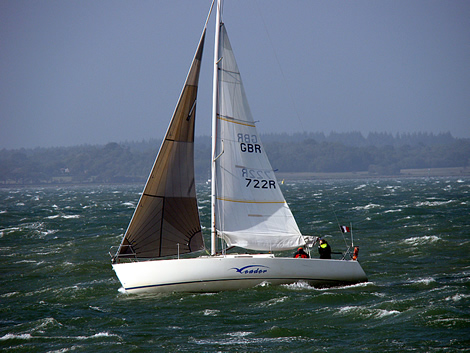 Photo: David Ballantyne
Off the water since leaving school Nikki has completed a degree in Interactive Media Production at Bournemouth University, graduating last year and has since been living in Bournemouth where she has been working for a company that makes games.
Aside from the influence of her father, the prospects of joining the Artemis Offshore Academy emerged in its first year, 2010, at which time Nikki was part of the British Keelboat Academy in Cowes. That year she raced at Cowes Week on one of the Artemis Figaros and enjoyed it so much that she was enticed into taking part in the inaugural Artemis Offshore Academy selection trials in the autumn. The AOA she says was much more in line with her goals. While the BKA was all solid, useful training, she admits that inshore around the cans wasn't her preferred type of racing – she wanted to go offshore.
Over recent years she has been carrying out this objective. In addition to the Rolex Fastnet Race, she competed in the RORC's Sevenstars Round Britain Race in 2010 while this year she raced Voador singlehanded in the Solo Offshore Racing Club's Solo Channel Week, coast hopping from Lymington down to Falmouth and back. "It was great fun. I finished eighth in the end and was first rookie. It is a very good fleet – you can learn a hell of a lot from them. I definitely did," she says.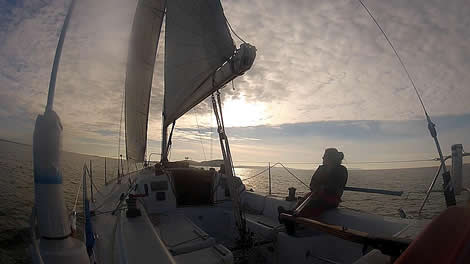 One of the highlights of her 2012 season was winning the RORC's Myth of Malham race doublehanded with her father, a grunty heavy air race in which Voador was first among just three finishers. "Neither I nor my father wanted to be the one to chicken out first!" she says as to why they started. However despite seeing more than 40 knots in the Channel on the way down from the Solent to the Eddystone lighthouse off Plymouth and on one occasion being face planted in the cockpit, Nikki says she fully enjoyed the experience. At one point their J/105 hit 17.5 knots. "I'm not sure I've ever smiled so much before in my life – but only once it had been confirmed that the mast wasn't going to snap!" she reported.
While she wasn't accepted into the AOA in the first year, this year she was. The Academy was also set-up slightly different back in 2010 while now it is better equipped to deal with those still studying. As Nikki explains: "There are nine of us in the squad now. There are four of us who are full time and the rest are part time, whether they are at uni or doing other things. They can jump in and out as and when they can."
At the selection trials in September Nikki says that she came out best in the sailing, while general fitness was her weakest area. "I have lots of training to do there. I think we'll have fitness sessions early on and get a program to suit us."
The significant difference to the other AOA recruits is that this season Nikki will be sailing the Academy's Mini rather than one of their Figaros. "That is what I wanted. During the trials we had interviews and I was angling for the Mini rather than the Figaro. The Mini Transat seems more of an adventure and more of a survival race, which appeals to me. It is back to basics, you lose your computers and everything – Voador has none of that on board, so it is how I have grown up sailing."
In terms of work, she resigned from her job at the beginning of October and having rented her flat out has since moved to Cowes. Despite the possibility of being part time at the Academy, Nikki reckons that there is no point in doing it half-cocked. "You get out of it what you put in and it is quite a short time scale. I don't think they are expecting me to get to the start of the Transat, but it is the cherry on the top if I do. So doing it full time is the only way to make it achievable."
So now she has taken up Mini sailing she will no doubt have one proud father. "He is getting quite exciting to go sailing on a Mini again, if he is allowed to," Nikki says. She will be sailing the Artemis Offshore Academy's Pogo 2, originally Peter Laureyssens' Series class Mini Transat winner in 2005, subsequently campaigned by Ollie Bond and then by Becci Scott, within the Artemis Offshore Academy.
Training has already started. During November the Academy was in Cowes carrying out foundation work. This comprised a combination of safety training, VHF, Sea Survival First Aid, familiarisation with NKE instruments and autopilots, Adrena navigation software, etc. It has also covered sports psychology and fitness with the rest of the time spent on the water working on boat handling. The Academy students also visited Marlow for a day's training in rope work, splicing and rigging and had a day with Spinlock familiarising them with rope holding and safety equipment.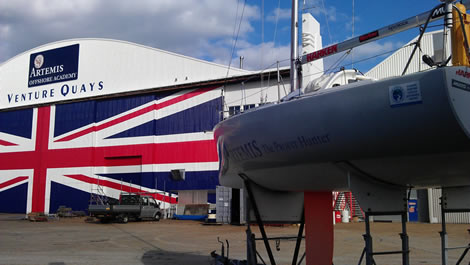 While the Academy's Figaro sailors have since decamped to La Grande Motte in the south of France, Nikki has her own Mini-orientated program. At present the boat is in Cowes being refitted near the OC office in Cowes' Venture Quays, where it is having a full electronics upgrade. But Nikki's training in 2013 will be with the Mini fleet out of the submarine base in Lorient where she will be heading in January. "The idea is to go over to Brittany and try and join in with that and get involved with the other French Mini sailors out there and join in and embrace the French life," she says.
Getting into the Mini Transat we understand is a little easier these days than it was a few years ago when pretty much from the moment the entry list opened at Paris Boat Show, the December before the start, late arrivals had to go on a waiting list. Last week when the entry opened it was just over half full (Nikki was one), and it has since filled to capacity with the usual waiting list. However the waiting list isn't as big and in these hard economic times the prospects of a late entry do seem to better now than they were four or six years ago.
However qualifying for the Mini Transat, which starts next year on 13 October from Douarnanez (ie no longer La Rochelle) will be no mean feat, requiring as ever 1,000 miles to be sailed in races (including one of at least 500 miles) and a 1,000 mile non-stop solo passage. To get qualified in time Nikki will have to jump in at the deep end and take part in early season events - either the 100 mile Mini Golfe out of La Grande Motte (convenient as it is where the rest of the AOA is training) or a more ambitious program in Italy including the 190 mile Roma Mini Solo and the 540 mile Gran Premio d'Italia started in Genoa.
The Med events will then be followed by two races in the UK, the UK Solent and the UK Fastnet, followed in June by the Trophee MAP and the Mini Fastnet back in France.
Whether she gets to compete in the Mini Transat will also depend on how she gets on this season. As John Thorn, Performance Director of the Artemis Offshore Academy, states: "Her prize is the Transat at the end of the season, but that is very much a performance-based decision and only if she gets qualified and there are places."
At present her contract with the Artemis Offshore Academy only lasts for one season and it seems that at the end of this year she will either be replaced if a suitable candidate comes along or will stick with it for another year. As Nikki states: "It makes sense to get a new person in next year so that they have two years to train for a Transat rather than one year. It is a bit out of balance at the moment."
Nikki is a Curwen and despite this being her first year in the Mini hopefully we can expect the Artemis Offshore Academy to jump start her progress, with her father no doubt offering the benefit of his wisdom on the way. No pressure or anything then.
Back to top
Back to top