Christmas paddle
Pete Goss has today announced his latest adventure – to paddle a sea kayak around Tasmania. He will be joined by his friend and fellow adventurer Andy Warrender. Setting off on or after the 29 December 2012, the intrepid pair will paddle anticlockwise approximately 1500km around the island.
Starting from Devonport in Tasmania, the circumnavigation should take up to two months. Although Pete is a relative newcomer to kayaking, Andy has been undertaking kayaking adventures for years including being a member of the first team to paddle the return trip to St Kilda from the Outer Hebrides. He also joined Pete on previous escapades including a trip to the North Pole and the Gore-Tex Arctic Challenge, when they drove two 6-metre RIBS from Scotland to the Arctic Circle.
That experience should stand them in good stead as they tackle some tricky conditions. The island state of Tasmania sits on the south east corner of Australia, with approximately a third of its coastline facing the notorious Bass Strait and another third directly exposed to the Southern Ocean.
The project is supported by the Gore-Tex brand which has provided the very latest in high-tech breathable and protective clothing, including bespoke drysuits. Now retired, Andy Warrender was the business leader who guided Gore Fabrics to being a global leader in comfortable and protective clothing and footwear.
While Andy and Pete will predominantly use paddle-power, they will be carrying all their camping gear and provisions with them so will need all the help they can get to make the voyage. As you might expect from such an experienced seafarer, Pete has designed an innovative sailing rig that can be hoisted on each kayak to give the pair some wind assistance when conditions allow.
Pete, 51, says that the trip is something he has wanted to do for a while: "Many of my previous adventures have been non-stop and I have often wished I had the time to explore places properly. Tasmania is a beautiful island with a varied and exciting coastline. There can be no better way to get close to it than in a sea kayak and I also want to test the sailing rig too."
Andy, 52, says that his inspiration for the trip came from a family holiday in 2004 spent touring the coast of Tasmania and wishing he had a kayak. Andy said: "I told Pete about the idea and he was hooked as he had been there during the British Steel Challenge, as well as having dropped Raphael Dinelli off after his Southern Ocean rescue during the Vendee Globe race 2006/7. We both felt drawn to the adventure it had to offer."
Asked if adding a sail to a kayak made it less authentic, Pete said: "We are making no claims and are not trying to break any records. Some of the earliest kayaks had sails and many sea-kayakers have experimented with adding them. We are just taking the design further, using Andy's kayaking knowledge and my sailing experiences. If technology from other disciplines and innovation can improve a design and make life easier, I say 'why not'?"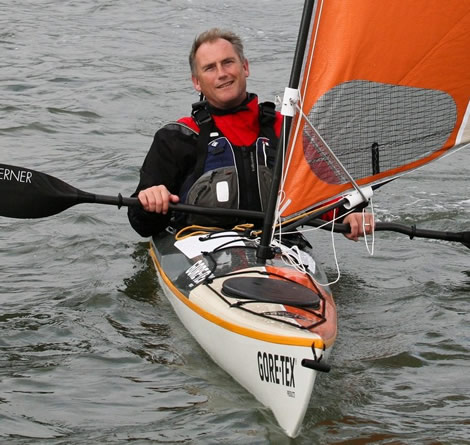 Back to top
Back to top