Alex Thomson in the South Atlantic
Friday November 23rd 2012, Author:
James Boyd
, Location: none selected
We have to keep fingers and toe crossed for Hugo Boss skipper Alex Thomson over the next few weeks, but his performance so far in this Vendee Globe has been exceptional. After the repeated catastrophies of the last few years, from his collisions before and after the start of the last Vendee Globe, to the appendicitis that puthim out of the last Barcelona World Race, Thomson has resolutely stayed in the lead group so far in this Vendee Globe and significantly among the top six, Hugo Boss is the only older generation boat.
"It is fast enough when it is reaching, but there are definitely some areas where I'm slow," Thomson told us yesterday. "I had Bernard [Stamm on Cheminees Poujoulat] next to me off Finisterre and he was significantly faster than me downwind in that breeze. Then we reached into the middle of the ridge and crossed into the low, then in the last of the low I sailed alright and I had some really good daily runs and sometimes I was catching them. I think that was down to sail selection - I think I am carrying some sails that they're not. And then into the Doldrums it was a bit of a lottery, it was about playing the clouds and working hard. Then as soon as we came out of the Doldrums, those guys just off they went, fast upwind and I couldn't match their pace. But now we are still upwind and not too strong, I am able to match them again.
"If someone said to me before the start that I'd be in this position after the Equator, I wouldn't have believed them to be honest..."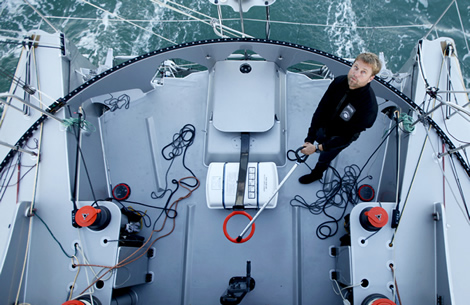 Currently the front runners are fetching across the southeast trades in the northern part of the South Atlantic as they attempt to analyse the weather ahead, which is still looking more complex than they'd like. "We'll be on the wind or very tight fetching for some time now. It is still not clear how to get past the St Helena high. Initially it looked that maybe there was a go-fast long way around the corner, but it is not that clear at the moment. So most of us are staying pretty much on the wind and monitoring what is happening and will make a decision further down the line.
"At the moment – to get to Gough Island (a new mark of the course for this race, which they have to leave to starboard) you are having to run the routing for over a week, so it's not very reliable. And if you draw a direct line from here to Gough Island you'll cut the corner, but the problem is that most of it is on the wind or tight fetching, so it is not fast."
Generally the reliability of Thomson's latest Farr-designed Hugo Boss, which raced the last Vendee Globe as Seb Josse's BT, has been good, the only problem being one of his two hydrogenerators developing a vibration that was so violent that it ripped off its bracket in the process breaking the link-arm on the transom between the tiller and the port rudder. Since then Thomson has gone into boatbuilder mode and relaminated the broken link-arm. When we spoke to him he had repaired the bracket for the hydrogenerator and was hoping to have this back up and running today.
Repairing the hydrogenerator is pretty vital. With no power input from the hydrogenerators, Thomson reckons he has fuel to get him halfway around the world if he is frugal (he has no other form of power generating back-up). "This is very important: If I can't get this hydro running, I am going to have a fuel issue or I am going to have to start swapping hydros from one side to the other all the time which will be a pain in the arse." Fortunately the hydrogenerator which came off looks to be working still, it is just the mount that Thomson has been having to repair.
As to why the hydrogenerator broke in the first place, Thomson says it developed a kind of destructive resonance after he had deployed it. This was to do with its propeller not feathering at it should and as a result developing too much torque.
Thankfully the rest of the boat is fine, which Thomson says is fortunate as he's been reasonably occupied making these repairs.
As to the high attrition rate so far in this race, Thomson says "to be honest, I think as I said before the start we are looking at 50% of the boats that start don't finish. Now maybe it could be more. The surprising thing is that it is less of the newer boats and more of the older boats. You have to remember that we've had two freak accidents with Kito [Groupe Bel] and Bureau Vallee [both being struck by trawlers].
"I was right next to Safran when her keel fell off. In fact I was actually looking right at the boat when the keel fell off. And as the boat heeled right over, I thought 'that's not a gust of wind, it looks like the keel hydraulics have failed or the keel has fallen off', but Marc [Guillemot] did a great job of dealing with it quickly."
Thomson also was the one who initially protested the boats that infringed the traffic separation scheme off Finisterre.
"In the race meeting the day before the start, there was some discussion about off Finisterre what rules apply and what would happen [if they were breached]. After the meeting the race organisers issued a notice saying that it was a traffic separation scheme and if someone was to violate it they were liable to be protested by the race committee or other boats and they might get a penalty. It was good that they cleared that up because at that corner it was an advantage not to obey the rules.
"It wasn't until half a day afterwards that I noticed that Jean le Cam and Jeremie Beyou's positions put them right bang smack in the middle of a shipping lane, going across it but not at 90°. So I emailed the race committee asking if the positions were correct and if they were correct – are you considering a protest? And they came back and said 'if you want to protest, you protest'. And then I emailed back and said 'can I have the position data of the other boats, because I don't know which boats sailed in there and which haven't - I'm guessing'. And they said 'no'. So I then protested and then half an hour after that the race committee protested. There was an advantage to not comply with the rules – I was with Bernard and we both gybed to make sure we didn't go into the TSS but other people didn't and they shouldn't do it."
So had Thomson not protested, one wonders if the race committee would have? Evidence would suggest not...
Thomson observes that in the Transat Jacques Vabre, the organisers put an exclusion zone for competitors around the TSSes off the Casquets and Ouessant and says that perhaps this should have been done in this race for the TSS off Finisterre.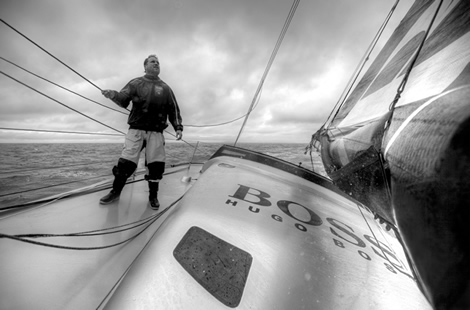 Aside from these issues, Thomson says it has taken him a while to get into the rhythm of the race. He has finally got rid of the bug that he left Les Sables d'Olonne with. "I am on my final day of antibiotics and hopefully that will be it. My cough was so bad at one point I was being sick and was unable to sleep. So it's good to shake that off.
"I feel like I am getting into the rhythm now. The first part of the race was really high paced and it was fast down the Atlantic and then into the Doldrums – they nearly killed me: 36 hours without any sleep, constantly working, very windy and a deluge of rain. It was too hot to wear oilskins, so I just got drenched. So it has only been after the Doldrums that I feel I am getting into the rhythm and I feel good. I am very happy with where I am for sure and happy the boat is holding out. It's 30°C inside, shorts and T-shirt, flying fish..."
More photos from Christophe Launay/www.sealaunay.com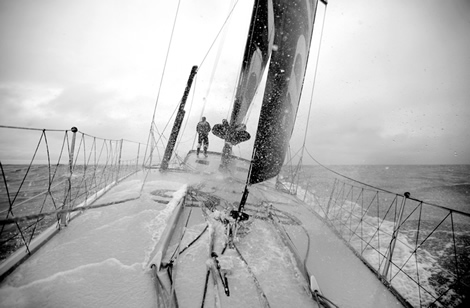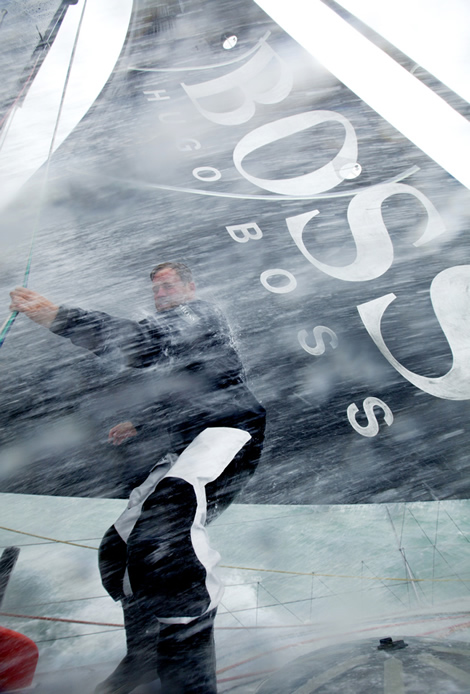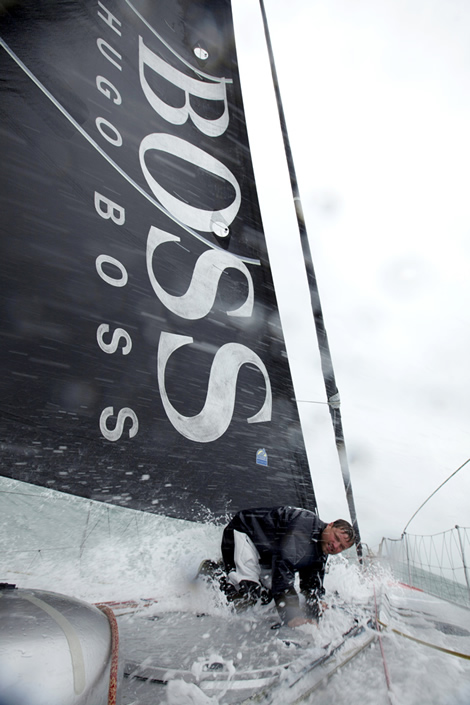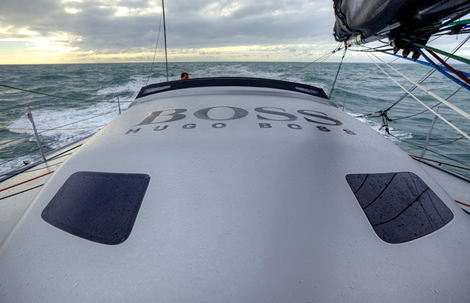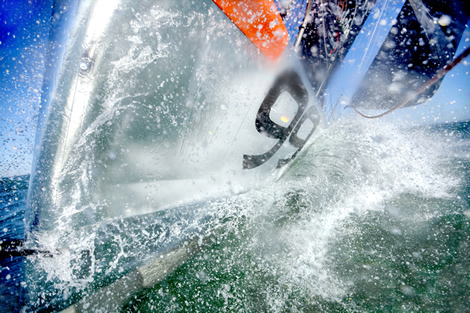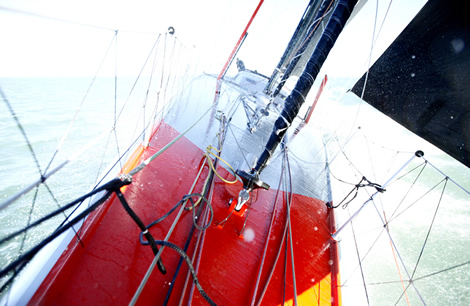 Back to top
Back to top