Crazy bows is launched
The new 80ft trimaran Prince de Bretagne, to be skippered by Lionel Lemonchois, was launched today at Chantier Multiplast in Vannes.
More than 200 guests from the Prince de Bretagne cooperative's 2350 vegetable producers were among the large audience, including several major figures from the multihull world, all excited to discover the new colours and lines as well as the crazy-shaped wave-piercing bows of the new trimaran, destined to compete in the Ultimate class of the next Route du Rhum.
Despite the persistent gloomy weather, Lemonchois makes no secret of his pleasure, shared by the five presidents of Prince de Bretagne. The boat, once Thomas Coville's ORMA 60 Sodebo, has been a year in her transformation at Multiplast.
Lionel Lemonchois commented: "I am obviously very happy. The boat was here, chomping at the bit over these last few days and I was anxious to raise the curtain on her and see her hit the water. Thank obviously to Prince de Bretagne without whom we would not be here. It is also a pleasure to share this with all those who have looked over the side of the cradle: the young architects at Van Peteghem-Lauriot Prévost, and all the builders at Multiplast and my team. It is very rewarding for all of us to see this complete and measure all the work we have done. I think we are on track to write new stories with Prince de Bretagne. This is a great day and I'm very excited."
Vital statistics
Overall length 24 meters
Width 18.2 meters
Weight 7.2 tonnes
Mainsail area 180 m2
Solent area 137 m2
Surface of 261 m2 gennaker
Sail area 317 m2 near
Sail area with 441 m2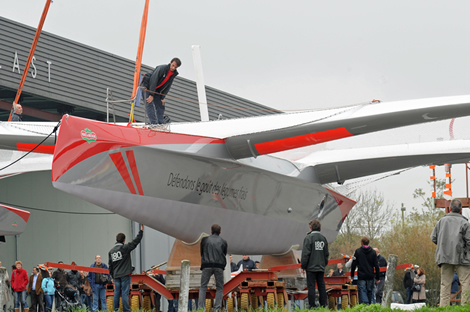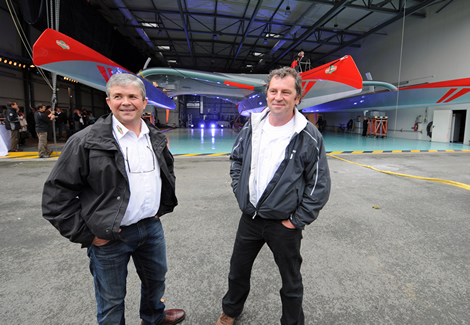 From Jean-Marie Liot/www.jmliot.com
Back to top
Back to top