In the bag for Hi Fidelity
South African entry Hi Fidelity has been confirmed as overall winner of the 2012 Rolex Middle Sea Race.
Arriving at 04:18.15 CEST this morning, Eddie De Villiers' Welbourne 46 established a corrected time benchmark that has proved impossible for the remainder of the fleet to beat. Hi Fidelity arrived in Marsamxett Harbour in dramatic style under a punishing thunderstorm, strong gusts and torrential rain, conditions atypical of those witnessed earlier during the 606-nm race.
South Africa becomes the ninth different country to provide a winner of the Rolex Middle Sea Race Trophy joining yachts from Austria, France, Germany, Greece, Italy, Malta, the United Kingdom and the USA.
Success is just reward for the crew of Hi Fidelity following their consistent performance throughout a race largely characterised by light winds and during which they benefited from the leadership of co-skippers and noted professional sailors Michael Joubert and Mark Sadler.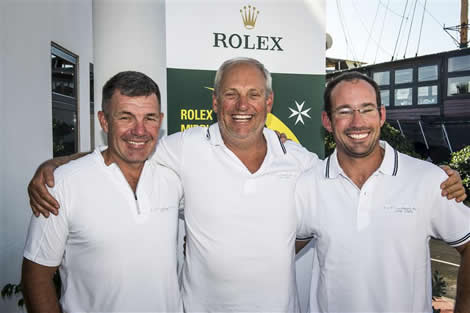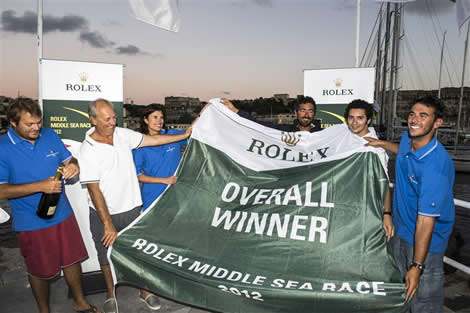 "It was a challenging race with lots of breeze and different forecasts," explained Sadler, taking part in the race for the first time. "It was very demanding from a navigational and tactical point of view. We had a lot of opportunities (to take advantage) when the bigger boats parked and we could decide which way to go."
Staying in touch with boats rated faster and well ahead of those rated slower coupled with the fresh breeze Hi Fidelity hit while attacking the western stretch of the racecourse proved critical. "It was a challenge beyond challenges," remarked Joubert. "We didn't get a lot of sleep, and each new leg brought something new. We tried to mix it between what the weather forecast said and where the fleet was going." Excelling after almost six full days is testament to the crew's true Corinthian spirit.
While Hi Fidelity should be congratulated for their overall win, 55 yachts are still competing in the Rolex Middle Sea Race. After five days and nights of racing, the crews will be looking forward to a hot shower, a proper meal and deep sleep. Driving them on is the will to complete the course and for several yachts class honours and podium finishes are still undecided.
There is also a battle for the first Maltese yacht to finish the race. Lee Satariano & Christian Ripard's J/122 Artie and Jonas Diamantino and amon Sant Hill's ILC 40 Comanche Raider II Gasanmamo are Maltese boats with an entire compliment of Maltese sailors on board.
At 14:30 today, Artie RTFX was 55 miles from the finish leading Comanche Raider II Gasanmamo by less than three miles. Two other Maltese yachts are also locked in a duel: David Anastasi's J/133 Oiltanking Juno and Arthur Podesta's First 45 Elusive 2 are less than a mile apart and not far behind the leading Maltese yachts. There is bound to be a massive reception for them all at The Royal Malta Yacht Club, as all four are expected to reach the finish at around midnight tonight.
Back to top
Back to top