Day of the Jackal?
He came second in the Vendee Globe four years ago in a boat that wasn't particularly rated and having won the Solitaire du Figaro in the meantime, he is now back with a boat originally built and conceived by two time winner of the singlehanded non-stop round the world race, Michel Desjoyeaux.
If there is a favourite among the frontrunners for claiming line honours in this year's Vendee Globe, it is probably Armel le Cléac'h, aka The Jackal, skipper of Banque Populaire. His Finot-Conq designed BritAir (now Bertrand de Broc's Votre Nom autour du Monde avec EDM Projets) was one of only five of the 18 new IMOCA 60s on the Vendee Globe start line in 2008 to make it around the course. Now le Cléac'h returns with a boat that is a very much more state of the art design. Both boat and skipper have all the pedigree of race winners.
Armel le Cléac'h is very much a product of the Figaro class. Heralding from Landivisiau, 10 miles south of Roscoff, he grew up sailing from pretty much the moment he was born with his family on their cruising yacht on the Bay of Morlaix. Personally he started out racing before graduating when he was 14 up to the 420 before moving into Quarter Tonners and then in 1999, aged 22, into the Figaro class after he won the Challenge Espoir Credit Agricole gaining him the use of a boat to campaign on the circuit for two seasons (à la Artemis Offshore Academy). His mentors of the time from the Morlaix sailing scene were Nicolas Troussel and Jeremie Beyou, both slightly older than him and both also subsequent winners of La Solitaire du Figaro.
Clearly one of the most talented sailors of his generation, le Cléac'h finished second in the all-important Solitaire in 2000, finally winning the event in 2003. This was one of the historic races, starting the final leg 19 minutes behind Alain Gautier and eventually clinching the overall win by a mere 13 seconds on accumulated elapsed time. He followed this up in 2004 by claiming honours in the other top event in the Figaro calendar, the doublehanded Transat AG2R with Nicolas Troussel.
With his solo sailing credentials in place, le Cléac'h was appointed skipper of the Foncia ORMA 60 trimaran. This he entered with Damian Foxall in the 2005 Transat Jacques Vabre, a race that ended prematurely when they capsized.
Following this le Cléac'h made the difficult decision not to continue his ORMA 60 career. Instead he persuaded his Figaro sponsor, the airline BritAir (a subsiduary of Air France), to back his campaign for the 2008 Vendee Globe with a Finot-Conq designed sistership to Alex Thomson's Hugo Boss and Marc Thiercelin's DCNS. After coming home second in the last Vendee Globe he followed this up with a bumper year in the Figaro in 2010 when he won both the Transat AG2R and the Solitaire, before returning to his IMOCA 60 and claiming second in the 2010 Route du Rhum. Sadly, then his contact with BritAir was finished and he was temporarily 'between projects' until in the spring of 2011 he was announced as Banque Populaire's new skipper for their debut in the IMOCA class, aboard Michel Desjoyeaux's latest Foncia.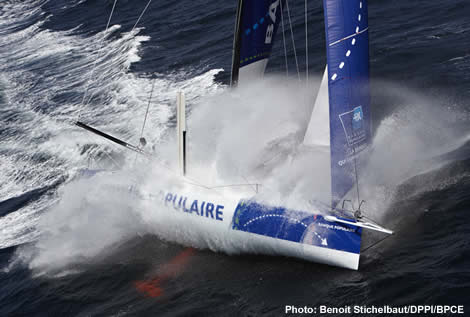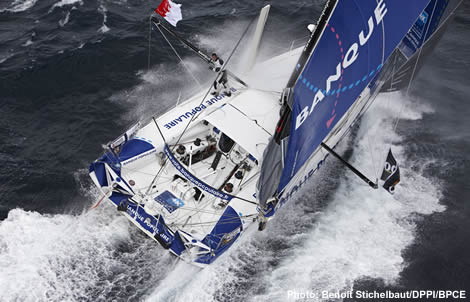 "The difference is four years," says the lean tall 35-year-old Frenchman of the difference between his two IMOCA 60s. "The last boat, BritAir, I was involved in its design and build, but it was built for my first Vendee Globe in order for me to finish the race. It was heavier and had much more power and was made for me to sail singlehanded in a non-stop around the world race."
Le Cléac'h's latest boat was designed by VPLP/Verdier, responsible for four of the six new IMOCA 60s entered in this year's Vendee Globe, but the legendary Michel Desjoyeaux also had a strong hand in its conception and radical features such as its toed in daggerboards, its concave foredeck and its angular tumblehome. The objective this time, Le Cléac'h says, is not just to get around the course, but to win.
Given that he had such a good result in 2008-9 one wonders if going for higher performance boat is in fact a wise choice. Le Cléac'h admits that his second place in the last race came as a welcome surprise for him on his first solo non-stop lap of the planet. "The boat responded well to all the things I came up against in that race. It was heavy, but because of that I could get through all the difficulties that I faced."
Banque Populaire of course is a long term sponsor of French sailing, from the Olympic sailing team up to various ORMA 60s and latterly their 40m long giant Jules Verne Trophy-winning trimaran. But this is their first foray into the IMOCA class and the foremost sailing event in the French calendar – the Vendee Globe.
As to the performance difference between the new and old generation boats – le Cléac'h says it isn't as big as you might think. The new Banque Populaire was designed to the latest iteration of the class rules. In a nutshell, the latest modifications to the rule limit mast height to 29m, increase AVS worst case from 108 to 110° and limit righting moment to 32 tonne metres. After a build time of just six months (the hull was built by Green Marine in the UK) Desjoyeaux then hurriedly raced her – and with an uncharacteristic lack of success - in the 2010 Route du Rhum, finishing sixth after taking the wrong route to the south and then with Francois Gabart in the Barcelona World Race, when the top of her wingmast broke off and they retired after limping into Cape Town. The following spring the boat was sold to the French bank's sailing team.
Ironically Le Cléac'h and his old IMOCA 60 BritAir came home second to his new boat's sixth in the 2010 Route du Rhum, although it was her first competitive outing. "My former boat was modified a lot over the last four years and when I did Route du Rhum with her, she was still very competitive. There is just a little percentage different in terms of technology and speed," says Le Cléac'h of the comparison to his new steed.
A significant issue with the Vendee Globe is that it is akin to the Grand National in that there is a high attrition rate. The last race was one of the worst with only 11 of the 30 starters completing the course.
Le Cléac'h points out that this time the majority of the new builds were launched in the first half of the four year Vendee Globe cycle and he hopes that this will result in them being not only more refined by the time of the race start on 10 November, but also more reliable. But obviously the weather conditions the boats encounter on their way around the globe will play a large part in how many make it through.
"All the skippers have had much more time than the last edition to sail their boats. Even if they are brand new boats, everyone had more time to learn about their boats and this is why I think everyone is more prepared than last time. I hope a higher percentage will finish."
Remarkably, even though the IMOCA 60 is a development class that is some 30 years old, there remains huge and fundamental variations between the boats in terms of their rigs, their hull shapes, their daggerboard and rudder configurations, etc. Yet when the race itself is underway all the physical differences between the boats seem to get forgotten and there is a surprising lack of variation between their performances, no doubt due to how efficiently or inefficiently they are being sailed by their solo skippers.
"The differences between the boats aren't that big even if they look different - in terms of performance they are quite similar," confirms Le Cléac'h. "In the future if skippers and sponsors want to spend less money on boats, they will need to have a better harmony with the build of the boat." And in this respect he is an ardent fan of recent moves within the IMOCA class [laughably still referred to by many as the 'Open' class] to go one design. This remains under discussion by the class.
But won't that destroy the value of his present boat? "The idea is to slowly integrate the one design into the class," Le Cléac'h counters. "If we can have one designs, we won't throw away the old boats to buy new ones. It is more like integrating the one design and eventually all these boats [the IMOCA 60s] will disappear."
The Jackal looks over at Initiatives Coeur, Tanguy de LaMotte's boat, originally built in 1998 for Catherine Chabaud. "It will enable old boats like that to be on the start of a race like this alongside the one designs as well. But in years to come there would only be one designs. That is my dream. Even if I have the advantage of having a big sponsor like Banque Populaire which can make a big difference from my boat to another one, we are all spending too much time designing and building the boats instead of sailing them."
In this Vendee Globe, among the boats Le Cléac'h will be lining up against is MACIF, skippered by the talented young blade Francois Gabart. MACIF is a direct sistership of Banque Populaire, built from the same moulds, and Gabart has as his mentor none other than Michel Desjoyeaux, from whom Banque Populaire bought their boat. So have their teams worked together? "We haven't on the technical side," says Le Cléac'h, "but we exchange information when it is something to do with safety – like issues with the rigging or the keels or the mast. We have also trained together in Port la Foret with other boats."
Le Cléac'h won't by drawn on who was typically coming out on top in the extensive 'Port LAF' training, but we understand that MACIF and PRB were typically among the front runners – PRB when it was lighter, MACIF in heavier conditions.
As to who Le Cléac'h rates as his opposition in this Vendee Globe he indicates Virbac Paprec 3 and PRB, the boats of Jean-Pierre Dick and Vincent Riou respectively, the former immaculately prepared and looking like a boat that will last the course (after valiant efforts Dick has been forced to retire from the last two Vendee Globes), while the latter of the 2004 Vendee Globe winner is a more extreme approach, understood to be the lightest boat in the present IMOCA fleet by some way.
"There is also [MACIF skipper] Francois Gabart who has less experience, but has a good mentor in Michel Desjoyeaux, who gives him advice. And then there are the two Brits, Alex [Thomson] and Mike [Golding]. They have good boats and they have a lot of experience which is very important in this race."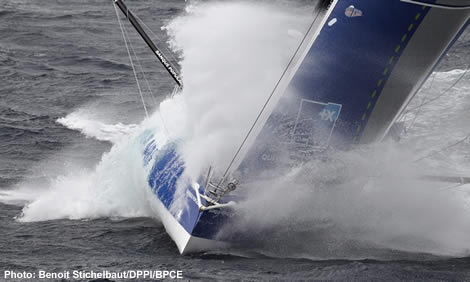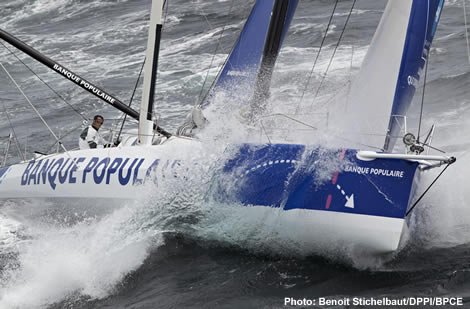 Obviously at present with the economic crisis and the banking sector under scrutiny these are worrying times for those with big sponsors, such as a bank. In France this year we have seen Veolia Environnment suddenly pull the plug on their campaign with Roland Jourdain, Foncia prematurely ending their contract with Michel Desjoyeaux and Groupama downscaling, despite a Volvo Ocean Race win for Franck Cammas' team.
"For sure I have followed what is going on with Groupama, Veolia and Foncia," says Le Cléac'h. "But for Banque Populaire the Trophy Jules Verne was a big success and they have been in sailing for more than 20 years, and they want to maintain their sponsorship of sailing. For the moment with Banque Populaire, it is okay for the future."
But exactly where that future lies is uncertain. The maxi trimaran is up for sale. The Gitana team has been sniffing around it as an option if the MOD70 circuit doesn't progress. One imagines that if the bank does sell their maxi-trimaran and the MOD70 does continue then they could be tempted into that, following their long participation on the ORMA circuit. "I don't know what they will do with the money they will get from it [the sale of the maxi-tri]. They will still be very involved in sailing," says Le Cléac'h.
Personally Le Cléac'h says that after the Vendee Globe he would like to be on the start line of the Route du Rhum in 2014 in his present boat. As with the last Vendee Globe, he finished second in the singlehanded transatlantic race to Guadeloupe in 2010 and views this as unfinished business.
"At the moment it is under discussion between me and Banque Populaire, but we are talking about the future."
There is also the Solitaire du Figaro. Le Cléac'h has now won two, the first in 2003 and most recently, during this latest Vendee Globe cycle, in 2010 when he won an incredible three out of four legs. With two wins he is now at the same level as his two Morlaix friends and sailing rivals Jeremie Beyou and Nicolas Troussel. A third win would put him on the same level in the roster of solo offshore sailing greats as Philippe Poupon, Jean le Cam and Michel Desjoyeaux, all three time Solitaire winners.
"That is an objective, not immediately, but in the long term. But I don't know when," he says of his return to the Figaro.
Watch out for our form guide to the Vendee Globe which we'll publish during the week before the start.
Read more about Armel's boat here and an update on how the boat was developed in its first year here
Back to top
Back to top