The RORC announces its 2012 award winners
The 2012 season, consisting of 10 offshore races, was host to unpredictable conditions ranging from the lightest of breezes to the roughest of seas. Many boats were pushed to their limits, particularly in the Myth of Malham Race when only two boats, one doublehanded, held their nerve to finish. Father and daughter team, Simon and Nikki Curwen on Voador, won the race overall, beating the two other fully crewed finishers.
Two of the cross channel races had particular significance this year. The Cervantes Trophy Race was combined with the 50th Anniversary of the Deauville Race and attracted over 100 entrants from the five organising yacht clubs. The anniversary celebrations were rounded off with a gala dinner hosted in Deauville. In addition the competitors in the Cowes-Dinard-St Malo Race were treated to Bastille Day fireworks, well worth the sleepless night at sea.

The following Season's Points winners have truly earned their triumph through their determination and commitment to the RORC season. They have travelled around the country, from across the North Sea to taking on the Irish Sea in the Round Ireland Race, facing fierce competition and challenging weathers.

Diablo-J (GBR)
Somerset Memorial Trophy - Yacht of the Year
Grenade Goblet - IRC Three
Psipsina Trophy - Two-Handed Class
2012 was Nick Martin's year. The RORC member has raced his J/105 Diablo-J doublehanded through many RORC seasons, consistently finishing at the top end of the leader board. Shorthanded racing has a growing number of devotees who take pleasure from the physical and mental demands of racing. Snatching mere moments sleep and going through manoeuvres other boats do fully crewed means that racing competitively against the main fleet requires stamina, grit and determination. Diablo-J's achievement cannot be underestimated: to win the Two Handed class is impressive, and to win IRC Three extraordinary, but to then place 3rd in IRC Overall is outstanding.

Diablo-J's first place in IRC Three follows a fourth placing in 2011 and they came through to beat the previous two time winner, Foggy Dew, into second place. Foggy Dew, the JPK 10.10 raced by France's Noel Racine, raced to victory in class in the 50th Deauville Race/Cervantes Trophy but finished 27.2 points behind Diablo-J in season's points.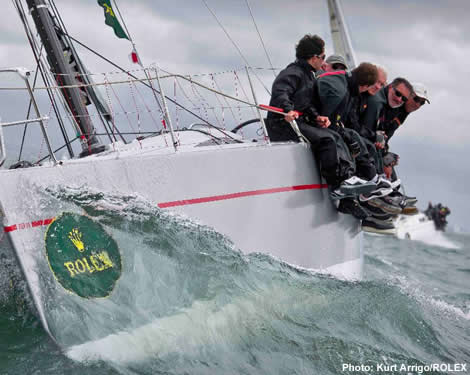 Inis Mor (FRA)
Jazz Trophy - IRC Overall
Trenchemer Cup - IRC One
Stradivarius Trophy - Best Overseas Yacht
Serendip Trophy - Best Series produced Yacht
Frenchman Bernard Gouy's Ker 39 Inis Mor finished Tonnerre de Breskens 3's quest for a third consecutive win of IRC Overall, taking the lead by a mere 2.4 points. Father and son, Bernard and Laurent Gouy, matched their IRC Overall win of the Round Ireland Race with a consistent performance throughout the season that sees them also win the Stradivarius Trophy for Best Overseas Yacht and the Serendip Trophy for Best Series-Produced Yacht.

In a repeat of the duel for IRC Overall, Inis Mor seized the Trenchemer Cup for IRC One from second-placed boat Tonnerre de Breskens,owned by Piet Vroon. Both yachts had completed the Round Ireland Race with its 1.5 points factor, propelling them into a head to head battle at the top of the class leader board. However Inis Mor's three IRC One wins, including the 50th Deauville/Cervantes Trophy Race and the Channel Race gave them the edge by another narrow margin of 9.8 points.

The highly competitive IRC One saw a similar duel for 3rd place with Mark Emerson's Rodman 42 Phosphorus, taking it by only four points from RORC Commodore Michael Greville's Ker 39 Erivale III.

Tonnerre de Breskens 3 (NED)
Alan Paul Trophy - Consistent High Performance
Duncan Munro Kerr Youth Challenge Trophy - Jackson Bouttell
The Alan Paul Trophy is awarded to the yacht which demonstrates a consistent, high performance in IRC Overall and Piet Vroon's Ker 46 Tonnerre de Breskens 3 is a worthy winner. Dedicated to the RORC season, Tonnerre raced in six races with three top 3 results, including the IRC Overall win in the Cherbourg Race.

Tonnerre regularly races with youth crew members, in particular this year was 21-year-old Jackson Bouttell, who competed in six RORC races this year, with a total course distance of 1382 nautical miles. This is the highest mileage completed by a youth crew member this year and Jackson is awarded the Duncan Munro Kerr Youth Challenge Trophy for 2012.

Pleomax (NED)
Europeans Trophy - IRC Zero
The Europeans Trophy for IRC Zero is won by Pleomax, the Volvo 60 owned by Harm Prins. In winning their Class in three races out of four, they dominated the elite group with Jonny Vincent's TP52 Pace coming second. Pleomax had planned to do the Myth of Malham and East Coast Races as well to complete their season, but sadly damage incurred in the high winds just before the start of the Myth of Malham Race meant that the boat had to take a few weeks off to be repaired.

Visit Malta Puma (GBR)
Emily Verger Plate - IRC Two
David Fayle Memorial Cup - Best Sailing School
After missing out in 2011, Sailing Logic came into 2012 determined to win the hotly contested Emily Verger Plate for IRC Two. The Reflex 38, Visit Malta Puma, crewed by students of Sailing Logic sailing school, entered a series of strong performances that beat Andrew McIrvine's First 40 La Réponse by 12 points. British Soldier, the A-40 owned by the Army Sailing Association and sailed by serving and past members of the British Army, came third after their season was cut prematurely short due to technical failures after the Round Ireland Race.

In addition to winning Class Two, Visit Puma Malta has also won for another year the David Fayle Memorial Cup for Best Sailing School Yacht.

Winsome (NED)
Cowland Trophy - IRC Four
Freddie Morgan Trophy - Classic Yacht in IRC
Winning the Cowland Trophy for IRC Four is Winsome, the S&S 41 of Harry Heijst, a seasoned RORC member. While she led 2011 trophy winner, Jean Yves Chateau's Nicholson 33 Iromiguy by a resounding 46 points, the gap between second and third was much closer with Pyxis, the X-332 owned by Kirsteen Donaldson, only 2.5 points behind.

IRC Four is the most numerous with over 80 yachts competing over the course of the year and this year's conditions were far from ideal for the lowest IRC band. Yet Winsome, one of the three yachts to finish the Myth of Malham Race, also topped their Class in the Cowes-Dinard-St Malo Race and the Channel Race. She is also awarded the Freddie Morgan Trophy for a classic yacht in IRC - Winsome's Sparkman and Stephen's design dates back to 1972.

Foggy Dew (FRA)
Assuage Trophy for RORC Members
Freddie Morgan Trophy - Classic Yacht in IRC
Despite losing out to Diablo-J in IRC Three, Noel Racine's Foggy Dew had a consistent season, and is awarded the Assuage Trophy which is given to a RORC member with the best results in the Cherbourg and a choice of three other races from the Cervantes Trophy, Myth of Malham, Cowes-Dinard-St Malo and Channel races. This trophy demonstrates the time and dedication required to bring a boat and crew over from France for the races starting in the Solent.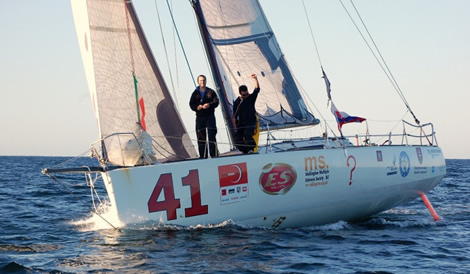 Financial Crisis (GBR)
Dennis P Miller Trophy - British Yacht Overseas
When London-based Italian Marco Nannini was dismasted within a couple of hours of starting the Rolex Fastnet Race 2011, it must have seemed like yet another hurdle among many threatening his dreams of competing Two-Handed in the Global Ocean Race 2011-12. Even having completed the emergency repairs, Nannini had already quit his job in investment banking and rented his London flat when he found that his title sponsor had dropped out less than five days to the start. His was already a 75% self funded campaign, garnering his Class 40 Akilaria its name: Financial Crisis.

Yet Nannini showed calm resilience and was on the start line alongside five other boats for the five leg odyssey in which competitors must race a total of 30,000 miles across some of the roughest waters on the planet. With severe budget constraints, Nannini was aware that any serious damage would end his circumnavigation and he planned to sail a smart race rather than push the boat to the edge. Despite their trepidation he and his various co-skippers clocked up a series of impressive results: 3rd in Leg 1, followed by 4th, 2nd, 2nd, 2nd in the remaining Legs to claim 2nd place overall. Nannini has proven that any offshore racer can overcome seemingly immense obstacles if they approach them with enough grit, determination and gusto.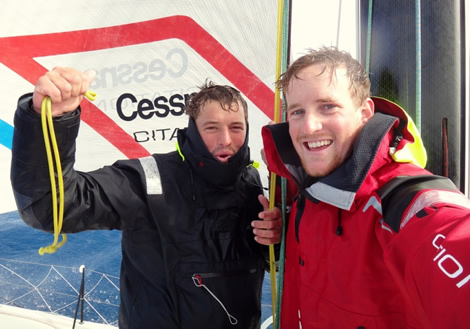 Conrad Colman, Cessna Citation (NZL)
Seamanship Trophy - Outstanding Act of Seamanship
Last presented in 2005 to Berrimilla, the Seamanship Trophy is not annually awarded but earned by those who perform outstanding acts of seamanship. This year the winner is one who stood up and faced the situation that nightmares are made of. A Two-Handed entry in the Global Ocean Race, Cessna Citation was leading the fleet in Leg Two when Sam Goodchild went forward to complete a sail change in rapidly deteriorating conditions, unclipped to save time. By the time he saw the wave coming it was too late for him to do anything to save himself and in seconds he was swept into the water. To make the crisis yet more critical Sam was also not wearing a lifejacket and his layers of foul weather gear and boots started to fill with sea water, dragging him down.

It is for moments like this, when the worst happens, that comprehensive training can save lives. Conrad Colman had been at the helm at the time of the accident and saw his co-skipper swept off the bow. Following protocol, Conrad crash tacked, threw the heaving line and then, when Sam missed it, lay a waypoint and pressed the MOB button. The MOB had been mid sail change and before he could successfully sail and tack the boat back to his co-skipper, Conrad had to re-reeve the windward sheet of the headsail. Time was of the essence as Sam had to shed his waterlogged clothing, leaving him vulnerable to the coldness of the water and Conrad had to move quickly and assuredly. In 32 knot gusts and poor visibility he searched the spray, tacking and reaching until he spotted Sam, throwing him the dan-buoy and pulling him back to safety.

Conrad Colman receives the Seamanship Trophy for his calm and clear reactions in crisis, saving the life of Sam Goodchild and illustrating the importance of safety at sea and emergency management.
All trophies and prizes will be awarded at the RORC Annual Dinner on Saturday 10 November 2012 at One Great George Street.
Back to top
Back to top