Multihull race around Europe for 2013
Wednesday September 19th 2012, Author:
James Boyd
, Location: none selected
The Route des Princes is a new event due to take place over 9-29 June next year, for multihulls of 40+ft LOA, around the European coast.
Starting from Valencia, Spain, the Route des Princes will visit Lisbon (Portugal), Cork (Ireland) and Plymouth (England) before a final sprint leg to the finish at Morlaix, Brittany.
The event has come to pass as an initiative from Prince de Bretagn, the French vegetable producer that sponsors Route du Rhum winner Lionel Lemonchois' Multi50 team, soon to become a 'Max80' team with the launch of his new Route du Rhum trimaran. Open to multihulls larger than 40ft the organisers are hoping to attract the Multi50s as well as ORMA 60s and even the MOD70s (don't they have their own round Europe race?)
Given that quietly the Multi50 fleet is regularly attracting more than 10 boats to its races that in recent years has included the Quebec-St Malo and a race from France to St Petersburg and back, the organisers are hoping to attract 20 boats to compete in their race.
The stopovers have been scheduled to coincide with major events in each city the Route des Princes visits - the giant paëllas and grand chef competition in Valencia, the City Festival in Lisbon, the concerts in Cork, the Barbican Festival in Plymouth and France's grand finale, the 'Entre Terre et Mer' ('Twixt Land and Sea) festival, the second edition of which will transform the bay of Morlaix into a communion of sailors, fishermen and farmers.
Jean-François Jacob, Secretary-General of the St Pol Sica, Manager of Prince de Bretagne commented: "We felt that it was in the interest of all the owners and skippers of multihulls to have an extra event to support their programmes. We were keen to have an event, which gathers us all together and highlights our very strong link with the sailors. Like them, we're subject to the vagaries of the weather on a daily basis and if we manage to grow vegetables year round in northern Brittany it's thanks to the influence of the sea and the Gulf Stream. Through the Route des Princes, we want to show that the land-based world is a source of dynamism in a number of regions across Europe. This notion is something Prince de Bretagne's producers hold dear and they want to share this with others. Our aim is to enhance the prestige of the different territories and to enable the greatest possible number of people to discover them thanks to an event for the people, which will be a celebration of all the different trades at sea and on land".

Lionel Lemonchois, skipper of the Maxi80 Prince de Bretagne: "The concept is an attractive one because it is reminiscent of the original Roud Europe Race, which existed in the 90s and always proved to be extremely popular. It's always nice to switch from one country to another, especially when racing in crews. The Route des Princes is really offering a fine course. It is also important to be able to associate oneself with something other than sailing as it gives things a new twist and thus has greater appeal for us and for the public."

Schedule for the Route des Princes

Valencia -
Start Sunday 9 June 2013

Lisbon
ETA Wednesday 12 June
Departure Saturday 15 June

Cork
ETA Wednesday 19 June
Departure Saturday 22 June

Plymouth
ETA Thursday 27 June
Departure Friday 28 June

Baie de Morlaix
ETA Saturday 29 June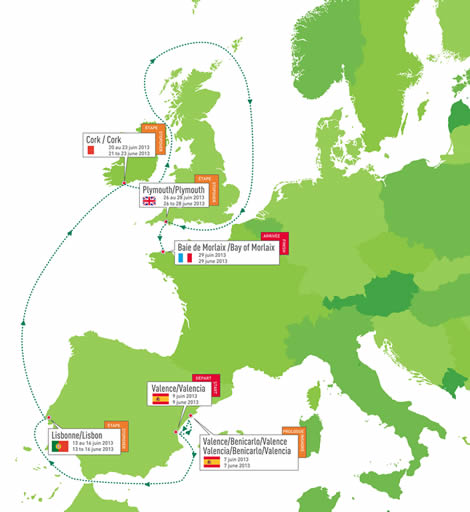 Back to top
Back to top