Sodebo sets off on Transmed record
Following his successful lap of the planet on Groupama in the Volvo Ocean Race, Thomas Coville has returned to his three hulled steed Sodebo and earlier today set sail on an attempt on the outright singlehanded Trans-Med record from Marseilles to Carthage, Tunisia. With the Mistral in full swing, the red maxi trimaran crossed the line at 12:48:36 UTC today bound for Carthage, keeping Corsica and Sardinia to port, a total of 458 miles.
"The Mistral came faster than expected and we had to go with it," said Coville prior to their departure, the 105ft Irens-Cabaret designed tri set off under solent and with two reefs in the mainsail in a stiff northerly. Sodebo is expected to reach Carthage midday tomorrow.
An hour and a half after setting off, Coville reported: "the sea is short and choppy, typical of the Mediterranean, and the wind is gusty, which occurs so often in the Mistral." He admitted to having a little trouble to stabilise the boat speed that varies between 19 and 31 knots (the average speed for the first two hours has been 23.8 knots down the course).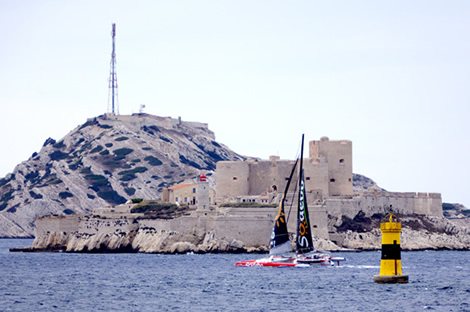 At this record attempt should last less than 24 hours, Coville will not sleep. "Staying awake is not a problem, but it is important to be vigilant at all times, especially at night when there is 40 knots of wind forecast."
At present there isn't an outright multihull singlehanded record time for the Transmed. However the crewed multihull record was set by the 140ft maxitri Banque Populaire, at the time (May 2010) skippered by Pascal Bidégorry and the singlehanded monohull record stands at 1 day 21 hours 20 minutes and 29 seconds, set by Kito de Pavant on the Groupe Bel IMOCA 60 in June 2009.
After this record attempt Coville hopes to regain his Route of Discovery record from Cadiz to San Salvador in the Bahamas. He held this from 2005 to 2008 but since then it has been held by Francis Joyon and IDEC.
Back to top
Back to top