Michel Desjoyeaux goes one design
That canting keels, from those used on VO70s down, are to be found on modern offshore race boats can be attributed to Michel Desjoyeaux fitting one to his Mini and then winning the second leg of the 1991 Mini Transat. But despite the double Vendee Globe winner having proved himself over the years to be one of France's foremast technical innovators, he is now focussing on one designs.
Having won the last Vendee Globe on a Farr-designed IMOCA 60, so he and his estate agent sponsor Foncia have moved across to the MOD70 class, continuing Desjoyeaux' lifelong love of multihulls dating back to his days in the short-lived Formula 40 class in the late 1980s.
"It is fun because the boats are fantastic and also the races we do are also too," Desjoyeaux says of the Swiss-originated fledgling 70ft trimaran class. "We would like there to be more boats and maybe next year it will be okay. Virbac Paprec will be there and we expect no2, the ex-Veolia, to find a new home."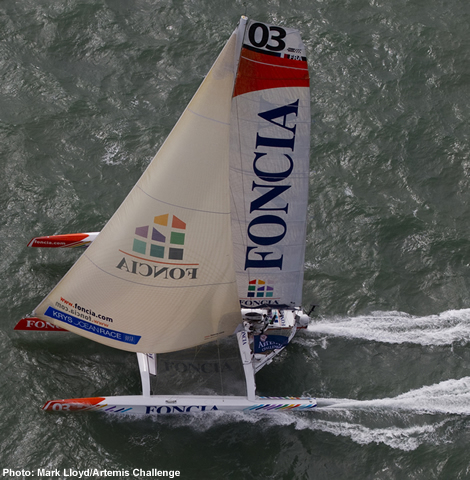 It is hoped that the MOD70s visiting the USA for the start of the Krys Ocean Race may attract some new entries as will the class' imminent European Tour, starting in Kiel next month and visiting Ireland, Portugal and the south of France before terminating in Italy. Last week, during her record breaking lap of the Isle of Wight in the Artemis Challenge, Ian Walker, another potential skipper in the class, got to have a go.
One reason the ORMA 60 trimaran class died was that it was not international enough and didn't give sponsors a great enough return on investment. By making the MOD70s larger, safer, stronger and in particular one design, improves their reliability and removes any costly technical advantage a team might have. This should make them more attractive to international teams, particularly at a time when multihulls are becoming ever more accepted through their being adopted for the 34th America's Cup for example.
"It is nice to have the boats to show to people like Ian Walker," continues Desjoyeaux. "It is not so difficult. They have to understand if they are able to do it, everyone can. It is an opportunity for them, not knowing about how to create a boat or the technology of such a boat, to have exactly the same as everyone else's. So it is made for them and I hope they will come."
Desjoyeaux acknowledges that in these hard economic times a one design makes more sense and is the best way to get more boats on the start line. However he argues that the true pinnacle of our sport lies not in one designs, but where a sailor or a team can also create their own tool, as in the America's Cup or the Vendee Globe.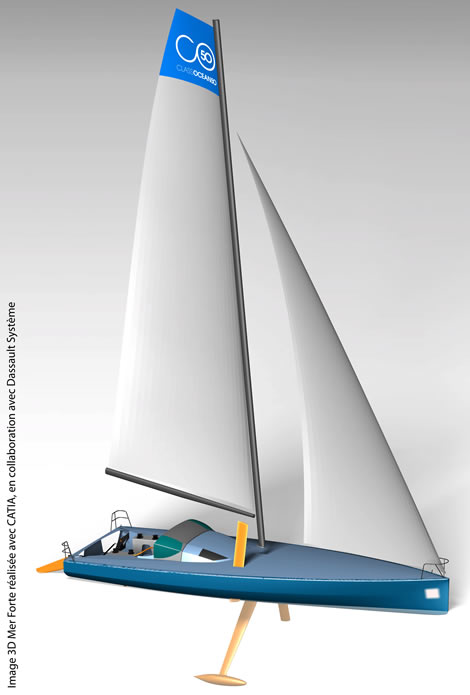 Ocean 50
Recently Desjoyeaux has taken on another project. From the outset of the SolOceans project back in 2005 - the singlehanded round the world race and the 50ft Finot-Conq one design that was supposed to have competed in it - he has been an advisor on the technical aspects of the boat. Sadly, for whatever reason, the event and the class never got off the ground. However Desjoyeaux has now taken on the one design Open 50-style yacht and, with some modifications, is now looking to build and market it.
Desjoyeaux says he has no intention of becoming a race organiser, but is talking to teams behind various events to see if the newly christened Ocean50 might be suitable for their event. Robin Knox-Johnston may not have been on board Desjoyeaux' Foncia MOD70 for the Artemis Challenge just for the ride last week – some form of deal was announced has having been done last year between Clipper Ventures and the SolOceans organiser for the original boat to be used in the next Velux 5 Oceans and Desjoyeaux is currently negotiating a new arrangement. Alternatively the Vendee Globe could return to allowing in 50 footers as they did before - the best remembered being Pete Goss' Aqua Quorum in the 1996 race (raced four years later by Patrice Carpentier as VM Materiaux).
In the shorter term the boat would be ideal for the Route du Rhum or biennial Transat Jacques Vabre. Desjoyeaux says he is also talking to someone who wants to organise an event from Lorient in France to India along an old tea trade route.
For the idea of the one design 50 footer is a good one – at present there is a huge fiscal, technological and logistical gulf between a Figaro/Mini/Class 40 and an IMOCA 60 and a boat like the Ocean50 provides a welcome stepping stone between the two.
Desjoyeaux explains: "We've discussed it with a lot of sailors in France, especially Figaro sailors and they say 'oh great, the Velux is exactly what we need to do with those boats. It is what we do with the Figaro, but it is bigger - that is perfect.' So it was: 'Hello Robin, you have to help us!' "
But Desjoyeaux argues that it is not just about money - for skippers there is also a huge technological and management leap from the smaller classes up to an IMOCA 60 campaign. "Those boats [Figaro and Minis] have one skipper and one guy half of the year. When you jump up to an Open 60 you have 10 guys, a press officer, everything - that is too difficult. And you go from having two rudders and five sails, to two daggerboards, one canting keel, big ballast everywhere, front, middle and aft, two rudders, lots of sails – it is too difficult. So it is is designed to be in the middle of those and to help everyone progress up. There are eight sails on this boat – two less than an Open 60 - daggerboards, canting keel, ballast, but not so much, etc And it is much cheaper."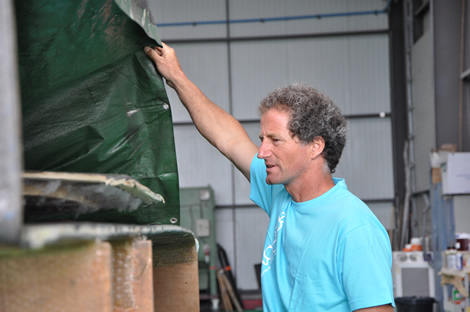 Following its launch as the Sol'Oceans One design, a scaled down Open 50-type design by Finot-Conq, the first (and to date only) example was built by JMV Industries in Cherbourg and this was sailed half of the way around the world over the winter of 2007-8 by a crew led by Solitaire du Figaro winner Charles Caudrelier in the colours of his Figaro sponsor, Bostik.
With Desjoyeaux now marketing the boat, the Ocean50 (Desjoyeaux is hoping to get George Clooney to help with its marketing...) retains the hull mould of the SolOceans 50, but has come up with a new deck and cockpit.
The cockpit has been enlarged so that it is now easier for the boat to be sailed by more than one crew and the wheel steering replaced with a tiller. Winches have been reduced in number and for safety there is now a narrow aft deck with cut outs in the transom for the top of the rudder kick-up mechanism.
The rig is also to be changed. The last gasp for the SolOceans 50 was when Liz Wardley set out on a second round the world lap on the boat, only for the boat to be dismasted after an autopilot failure shortly after rounding Cape Finistere. Desjoyeaux says he didn't like the original wingmast rig and instead it is to be replaced with a more conventional fixed two spreader set-up. "And because it is one design, like the MOD70, we will make a strong mast. There is no reason to take risks."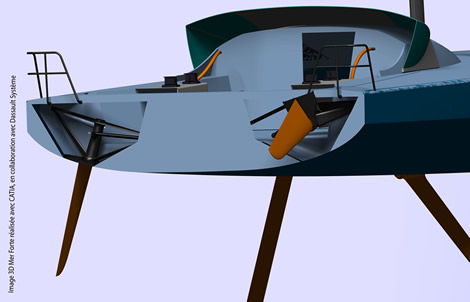 The original transom-hung rudder arrangement has been changed, because Desjoyeaux says the old set-up was very inefficient and created the risk of the rudders breaking should they kick up. The twin rudders are now mounted under the transom, and have an improved kick-up mechanism as used on the latest generation 'MichDes' IMOCA 60s, MACIF and Banque Populaire (ex-Foncia). These are also strong enough so that if one of the rudders partially kicks up, it can continue to steer the boat until the skipper can get aft to crank it down again. "The system we have now is very light and very reliable," says Desjoyeaux. "And if you break something you can completely remove one part and put it on the other side very easily."
While the hull remains the same, the keel has yet to be fully finalised. Desjoyeaux thinks he will go for a solid steel foil, rather than one that is fabricated or carbon fibre. This is in order to make it reliable and, once again, as it is a one design there is no need to push the envelope drastically. "You don't have carbon problems or welding problems or corrosion problems. It is a bit heavier but you can put less lead in the bulb and the boat is quite the same."
The sails are also likely to be completely one-design. "Like we pushed hard for with the MOD70 - when you go one design you might as well go the whole way." Desjoyeaux thinks that, unless any potential owners object, all the sails will be one design but each type of sail will be built by a different manufacturer.
An interesting idea Desjoyeaux has come up with is that boats will be delivered white and company branding with be applied with stickers instead of paint, as a kind of blank canvas. The idea is that if someone breaks their boat then it will be possible to get another that isn't sailing, enabling it to be rebranded rapidly. He points out that making these boats pay, it is vital to have them sailing as much as possible, so this would make it easy to rent a boat to another skipper with his own sponsor.
The Ocean50 will be built, or at least assembled, by CDK Composites in Port la Foret, that up until his untimely death in May last year was run by Mich's elder brother Hubert. This will be a similar arrangement as with the MOD70s where construction of the various parts of the boat are outsourced to other yards and the assembly carried out by CDK. Desjoyeaux also did this with the latest Foncia (now Banque Populaire) and MACIF IMOCA 60s where the hulls, for example, were built by Green Marine.
For a 50 footer, the price of the Ocean50 is not cheap - 1,767,000 Euros. But Desjoyeaux points out this price is for the complete boat, right down to the tool box, fenders, spare parts and mooring lines. "You just need to come with your food and your dry suit..."
However to avoid the potential pitfalls should they only get limited orders, Desjoyeaux says he won't launch into production of the boat until he receives at least five confirmed orders. His deadline to reach this number is March next year. To date no one has signed on the dotted line, although he says he is close.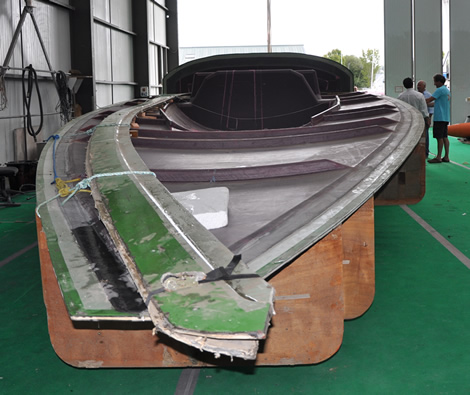 Back to top
Back to top