Nicolas Boidevezi first home
Nicolas Boidevezi on Fondation terrevent.org hung on to his lead and was first home on leg two of the Mini's singlehanded Les Sables-Azores-Les Sables race, finishing at 15:08:23 local time in a time of 6 days 21 hours.
On the outbound leg, Boidevezi finished fourth after a tactical option went wrong for him approaching the finish causing him to come home more than 10.5 hours after the winner, Aymeric Chappellier on La Tortue de L'aquarium la Rochelle. The start of leg two proved no easier for the French sailor. After boldly being the first to hoist his kite after the start, on the first nightout of Horta, he broke his boat's bowsprits forcing him to make a rapid pitstop on the island of Terceira to effect a repair. Back to sea and Boidevezi's key move was to take a northerly route back to France, causing him to pull into the lead as the boats to the south fell into lighter winds.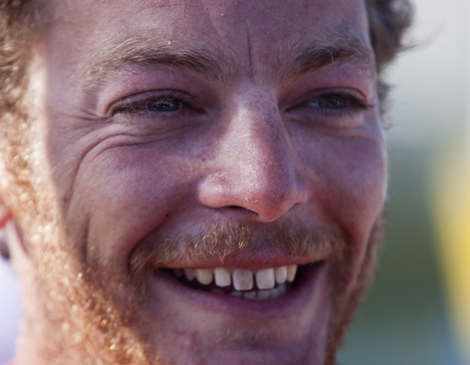 "On this leg, I went like crazy..." said Boidevezi. "Off the Azores I managed to pull out 8km on my opponents. I even had a top speed of over 25 knots. But then I broke my bowsprit after hitting something in the water that I had not seen during the night. I decided to stop to make repairs in Terceira which took a little over an hour and a half. Then, without hesitation, I pushed in the north. It was scary - repeatedly burying the bow into waves - it was a really disgusting sea, not easy. But I'm really happy, this was a great leg. "
However the overall win in this Les Sables-Azores-Les Sables goes to Aymeric Chappellier on La Tortue de L'aquarium la Rochelle, second home into Les Sables d'Olonne last night at 20:59:12 local time, .
Italian Giancarlo Pedote on Prysmian has yet to finish, so it seems like that Boidevezi will claim second overall ahead of the Czech Republic's Milan Kolacek on Follow Me, who finished third last night, just under 30 minutes after Chappellier.
However as anticipated the performance by the Series class boats has been impressive. Fourth home into Les Sables d'Olonne last night was Swiss sailor Simon Koster on Go 4 It, crossing the line at 22:15:14 local, just over half an hour ahead of another Series class boat Tout le monde chante contre le Cancer, skippered by Aymeric Belloir. However Koster arrived just under 23 hours behind the Series class winner on leg 1, Justine Mettraux on TeamWork. Mettraux had 94 miles to go to the finish at the 0700 UTC sched, so it looks like Belloir, who was also second home on leg one will claim the overall honours for the Series class.
Back to top
Back to top