Honkers comes good
Two thirds of the way into the Brewin Dolphin Commodores' Cup and still it remains very tight between the seven international three boat teams taking part. After five days of racing this is the first day the lead hasn't changed - with RYA Team GBR Black ahead on day one, France pulling into the lead after the offshore race and RYA Team GBR Red edging ahead yesterday. After today's two races, the Red team has extended slightly while RYA Team GBR White has overhauled the French to move up to second overall, on 216 points to the leader's 206, with two races to go.

While conditions remained more Cote d'Azur-like than we have come to expect this summer, today the race area was shifted east from the Solent to Hayling Bay. This provided a generally more regular course, a 7-10 knot easterly that veered slowly right through the afternoon, and less tidal effect until the second race when a few boats got caught out being washed down on to the weather mark and were obliged to carry out penalty turns.

So far in this regatta the Hong Kong team has performed disappointingly, but were able to turn this around today with the combined results of their three boats - Peninsula Signal 8, Team Ambush Quokka 8 and EFG Bank Mandrake - making them the top team today.

"We slaughtered everyone today, which was great," said Peninsula Signal 8, co-owner and helmsman Jamie McWilliam candidly. But while they were on top today, this has still only raised them from seventh to sixth. "We are still toilet, but fortunately there are still some races to go and we are getting better all the time."

The Hong Kong boats preferred today's race course, but given that two of the three teams are in chartered boats, they have also been on a steeper learning curve than most. "Obviously it was very tricky the first day to be all of a sudden be thrown into frenzied tidal windward-leeward in short sharp order for three brand news crew was extremely difficult. You are always – when you throw new crews and boats together you are trying to constantly improve all the time. It is a software issue, not a hardware issue, so we have been getting better and better and better. Still it was nice to go out there today and show that if the boys can put together a fair, proper international regatta that people will hundreds of thousands of pounds to come to from overseas, people will have a really good time."
Peninsula Signal 8 posted a 9-4 today, the latter result coming despite one of the boat's owners, Keith Jacobs, well known for his various Bimblegumbies Admiral's Cup campaigns over the 1980s and 90s, having the top of his little finger sliced off by the main sheet. As McWilliam recounted: "There was a bit of claret and a fingertip on the floor Reservoir Dogs-style, but Keith is an ex-army man and grunted up and he said 'get me a field dressing and get to the finish line as fast as you can'. He is in A&E now having a good time with the nurses."
And what does McWilliam make of the Ker 40 one design racing? "It is fantastic. We do so much one design racing in Etchells, etc and it is exactly like that. The Keronomio boys are the guys who have a little bit of pace in the bank on occasions, so when you are sailing along, 85% of the time you are going exactly the same as them and then maybe 5% of the time you drop a little and 5% of the time they find a little extra and they change their gears a little better than us."
Top boat of the day, posting a 1-2, was the Hong Kong team's Team Ambush Quokka 8, Peter Rutter's 2011 IRC National Championship winner, chartered by Ante Razmilovic, Joachim Isler and Andrew Taylor.

Razmilovic explained how it had worked out for them: "It was nice to have a race course out in Hayling Bay that was little bit more open - that was worth the motor, the first day of proper yachting. Also it helped that it wasn't below 8 knots and there was a good solid effort from the team."

Despite coming from Hong Kong there are several highly experienced Solent sailors in their team, Razmilovic being one, and with the assistance of their 'pro' sailor David Bedford they made some good calls on which side of the course to go up, the lanes they picked through the fleet and the laylines into marks given the tidal effect.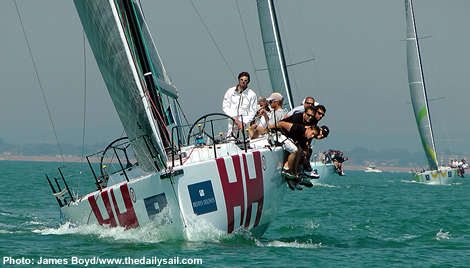 In the inter-Ker 40 battle, Jonathan Goring's Keronimo in RYA Team GBR Red got the upper hand decidedly today not only winning both races on the water, but also ending up with a 3-1 on corrected. They led both races on the water from start to finish. "That was pretty miraculous in light airs, for these boats that isn't their strongest suit," said Goring, adding that the more even race course today allowed several boats the result they deserved and perhaps hadn't seen previously.

So what did it come down to? "Just boat speed, calling the laylines and the shifts superbly. We really read the shifts well. Kevin [Sproul, Keronimo's tactician] has sailed in Hayling Bay all his life..."

Sproul commented: "It was a lovely day. We ended up with quite a nice little breeze in Hayling Bay. It was a long way out there, but it was worth it in the end. We had 7-10 knots, so the Ker 40s finally got to stretch their legs today in some decent conditions."
But weren't 7-10 knots supposed to not be the Ker 40s' conditions? "As soon as we get powered up - 9-10 knots and we start moving, all of a sudden upwind we are pretty fast and downwind the boat is quick anyway – the angles of the other boats aren't that different, they sail a bit lower than us but a lot slower. Our targets all day today were 8.3-8.4 knots at 145°, so they are pretty fast. When it drops below 7 knots it is hard work because a lot of these other boats are very good in light winds and then we struggle a bit. So as soon as we have got 7-10 knots we are off and that's what happened today - we were away.
"And we had a good day against the other boats. We had nice clean starts, we decided to just try and start beside the Kers rather than some of the other boats because when we have done that before we have got mixed up and it has slowed us down. All of sudden when you have got similar boats beside you, you know what is going to happen and we were able to get out of the starts and do what we wanted to do.
"First race we wanted to go left and we squeezed everybody out and did a great job and we basically never got crossed all day, we led from start to finish. And in the second race we did the same but the opposite – we started to windward of everybody, because we wanted to go right and as soon as we had the chance, we took it. And the guys did a fantastic job because all four boats were close together and we just sniggled out in front. So it was a really nice day and we were fast and smooth and didn do much wrong."
And they wanted the right because? "The wind had gone right and we felt it was going right and it didn't look like there was more pressure but some sort of gut feeling said that right would be good and off the line we tacked on to port and there was quite a nice lift and being the leeward boat we felt it was current that was helping us, we were leebowing the current. And we always felt we were getting pressure but we were going into slightly stronger current, so every time we got a bit of pressure we just crept up even though the wind was going left we were sneaking up to the boats above us. We just managed to squeeze them before the layline so that we were able to get on to starboard and cross everyone and that was it."
Despite being the frontrunners, everyone in RYA Team GBR Red is aware that a 10 point lead isn't much when fate rides on the outcome of three boats. Teams with much much bigger leads at this stage have fallen heavily in the past.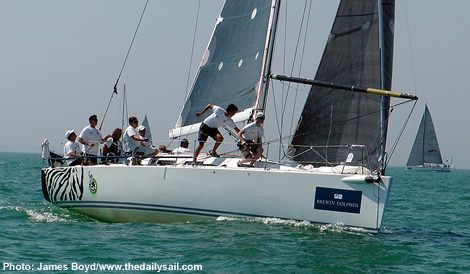 Chasing hard and on the ascent today is RYA Team GBR White, where Neil Kipling's J/122 Joopster (above) had a good day with a 5-10. "Conditions have been perfect for sunbathing, but today was better, the wind was up," said Kipling. "We had a good first race and in the second race we were doing well until the final beat, but we were still pleased with the day and the team's done well and there's all to play for."

Posting another consistent result today, constantly nipping at the heels of the Ker 40s, was Hervé Borgoltz's Grand Soleil 44 R Eleuthera in the French team. She scored a 6-3 today making her the top boat overall, three points ahead of Keronimo.
"It was a fantastic day of sailing," said the Eleuthera's Project Manager, Philippe Serenon, adding generally of the Brewin Dolphin Commodores' Cup: "It is amazing. We feel like we are at the Voiles de St Tropez! The spirit is fantastic. It is very interesting to race in teams. We are quite regular, but our other boats are less regular and Beelzebuth had a very bad day today. So the French team is third on the podium at the moment. We have lost two places in the last two days, but there is still a lot of racing to go. We will continue to be very on top of the racing and thinking about it, which is not as good as anticipated for the Pier View and the other pubs in Cowes!"

Tomorrow a race around the Isle of Wight is scheduled for the penultimate day of the Brewin Dolphin Commodores' Cup, starting at 08:30, but whether there will be enough wind to achieve this remains to be seen.
Individual boat results:
| | | | | | | | | | | |
| --- | --- | --- | --- | --- | --- | --- | --- | --- | --- | --- |
| Pos | Boat | Team | TTC | R1 | R2 | R3 | R4 | R5 | R6 | Tot |
| | | | | | | X2.5 | | | | |
| 1 | Eleuthera | France | 1.114 | 2 | 13 | 7.5 | 8 | 6 | 3 | 39.5 |
| 2 | Keronimo | GBR Red | 1.193 | 9 | 8 | 17.5 | 4 | 3 | 1 | 42.5 |
| 3 | Yeoman of Wight | GBR Black | 1.03 | 4 | 11.5 | 5 | 1 | 12 | 12 | 45.5 |
| 4 | Joopster | GBR White | 1.091 | 6 | 3 | 25 | 19 | 5 | 10 | 68 |
| 5 | Baraka GP | Benelux | 1.199 | 16.5 | 11.5 | 15 | 9 | 11 | 5 | 68 |
| 6 | Philosophie IV | GBR White | 1.057 | 7 | 19 | 10 | 7 | 18 | 11 | 72 |
| 7 | Magnum III | GBR White | 1.193 | 16.5 | 9 | 35 | 3 | 4 | 6 | 73.5 |
| 8 | CNBC | GBR Red | 1.032 | 5 | 10 | 2.5 | 16 | 20 | 20.5 | 74 |
| 9 | Premier Flair | GBR Blue | 1.074 | 15 | 4 | 30 | 5 | 10 | 16 | 80 |
| 10 | Team Ambush Quokka 8 | Hong Kong | 1.103 | 13 | 14 | 32.5 | 20 | 1 | 2 | 82.5 |
| 11 | Nutmeg IV | France | 1.078 | 8 | 17 | 20 | 17 | 8 | 13 | 83 |
| 12 | Cobra | GBR Black | 1.12 | 10 | 2 | 47.5 | 13 | 7 | 7 | 86.5 |
| 13 | EFG Bank Mandrake | Hong Kong | 1.116 | 3 | 5 | 42.5 | 12 | 17 | 9 | 88.5 |
| 14 | Dignity | GBR Red | 1.117 | 1 | 15 | 52.5 | 11 | 2 | 8 | 89.5 |
| 15 | Incognito | GBR Blue | 1.053 | 12 | 20 | 12.5 | 14 | 14 | 19 | 91.5 |
| 16 | La Réponse | GBR Blue | 1.086 | 14 | 7 | 40 | 6 | 13 | 14 | 94 |
| 17 | Xcentric Ripper | Benelux | 1.087 | 19 | 21 | 22.5 | 2 | 16 | 15 | 95.5 |
| 18 | Beelzebuth 3 | France | 1.063 | 18 | 1 | 27.5 | 23 | 21 | 17 | 107.5 |
| 19 | Peninsula Signal 8 | Hong Kong | 1.194 | 20 | 16 | 45 | 15 | 9 | 4 | 109 |
| 20 | Salvo | GBR Black | 1.044 | 11 | 6 | 50 | 10 | 19 | 18 | 114 |
| 21 | Moana | Benelux | 1.111 | 21 | 18 | 37.5 | 18 | 15 | 20.5 | 130 |
Team results
| | | | | | | | | | | | |
| --- | --- | --- | --- | --- | --- | --- | --- | --- | --- | --- | --- |
| Pos | Boat | Team | TTC | R1 | R2 | R3 | R4 | R5 | R6 | Tot | Team2 |
| | | | | | | X2.5 | | | | | tot |
| 1 | Keronimo | GBR Red | 1.193 | 9 | 8 | 17.5 | 4 | 3 | 1 | 42.5 | |
| | CNBC | GBR Red | 1.032 | 5 | 10 | 2.5 | 16 | 20 | 20.5 | 74 | |
| | Dignity | GBR Red | 1.117 | 1 | 15 | 52.5 | 11 | 2 | 8 | 89.5 | 206 |
| 2 | Joopster | GBR White | 1.091 | 6 | 3 | 25 | 19 | 5 | 10 | 68 | |
| | Philosophie IV | GBR White | 1.057 | 7 | 19 | 10 | 7 | 18 | 11 | 72 | |
| | Magnum III | GBR White | 1.193 | 16.5 | 9 | 35 | 3 | 4 | 6 | 73.5 | 213.5 |
| 3 | Eleuthera | France | 1.114 | 2 | 13 | 7.5 | 8 | 6 | 3 | 39.5 | |
| | Nutmeg IV | France | 1.078 | 8 | 17 | 20 | 17 | 8 | 13 | 83 | |
| | Beelzebuth 3 | France | 1.063 | 18 | 1 | 27.5 | 23 | 21 | 17 | 107.5 | 230 |
| 4 | Yeoman of Wight | GBR Black | 1.03 | 4 | 11.5 | 5 | 1 | 12 | 12 | 45.5 | |
| | Cobra | GBR Black | 1.12 | 10 | 2 | 47.5 | 13 | 7 | 7 | 86.5 | |
| | Salvo | GBR Black | 1.044 | 11 | 6 | 50 | 10 | 19 | 18 | 114 | 246 |
| 5 | Premier Flair | GBR Blue | 1.074 | 15 | 4 | 30 | 5 | 10 | 16 | 80 | |
| | Incognito | GBR Blue | 1.053 | 12 | 20 | 12.5 | 14 | 14 | 19 | 91.5 | |
| | La Réponse | GBR Blue | 1.086 | 14 | 7 | 40 | 6 | 13 | 14 | 94 | 265.5 |
| 6 | Team Ambush Quokka 8 | Hong Kong | 1.103 | 13 | 14 | 32.5 | 20 | 1 | 2 | 82.5 | |
| | EFG Bank Mandrake | Hong Kong | 1.116 | 3 | 5 | 42.5 | 12 | 17 | 9 | 88.5 | |
| | Peninsula Signal 8 | Hong Kong | 1.194 | 20 | 16 | 45 | 15 | 9 | 4 | 109 | 280 |
| 7 | Baraka GP | Benelux | 1.199 | 16.5 | 11.5 | 15 | 9 | 11 | 5 | 68 | |
| | Xcentric Ripper | Benelux | 1.087 | 19 | 21 | 22.5 | 2 | 16 | 15 | 95.5 | |
| | Moana | Benelux | 1.111 | 21 | 18 | 37.5 | 18 | 15 | 20.5 | 130 | 293.5 |
From James Boyd/www.thedailysail.com

Back to top
Back to top