British Keelboat Academy sailors shine
The Brewin Dolphin Commodores' Cup fleet received an inadvertent visit from HM Queen Elizabeth II this morning, her Diamond Jubilee Tour taking in Cowes Yacht Haven where the 21 boats are based in this premier three boat team event for international amateur crews.
This afternoon only one race was held, again along the Lee-on-Solent shoreline, as it was on the first day, in a 6-9 knot southeasterly. The boats then had to head out into the tide to round the first mark and spreader mark before heading back downwind. The course was shortened, when a southwesterly sea breeze filled in after a brief transition just short of the finish line.

Winner of the day was the young British Keelboat Academy crew on former RORC Commodore David Aisher's J/109 Yeoman of Wight, competing in RYA Team GBR Black, whose time corrected out to more than two minutes ahead of John van der Starre's J/111 Xcentric Ripper in the Benelux team. However it was RYA Team GBR Red which put in the best performance of the day slipping into first place on 151.5 points, although they are now just three points ahead of yesterday's leaders, France.

The British Keelboat Academy's Racing Manager and Head Coach, Luke McCarthy praised their helmsman Stevie Beckett and said he was pleased that their win today wasn't a big boat/small boat issue, it had been one of tactics.

While the majority of the fleet went inshore two winners defied the majority and headed out into the Solent. "We initially thought that on the right the tide wouldn't have started to ebb quite so much," said McCarthy. "We also felt that if there was going to be any sort of a shift it was going to go right and that is what made us the gain upwind for sure, so we were well in among the 40ft middle of the fleet boats."

They had also anticipated the southwesterly sea breeze filling in, the GBR teams having discussed it this morning at their weather briefing. "During the boat briefing on the way we said that we just wanted to have eyes up the Solent for boats coming down from the western Solent with spinnakers. Half way down the run one of the guys at the front of the boat saw a boat popping out past Cowes with a spinnaker- after that we looked to push and be the first boat to make that transition and that was another big gain at the end."

In addition to winning today, after four races Yeoman of Wight and her young crew is the leading boat across all seven teams at the Brewin Dolphin Commodores' Cup, having taken over from RYA Team GBR Red's small boat, CNBC, that had her worse day of the regatta today.

"GBR Black was put together as a bit of a development team," observed McCarthy. "We have got some young sailors from the British Keelboat Academy on board, very much looking at this as being about getting experience of sailing at this level. Other people on the Black team maybe haven't done the event before and are looking at it with a longer term perspective." An additional benefit is that all three of their boats have ended up being optimised for the light conditions. However the Black team still has some ground to make up although in fourth place they are less than 20 points from first.

Leading the boats around the course today was Andrew Pearce's Ker 40 Magnum III, which also made early gains over her three international sisterships by heading away from the coast more. One of Magnum III's two professional sailors is Andy Beadsworth, former America's Cup helmsman and Olympian who is also the sole person competing at this year's Brewin Dolphin Commodores' Cup from the winning Irish team of 2010.

"We've led every race this regatta and haven't managed to end up at the finish leading, but today we did," said a relieved Beadsworth. "Our strategies have been generally good all week, our speed is generally okay, our preparation is generally okay and you should never expect, but there was no reason why we shouldn't be doing as well as we've been doing."

Maintaining their lead on the water ahead of the other well sailed Ker 40s was made no easier by them having to negotiate the transition, although the Magnum III crew was anticipating it. "We were worrying about it because we could see this area of light air and there were other boats in the vicinity which were on jibs at funny angles, so there were hallmarks that it would change," said Beadsworth.

"And we could see the flags on the committee boat and they stayed southerly right until we were 200-300m from the finish and then we hit the wall and the jib was just going up when we hit it, so we transitioned very well."

Magnum III did well to finish third overall on corrected time, helping to ease GBR White up the leaderboard to third place. "It is very difficult to expect a Ker 40 to do well overall in these lighter conditions against some of the boats that are obviously stronger in these conditions," concluded Beadsworth.

After trailing the other Ker 40s up the beat, Jonathan Goring's Keronimo in GBR Red, pulled back to second on the water behind Magnum III, finishing fourth on corrected. Despite CNBC's lacklustre result today, and Dignity's 'best left forgotten' offshore race yesterday when it took two tides to get them around one mark, it was Keronimo's performance today that has elevated the Red team into first.

Tomorrow there are two more inshore races are scheduled, due to start at 10:30.
Boat results
| | | | | | | | | | |
| --- | --- | --- | --- | --- | --- | --- | --- | --- | --- |
| Pos | Sail No | Boat | Team | TCC | R1 | R2 | R3 | R4 | Tot |
| | | | | | | | X2.5 | | |
| 1 | GBR1242R | Yeoman of Wight | GBR Black | 1.03 | 4 | 11.5 | 5 | 1 | 21.5 |
| 2 | NED7025 | Eleuthera | France | 1.114 | 2 | 13 | 7.5 | 8 | 30.5 |
| 3 | GBR7735R | CNBC | GBR Red | 1.032 | 5 | 10 | 2.5 | 16 | 33.5 |
| 4 | GBR6889R | Keronimo | GBR Red | 1.193 | 9 | 8 | 17.5 | 4 | 38.5 |
| 5 | GBR704R | Philosophie IV | GBR White | 1.057 | 7 | 19 | 10 | 7 | 43 |
| 6 | NED40010 | Baraka GP | Benelux | 1.199 | 16.5 | 11.5 | 15 | 9 | 52 |
| 7 | GBR8410R | Premier Flair | GBR Blue | 1.074 | 15 | 4 | 30 | 5 | 54 |
| 8 | GBR4757R | Joopster | GBR White | 1.091 | 6 | 3 | 27.5 | 19 | 55.5 |
| 9 | GBR4070L | Incognito | GBR Blue | 1.053 | 12 | 20 | 12.5 | 14 | 58.5 |
| 10 | FRA35950 | Nutmeg IV | France | 1.078 | 8 | 17 | 20 | 17 | 62 |
| 11 | GBR236R | EFG Bank Mandrake | Hong Kong | 1.116 | 3 | 5 | 42.5 | 12 | 62.5 |
| 12 | GBR39R | Magnum III | GBR White | 1.193 | 16.5 | 9 | 35 | 3 | 63.5 |
| 13 | NED9111 | Xcentric Ripper | Benelux | 1.087 | 19 | 21 | 22.5 | 2 | 64.5 |
| 14 | FRA5040 | Beelzebuth 3 | France | 1.063 | 18 | 1 | 25 | 23 | 67 |
| 15 | GBR42N | La Réponse | GBR Blue | 1.086 | 14 | 7 | 40 | 6 | 67 |
| 16 | GBR8888N | Cobra | GBR Black | 1.12 | 10 | 2 | 47.5 | 13 | 72.5 |
| 17 | GBR73R | Salvo | GBR Black | 1.044 | 11 | 6 | 50 | 10 | 77 |
| 18 | IRL39000 | Dignity | GBR Red | 1.117 | 1 | 15 | 52.5 | 11 | 79.5 |
| 19 | GBR2215L | Team Ambush Quokka 8 | Hong Kong | 1.103 | 13 | 14 | 32.5 | 20 | 79.5 |
| 20 | BEL4701 | Moana | Benelux | 1.111 | 21 | 18 | 37.5 | 18 | 94.5 |
| 21 | HKG2300 | Peninsula Signal 8 | Hong Kong | 1.194 | 20 | 16 | 45 | 15 | 96 |
Team results
| | | | | | | | | | | |
| --- | --- | --- | --- | --- | --- | --- | --- | --- | --- | --- |
| Pos | Sail No | Boat | Team | TCC | R1 | R2 | R3 | R4 | Tot | Team2 |
| | | | | | | | X2.5 | | | points |
| 1 | GBR7735R | CNBC | GBR Red | 1.032 | 5 | 10 | 2.5 | 16 | 33.5 | |
| | GBR6889R | Keronimo | GBR Red | 1.193 | 9 | 8 | 17.5 | 4 | 38.5 | |
| | IRL39000 | Dignity | GBR Red | 1.117 | 1 | 15 | 52.5 | 11 | 79.5 | 151.5 |
| 2 | NED7025 | Eleuthera | France | 1.114 | 2 | 13 | 7.5 | 8 | 30.5 | |
| | FRA35950 | Nutmeg IV | France | 1.078 | 8 | 17 | 20 | 17 | 62 | |
| | FRA5040 | Beelzebuth 3 | France | 1.063 | 18 | 1 | 25 | 23 | 67 | 159.5 |
| 3 | GBR704R | Philosophie IV | GBR White | 1.057 | 7 | 19 | 10 | 7 | 43 | |
| | GBR4757R | Joopster | GBR White | 1.091 | 6 | 3 | 27.5 | 19 | 55.5 | |
| | GBR39R | Magnum III | GBR White | 1.193 | 16.5 | 9 | 35 | 3 | 63.5 | 162 |
| 4 | GBR1242R | Yeoman of Wight | GBR Black | 1.03 | 4 | 11.5 | 5 | 1 | 21.5 | |
| | GBR8888N | Cobra | GBR Black | 1.12 | 10 | 2 | 47.5 | 13 | 72.5 | |
| | GBR73R | Salvo | GBR Black | 1.044 | 11 | 6 | 50 | 10 | 77 | 171 |
| 5 | GBR8410R | Premier Flair | GBR Blue | 1.074 | 15 | 4 | 30 | 5 | 54 | |
| | GBR4070L | Incognito | GBR Blue | 1.053 | 12 | 20 | 12.5 | 14 | 58.5 | |
| | GBR42N | La Réponse | GBR Blue | 1.086 | 14 | 7 | 40 | 6 | 67 | 179.5 |
| 6 | NED40010 | Baraka GP | Benelux | 1.199 | 16.5 | 11.5 | 15 | 9 | 52 | |
| | NED9111 | Xcentric Ripper | Benelux | 1.087 | 19 | 21 | 22.5 | 2 | 64.5 | |
| | BEL4701 | Moana | Benelux | 1.111 | 21 | 18 | 37.5 | 18 | 94.5 | 211 |
| 7 | GBR236R | EFG Bank Mandrake | Hong Kong | 1.116 | 3 | 5 | 42.5 | 12 | 62.5 | |
| | GBR2215L | Team Ambush Quokka 8 | Hong Kong | 1.103 | 13 | 14 | 32.5 | 20 | 79.5 | |
| | HKG2300 | Peninsula Signal 8 | Hong Kong | 1.194 | 20 | 16 | 45 | 15 | 96 | 238 |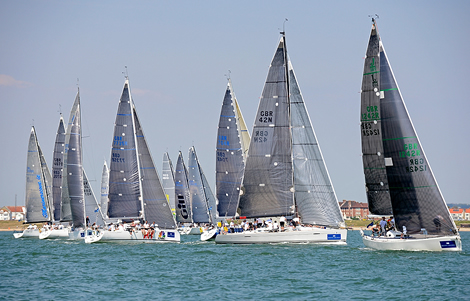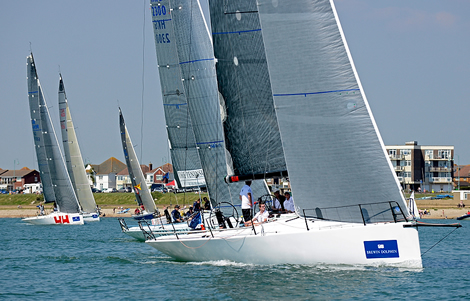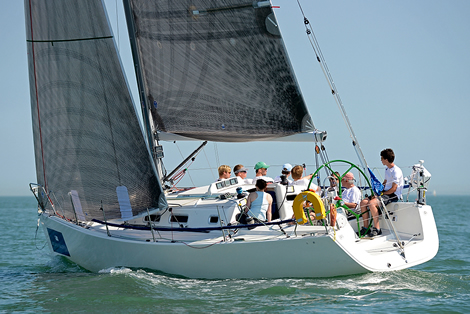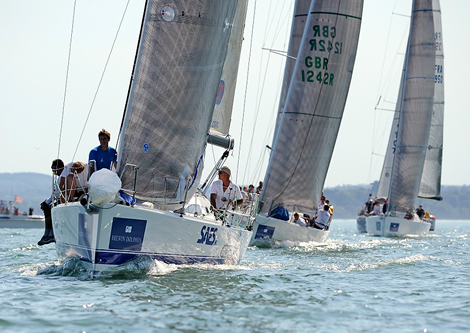 Back to top
Back to top