Nick Bubb on the 3 Peaks Yacht Race
As the world seems to be getting more and more obsessed with becoming fitter, going 'extreme' and generally taking on more and more crazy adventures, it seems odd that the Three Peaks Yacht Race is suffering a little with entries down 50% from last year to just 14. It is hardly the most expensive race in the world and it certainly ranks up there with some of the more crazy. Maybe people were put off by last year's start in near gale force conditions... maybe they had a point as we experienced a similar scenario this year too!
Anyway, for me this was my first offshore race since late 2009. Quite incredible really when for the previous 10 odd years I spent almost as much time at sea as I did on land. Whilst my old mates from the 08/09 Volvo have continued with the rollercoaster and some of my former crewmates, such as Tanguy de Lamotte, are preparing for the next Vendee Globe, I decided to forge a new career within the world of finance with Brewin Dolphin. Brewin, just by chance, are slowly becoming more and more involved with sailing as we celebrate our 250th anniversary.

The plan to enter the Three Peaks was actually driven by my wife Sophie, who has recently discovered an insane ability to run very fast over very long distances. This, coupled with our love of trekking, sailing and general adventure made it a perfect fit. With no desire to entertain the idea of sponsorship for the event we set about persuading Geoff Sinton, the proud owner of Quickstep, a Contessa 33 and also an old friend who helped with the build of my Minis, to get involved. One of the many quirks of the race is that the winner is simply the first boat home but not wishing to get into an arms race on what was supposed to be a holiday, we decided to aim for the IRC trophy and also the Tilman trophy, which is awarded to the first yacht home where four of the five sailors have run at least one of the mountain legs.

So to back track a little, the rules of the race are 'relatively' simple. Teams of five leave Barmouth in Wales and sail 60 odd miles north to Caernarfon where two people jump off the boat upon arrival and run 28 miles up to the top of Snowdon and back again whilst the remaining crew hang around ready to whisk them off the dock. The next leg sees the crews attempt to pass through the notorious Menai Straights and on to Whitehaven, a leg of around 100 miles. Once into Whitehaven marina through the lock (which doesn't open at all states of tide!) then two crewman jump on their bikes and cycle around 14 miles uphill to Ennerdale where they leave their bikes and run 13 miles to the top of Scafell and back, taking in Black Sail pass and Wasdale Head. With this part of the ordeal over the sailors/runners then jump on their bikes again and race back to Whitehaven.

After leaving Whitehaven, the teams then have the Isle of Man, Northern Ireland and Mull of Kintyre to negotiate before entering the Sound of Jura and, if the tides are favourable, passing to the East of Islay, Jura and Scarba. This is where it starts to get very narrow and very tidal... As the teams head for Fort William at the foot of Ben Nevis, the final gateway with six miles to go is the Corran narrows at just under 200 metres wide. Once safely docked in Fort William then two more runners must scale Ben Nevis before descending to cross the finish line. Oh and if there is no wind, you are allowed to row!

Each of the 'mountain marathons' are in their own way special and all offer breathtaking scenery... for some more than others! Each team seemed to have different strengths and on the entry list this year were some professional fell runners and serious international marathon runners... along with a few sailors who just fancied a challenge.

Sadly Geoff Sinton had to drop out the last minute due to personal reasons so I had to skipper our entry and Alex Haworth stepped in last minute as our non-running crewman. Ed Wilton was the other sailor tasked with running Scafell with me, while my wife Sophie was joined by Nikki Fleming, a relative newcomer to sailing but an international triathlete, to take on both Snowdon and Ben Nevis. As part of our training we had reccied most of the route during the 3 peaks 24 hour challenge last October (no boats involved) but sadly Soph and I were the only members of the original crew left due to a combination of weddings, pregnancies and ill health.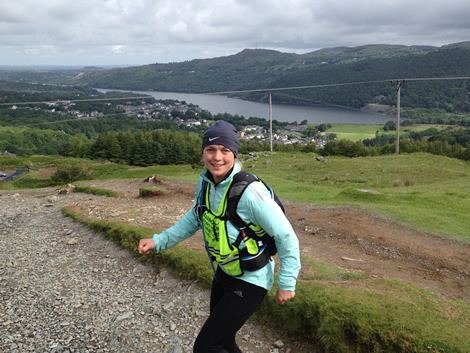 Due to the highly irritating limitation of holiday that accompanies a 'proper job', just getting the boat to the start was in itself the usual mission and we have to give huge thanks to Geoff, Dan Watson and most of the Waldringfield lark fleet for getting involved. Anyway, true to form, Quickstep arrived with a few hours to spare on the Thursday with scrutineering completed on the Friday in gale force winds. As we readied ourselves for what was going to be a lively start, Nikki certainly personified the 'ignorance is bliss' theory and seemed very relaxed about going to see in a steady 30 knots on the Saturday afternoon for her first offshore race and pretty much first race full stop.

After negotiating the various sandbanks off Barmouth, with a few decent tactics and a bit of good luck we passed inside the island of Bardsey late on Saturday evening well up with the leaders and still in one piece. The girls were trying to rest down below while us boys bashed our brains out and demanded cups of tea at regular intervals as we punched into a cold northerly breeze. Once round Bardsey we suffered a little on the port hand fetch as we headed for Caernarfon. It seems being 6 foot shorter than most of our rivals did make a difference but to be honest we didn't totally nail the complicated tidal flows so didn't really deserve much more than the 4th place we were pleased to register on arrival. With engines allowed within 2 miles of the jetty we dropped the sails, gunned the engine and threw the girls over the side onto the slippery dock as we cruised by.

Soph and Nikki then produced probably the performance of the race by any member of our crew. 28 miles (i.e. more than a marathon) from sea level to the top of Snowdon and back in 5 hours. Simply stunning and as luck would have it, just fast enough to get us into the Menai Straights at the ideal time. This narrow 10 mile channel between Anglesey and the Welsh mainland is notoriously dangerous especially as we approached the infamous Swellies, where the route is strewn with rocks. Approaching downwind with spinnakers up battling with 3 other boats was not the 'safety first' approach we'd discussed but it did seem the best way to get it over with so we ploughed on and luckily all made it through ok. We lost a little bit of ground on the fetch to Whitehaven but were pleased to see most of the bigger boasts had missed the tide to get in the lock so were sat at anchor waiting for us when we arrived!

One boat, the Reflex 38 Kugel Motion did make it in on the tide beforehand and consequently were miles ahead. Not really too surprising bearing in mind the difference in size and power. Anyway, the next 5 boats all entered the lock together and started the Scafell 40 mile epic as one peloton. Ed and I were pleased to hold our own near the front of the group and indeed drop several of the teams but we knew our joy was short lived as soon as we hit the running track! At about 2/3rd our size, these 'proper' fell runners destroyed us and were over the horizon almost immediately. Nevertheless we stuck to our guns and battled on for over 11 hours. Summiting Scafell at 0200 in thick fog was interesting but thankfully we made it back down in one piece and kept up our steady pace.

Amusingly, whilst running we had been doing some maths and knew that unless the runners ahead smashed all records they weren't going to get out of the lock for a while yet and Ed and I actually stood a chance of making it back by the time the next lock opened. After 11 hours we made it with about two minutes to spare much to the disbelief of the other teams who for all their effort had not gained a single minute on us. The beauty of the race (well from our perspective anyway...)!

So with 200 miles of sailing and Ben Nevis to go it was all on. Long story short, we had some of the most stunning sailing any of us have ever experienced as we threaded our way through the Scottish islands taking more and more risks to keep pace with our bigger rivals. Doggedly we hung on to them and as we entered Loch Linnhe with 20 miles to go, there was almost nothing to choose between 2nd to 6th. As the wind went light and on the nose, Quickstep found her feet and picked up the pace. With the girls getting a final bit of rest in before their last run, Ed , Alex and I finished off the sailing side with some great tactical racing to move up to second. With about 4 miles to go we suddenly realised that incredibly, through the semi darkness, the Reflex 38 was only 100 yards ahead. Whilst we had hit pretty much every tidal gate bang on, their way had been blocked at every turn. Could we really steal line honours as well as what was now an inevitable IRC win. Sadly it wasn't to be and we had to fight off the Sigma 38 Rho for second place. In the end that battle came down to oarsmanship and Ed and I were grateful to be in the smaller boat for the first time all race! With just over 15 minutes on our Tilman trophy rivals (Kugel Motion did not qualify for this category) from Rho, Sophie and Nikki set off up Ben Nevis and never looked like faltering, coming home a comfortable 12 minutes quicker than the runners from Rho.

In summary, this was a brilliant adventure, race and experience. We met some wonderful people, pushed our bodies to the extreme and were rewarded with a big IRC win and the Tilman Trophy, both more than we could have ever dreamed of and a victory for the 'normal' sized people in the little boat! We owe this success to many people but two in particular stand out. Geoff Sinton, for not only loaning the boat but also preparing her and delivering her to the start. His support made him truly our 6th crewman and I can't wait to get back racing with him again. Having shore crew during the race who provided food and drink during the runs at the various check points was a massive advantage (although most teams adopted this tactic too). Thanks Peter (Ed's dad!) you really were a hero and I'm pretty sure got less sleep than those of us racing.

So to anyone thinking of getting involved, go for it! It's cheap, a lot of fun, highly rewarding and well organised. One of the UK's truly great historic races that has been running since 1977. If anyone is interested to find out a bit more than go to http://www.threepeaksyachtrace.co.uk/index.php or I will happily answer as many questions as I can nickjbubb@gmail.com. The only slight negative that I can think of was the amount of rowing that we (well actually mainly the girls) did!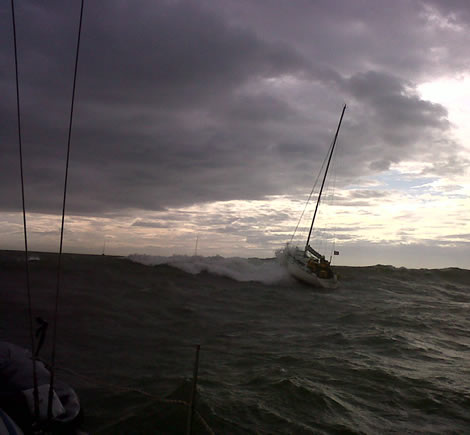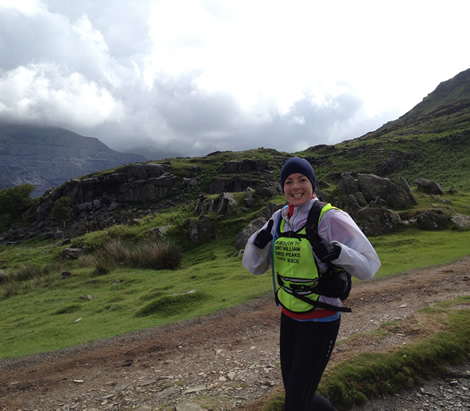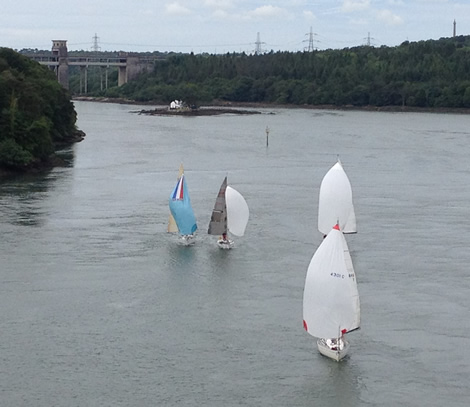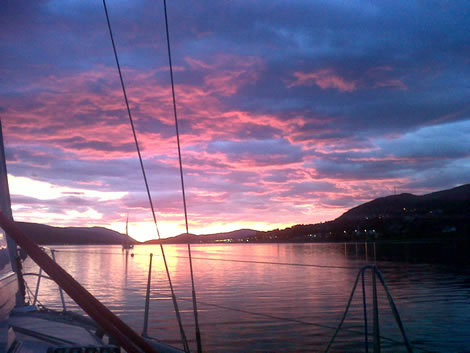 Back to top
Back to top