To the Eddystone and back
The RORC Season's Points Championship continues this weekend with the Myth of Malham Race.
The 230 mile race around the Eddystone Lighthouse is one of the longest races in the RORC calendar. It is a test of endurance and concentration and is extremely tactical, especially with regards to the strong tides that flow along the south west coast of England. Usually, a tough beat to the famous Eddystone Lighthouse is rewarded with a downwind return leg back to the Solent. The race also carries a weighted points factor of 1.2, making it even more important for the RORC Season's Points Championship.
In IRC One Jens Kuehne's RP48 Sjambok is the scratch boat and will be giving away a considerable time handicap to Andrew Pearce's Ker 40 Magnum III and Chaz Ivill's Grand Soleil 54 Trustmarque John B, the next highest rated boats in the class. It will be a race that the German team on Sjambok will remember well!
Also in IRC One, Mark Emerson's Rodman 42 Phosphorus has been scoring well in the RORC Season's Points Championship, including a class win in the North Sea Race. A good result in the Myth of Malham will move Phosphorus up to first place for the season in class and possibly pole position for the whole championship. However, the current class leaders; Piet Vroon's Tonnerre de Breskens and second place Nick Martin's J/105 Diablo J are both in Ireland for the Round Ireland Race with a 1.5 weighted points factor.
Andy Beadsworth will be racing on board Magnum III, which won her class in last week's IRC National Championship: "Our goal for the Myth of Malham will be to sail well and execute the job as well as we can, get the boat around the track in one piece and be tactically astute. This will be my first offshore with the team and we hope to get the most out of the group and to learn more about how to sail the boat, there is nothing as useful as time on the water. Personally I am looking forward to driving the boat in a race for the first time but it is only 230 miles, so Andrew (Pearce) will probably drive the boat the whole way around!"
In IRC Three, Todd Wells will be competing in only his second race with his new J/109 Je Vante. Todd has been racing for many years before deciding to buy his own boat for racing. "Je Vante is new to us this year and we are really looking long term at a Rolex Fastnet campaign for 2013 before I get too old. The Myth of Malham will certainly be good practice for that as it follows much the same route to Eddystone," commented Wells. "The Portland tidal gate will be the first big issue but it is a tactical beat with other issues such as St. Alban's Head and after rounding the lighthouse you have to get home as well! Seriously, for a long race like this, fitness is important and so is the correct sailing kit. As far as food on board, we will be taking two precooked dinners 'à la Wells' and lots of fruit too."
Ten yachts will be racing doublehanded, including three Figaro yachts. The Artemis Offshore Sailing Academy's Artemis 43 with Liz Foreman and Robin Elsey on board should have a close battle with Katie Miller's Hot Socks and Ian Hoddle's Rare, which will be easy to spot on the start line as it is bright pink!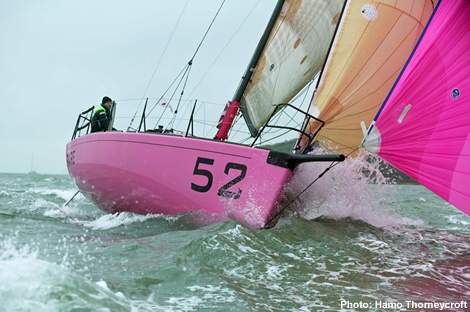 "This will only be my second double handed race and the first for Robin," commented Liz Foreman. "We will need to make sure we don't wear ourselves out too early on but the biggest thing is getting on well with the other person; as there are only two of you on the boat with no escape apart from jumping in! It helps if you're out-going, excitable and don't mind getting wet and cold. We are planning to eat fried rice most of the time, as it's very tasty and requires no cooking! If it gets too hairy we don't want to be pouring hot water all over the place down below. As for sleep we are planning to get into a watch system so that each of us can get enough rest to keep the boat going at its maximum. I just finished university last week after four years, so going offshore is perhaps not how most students would be celebrating! Robin's glad it's going to be windy this weekend as he is a bit hyperactive and needs to do some running around!"

Ian Hoddle has been racing Rare since the end of 2010 and will be racing with co-skipper Ollie Wyatt: "I am a great believer in open discussion on board, having an open relationship is critical in my view, as it can overcome highly charged emotions, bad weather and tiredness. Also having a co-skipper with a sense of humour is a must, especially as Rare is pink! Ollie is only 21, but he has comprehensive experience offshore and inshore and is a professional rigger, which is invaluable for running repairs. He is also very fit and dexterous which makes him ideal for hanging off the bow during sail changes!

"The current forecast, with a likely beat all the way to Eddystone in 20+ knots and heavy swell, will make life onboard for two of us very demanding and tiring for the first half of the race. We will be looking forward to reaching the turn and opening her up off the wind on her favoured point of sail. We expect to be awake for most of the race and we will predominately be both on deck for the whole time. Cooking on our single burner hob is possible although likely we will not do this until perhaps the return depending on conditions - so it is pasties and crisps upwind for us. It always brings major food envy when we read of crews having hot bacon sandwiches! Having other Figaro IIs to race this weekend will be excellent and will drive another level of competition for us to benchmark our performance."
Back to top
Back to top