Second St David's Lighthouse Trophy for Carina
Going into Monday evening, LLwyd Ecclestone's Kodiak crew was hopeful of winning the St David's Lighthouse Trophy, the most coveted of the three main Newport Bermuda Trophies awarded to the corrected time winner of the large amateur division. Then came Carina to steal the show.
It looks as though, based on provisional results, Rives Potts' McCurdy and Rhodes 48ft Carina won Class 3 and the silver scale model St David's Lighthouse Trophy for first in the Division and probably more loot to boot. Carina, with Potts at the helm, won the same first place trophy in the 2010 race and in 1970 Carina won it under then owner Richard Nye. This ties Carina with Finisterre as the boat with the most lighthouses on her trophy rack. Finisterre won three in a row under Carleton Mitchel 1956, 1958 and 1960.
Carina finished at 18:16 in Bermuda and had a corrected time of 45:08:16. The US Naval Academy's new Navy 44 Defiance was second in Class 3 behind Carina and also second in the St David's Lighthouse Division. Her corrected time was 45:42:50. The US Naval Academy's older Navy 44 Class 2 boat, Swift, was first in her class and third overall for the division with a corrected time of 46:09:04. It was a pretty tight race with just 26 corrected minutes between these top two boats in the division after a 635-mile sleigh-ride.
For Rives Potts and crew, this is his second St. David's Lighthouse win in a row. "We had a fantastic race," Potts said. " Pretty straight forward. We powered through the stream and then played two big shifts down the rhumbline further south. We gybed twice and then tacked twice for the finish when the wind got lighter and went forward. We finished under a light #1 headsail." These gybes and tacks were more than most of the other boats in the race made and probably helped 'Carina' win overall.
"The boat just got back from a circumnavigation and racing in the world's top races three weeks ago. My son and nephew did a great job of getting Carina ready for Bermuda. In a race like this, preparation is one key to winning. Crew work is another and we had a family based crew working together," Potts added.
The crew of Carina is made up of four fathers and five sons. One of the fathers, Bud Sutherland, is Rives Potts' brother-in-law and his son Rives Sutherland is the Captain of Carina, who took her on her global trek.
Change happened overnight in the Double-Handed Division, too. Perennial double-handed winner Hewitt Gaynor slipped his J/120 Mireille into first in Class 15 and first in the division. Joe Harris, who sailed such a fast race in his Class 40 Gryphon Solo2 was alone on the leaderboard Monday. Harris had an elapsed time of 60:20:26 while Gaynor's was 74:12:34. On corrected time, Mireille beat Gryphon Solo2 by roughly 4 hours.
The provisional Gibbs Hill Division winner is Shockwave the Reichel/Pugh 72 mini maxi skippered by George Sakellaris. Sakellaris will win the silver replica of the Gibbs Hill Lighthouse, a top prize along with the St David's Light. Shockwave took double silver snatching the North Rock Beacon Trophy, the third important prize for the IRC corrected time winner, which is a silver replica of the 1960-1990 North Rock Light Tower that once warned mariners of the rocky approach to Bermuda from the North.
Med Spirit, sailed by Boston's Michael D'Amelio in the Open Division, is the other winner that seems clear under the provisional results for the Royal Mail trophy. Six boats started in this division that featured boats from 40-100 ft in length. Their common denominator was moveable ballast, either canting keels or water ballast. The three Class 40s all had water ballast and were fully crewed so they did not qualify to sail against the three Class 40s that went doublehanded in Class 15.
The Wally 100 Indio under Mark Fliegner came second. Donnybrook, in her first race skippered by Jim Muldoon had to retire with damage to her daggerboard and daggerboard trunk. Under corrected time only about five hours separated the winning 100 footer and the bottom Class 40.
Spirit of Bermuda, the Bermuda Sloop Foundation sail-training vessel, was the sole entry in the new Spirit of Tradition Division. She finished Monday night at 11:20 ADT.
No Cruiser Division winner will be projected until late Tuesday or on Wednesday.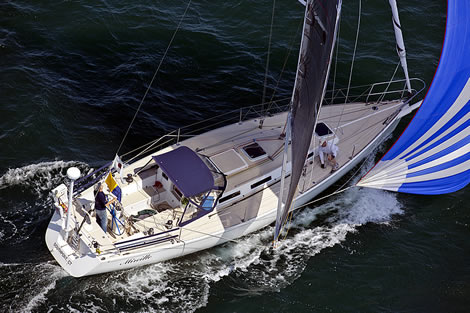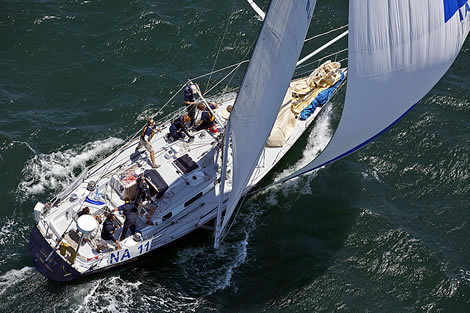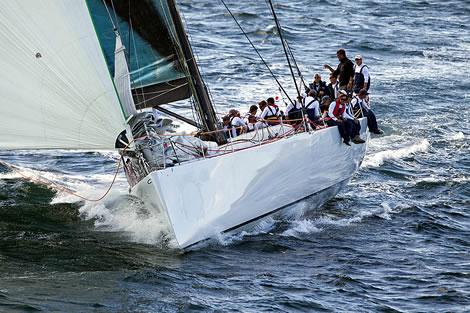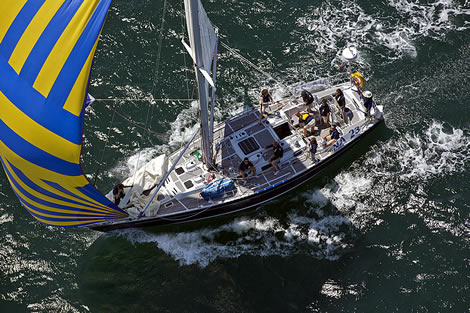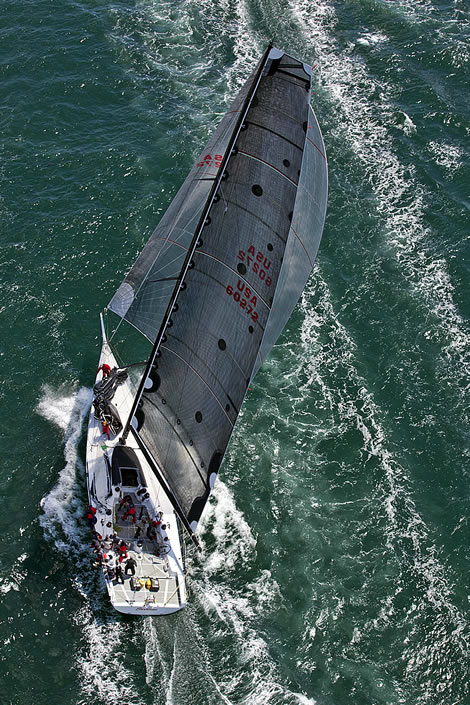 Back to top
Back to top