Another win for Jorg Riechers
Jorg Riechers just can't stop winning. From his Class 40 victory in the Solidaire du Chocolat, then in the Class 40's Atlantic Cup up the east coast of this States which finished just six days ago, so the German skippers has returned to France aboard his mare.de Mini to claim honours in the Trophée Marie-Agnès Péron (MAP).
After 220 miles of racing, Riechers aboard his well prepared Etienne Bertrand Proto arrived back into Douarnanez last night at 21:21:42 UTC, 20 minutes ahead of Czech skipper Milan Kolacek on his Manuard-designed Gaben Follow me, followed in turn by Julien Sprayer on Objectif course au large. While Kolacek led for the majority of the race, the German skipper edged ahead through some sound but small tactical moves made in the last miles but also due to his unflagging energy! Sprayer was overjoyed to be on the podium in his first solo offshore race. In the last miles, he was even able to seriously worry the two leaders.
"I'm still feeling a little jet lagged from the U.S." said Reichers. "But, as I have not slept at all... I came here with no pressure, no one knew I was going to participate, so I was alone! I could not train one day, but the boat was very well prepared and I had worked on the strategy.
"It's not easy to move from a Class 40 at the Mini, they are very different boats, but you get back into it quickly. I also got lucky given my lack of training - I would probably be penalised. But the work we've done over the years is bearing fruit ... And it was really a great race! We fought like crazy all the time. It was hard, because our speeds are almost equal."
Second placed Milan Kolacek commented: "I have not slept at all - it was not possible anyway! The hardest part was this morning: I really had to struggle not to collapse. I would have had to be on my own far ahead of the others in order to rest a little! But it was really great to sail in close contact all the time, it's very stimulating. This has been as much about speed as strategy. So you had to take small gains every time. In the end, I was surprised to see Jorg come in from the right, and I did not want to follow him, it seemed risky This is my best result on the Trophy MAP [he finished sixth last year and 10th in 2010], it was a little less crowded this year in the Protos, but the level is really interesting, especially with the arrival of newcomers such as Julien."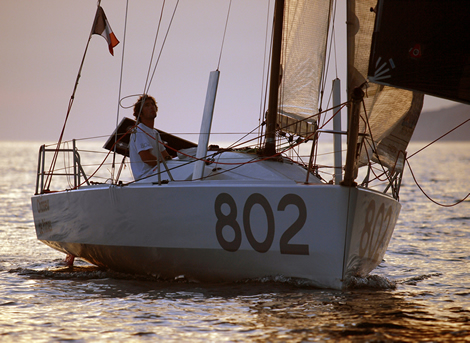 Sprayer commented: "This is a first for me, singlehanded! I'm really happy to have maintained my pace to the end. I slept around two hours in total, with micro-naps of 5 to 10 'or even 20 minutes when we were under spinnaker last night. There was not too much visible - my closest competitors were left in my wake, so it was pretty good, we were sailed at 15 to 18 knots, it was good, pretty fast, everything was rigged, and I went to sleep! Otherwise, I have been on the attack all the time - there were many different winds, it was necessary to play them constantly. I'm super happy because I've just started on the circuit and I am still seeking a partner so I can participate in the Sables-Azores-Les Sables and the next Transat 6.50..."
As the sun rose at around 05.30 French time on the Bay of Douarnanez, so Renaud Mary on www.runo.fr claimed line honours in the Series (one design) class. 18 minutes later two competitors arrived jockeying for second place - Damien Cloarec on Lomig finally beating Clément Bouyssou on Groupe Accueil Negoce by just two minutes.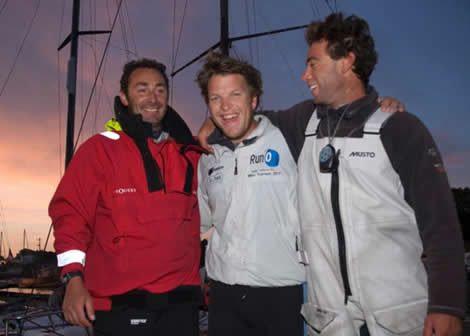 This was Renaud Mary's first victory on the Mini circuit, while for former Figaro sailor Damien Cloarec it was his first race in the Mini class.
"It was not an easy one!" said Mary. "And the wind towards the end really played on one's nerves! It started to soften and for me it then filled in from behind. But the Pogo has not said its last word! I'm really happy - I had a great speed, especially downwind, thanks to my magic sail: my Code 5. It allowed me to make the break. Yet I was not looking good, I opted to go south in the Bay of Douarnenez and it went north. But I really attacked all night and I quickly regained places. I slept whenever possible - since the beginning of last night, I'm well rested!"
Damien Cloarec commented: "The wind was moving a lot, you had to hang on, everything was possible right until the end! The Nacira, I discovered, it has great potential. Compared to the Pogo 2 it is less fast downwind but more comfortable reaching. I still have many things to discover about this boat, including combinations of sails. We only put the boat in the water 20 days ago.
The Artemis Offshore Academy's Becky Scott came home in 12th position in the Series fleet at 0501 UTC.
Back to top
Back to top