Banque Populaire wins speed trials
Friday May 18th 2012, Author:
James Boyd
, Location: none selected
All seven of the IMOCA 60's Europa Warm'Up fleet took to the waters off Barcelona today for a speed trial off the W-Hotel down a course of just less than one mile.
The fastest boat of the day was Banque Populaire, but the overall conclusion shared between the teams and the observers, was that the speeds and times were incredibly close and there is no standout winner.

Each boat made three runs. The first two were in lighter winds and really just allowed the crews to find their feet, to understand the subtleties of the course. The third was the best in the stronger breeze.
The start of the Europa Warm'Up will take place tomorrow from Barcelona in what are forecast to be almost ideal conditions. If the winds are as expected, the fleet should get going well during the first 24 hours, before there are a series of transitions: calms with erratic wind shifts before the wind returns again from ahead.
Ranking Chrono Barcelona
1 - Banque Populaire - 7min 19s
2 - Cheminees Poujoulat - 7min 21s
3 - PRB - 7 min 22 s
4 - Groupe Bel - 7min 26s
5 - MACIF - 7min 27s
6 - 100% ACCIONA EcoPowered - 7min 30s
7 - Virbac-Paprec 3 - 7min 51s

Finish times of the fleet race:
1 - Banque Populaire - 6mn 52s
2 - PRB - 7min 10s
3 - Virbac-Paprec 3 - 7min 27s
4 - Chimneys Poujoulat - 7min 49s
5 - 100% ACCIONA EcoPowered - 8min 02s
6 - Groupe Bel - 8min 28s
7 - MACIF - 10m 12s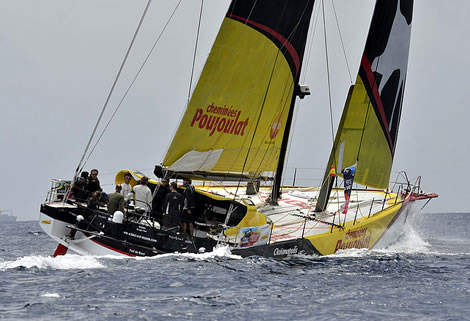 Back to top
Back to top