Powerful Brewin Dolphin Commodores' Cup Hong Kong entry
Having finished fifth on their first attempt in 2008 and second to the run-away Irish two years ago, the Hong Kong team is set to be one of the strongest entries in this year's Brewin Dolphin Commodores' Cup, to be held on the Solent over 22-28 July.
Competing in an event like this when you are based on the opposite side of the world has its logistical challenges so for this year's event the Hong Kong team has chartered two well known British boats for their three boat line-up.

Erivale, the familiar Ker 39 of the RORC's Commodore Mike Greville, has been chartered to Nick Burns, who campaigned his own Mills 40 EFG Bank Mandrake in 2010. Former RORC Commodore Peter Rutter has chartered his 2011 IRC Nationals-winning Grand Soleil 43 Quokka 8 to leading Hong Kong-based Etchells sailor Ante Razmilovic, who will be both skipper and helmsman for the Brewin Dolphin Commodores' Cup.

"We managed to get two good boats, so we feel pretty comfortable," says Team Co-ordinator Laurence Mead, who will be helming Erivale in what will be his fifth Commodores' Cup. "The Hong Kong guys really love the Brewin Dolphin Commodores' Cup. It is good fun, it is easy to do, it is not that time consuming and the balance between the Corinthian element and the competiveness is just right. It's a very competitive event which is both hard to win and well worth it!"

With two chartered boats the Hong Kong team is also shipping one from their home base, the hot new Ker 40 Peninsula Signal 8, acquired last year by a syndicate of five owners. Among them are Jamie McWilliam, of the Irish sail making dynasty, who sailed on board Blondie IV two years ago and is Peninsula Signal 8's skipper. Another co-owner is Australian Keith Jacobs, who is familiar with the Solent having campaigned Bimblegumbie in numerous Admiral's Cups for both Australia and Hong Kong over the 1980s and 90s. A third is former pro-sailor and sailmaker Patrick Pender, who will be Signal 8's helmsman for the Brewin Dolphin Commodores' Cup.

The two pros on board are Hamble-based McWilliam brother, Tom, and Sam Haines from the UK Halsey loft in Melbourne, while Chris Frost returns as navigator, having competed on Blondie two years ago.

The new Ker 40's unusual name is a reference to the typhoon warnings in Hong Kong, Signal 8 being 'gale or storm force winds'.

"Our big advantage this time is that we are supported and sponsored by The Peninsula Hotels," says Jamie McWilliam. "We are delighted to be associated with such a Hong Kong icon and I hope that they enjoy it as much as we will. They have helped us do it and it has helped us complete the Hong Kong team."

Peninsula Signal 8 could be one of four Ker 40s competing at the Brewin Dolphin Commodores' Cup if Magnum III and Keronimo are selected for the British team with a fourth due to be part of the Dutch team.
Coming all the way from Hong Kong to take part in the event, training time on board their two charter boats will be limited, but Peninsula Signal 8 has been sailing in Hong Kong since they acquired their boat in the autumn, although Jamie McWilliam says that training companions have been few in Hong Kong over the winter thanks to the increasing success of the Asian circuit. They also plan to use Cork Week as a warm-up.

Although they have charter boats and the team will be largely flying in from Hong Kong for the event, Laurence Mead says that this won't necessarily be a handicap. "We have got quite solid teams, crews who sail together in Hong Kong and who will stick together when they come and do the Commodore's Cup. I think that improves our chances quite a bit." On board Quokka 8 for example will be Joachim Isler and Andrew Taylor, co-owners of the Hong Kong-based Mills 41 Ambush and who competed last time aboard Rockall III.

Also the boats they have chartered are well sorted and they aim to have some Solent experts for the regatta such as career tactician David Bedford who sailed with the Hong Kong team in the last event.

In terms of choosing their boats, the Hong Kong team has erred towards the faster end of the permitted rating band due to the introduction for this year's Brewin Dolphin Commodores' Cup of the single mass starts in all races, whereas previously each of the three classes started separately.

While this should prevent them being gassed in the starts, Jamie McWilliam says that going for larger boats doesn't make it a 'slam dunk' for the Hong Kong team. "Theoretically I think the rule for any regatta that involves offshore sailing is that a good big one beats a good little'un. Certainly in 2008 and 2010, big boats were good, but in 2006 that was very much not the case, when the French team won with boats that were pretty much at the bottom of the three bands. But that was the last time it was held earlier in the season."

As to the competition Laurence Mead reckons the English teams will be the hardest to beat, benefitting from local knowledge of the Solent's complex geography, its tides and winds. "The level will be at least as good as it was last time and last time around it was a very competitive regatta. I think it will be a difficult event to win."

Jamie McWilliam concludes: "We have less visibility on the potential outcome this year than previously. Last time we had three boats that we knew very well, but we ran into a colossal campaign from the Irish. In 2008 it was our first time as Hong Kong and to be honest it was a big thing for us to be there, so we weren't that focussed on the result. This time we know a little more about it, although we lack the experience people get regularly racing in the Solent and in seriously competitive IRC fleets in breeze, but at least we are a little more experienced than before."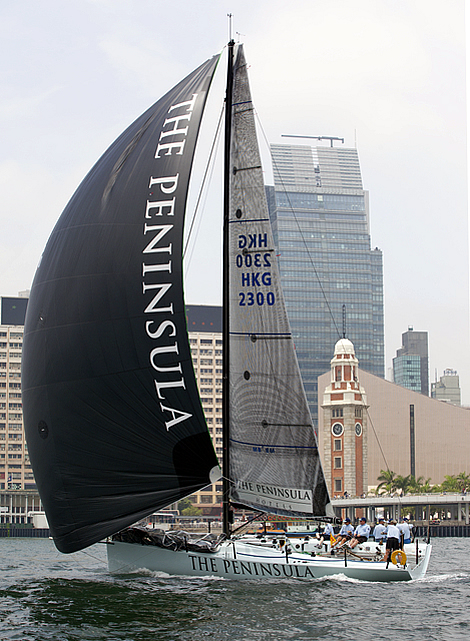 Back to top
Back to top