Mike Sanderson on the Volvo Ocean Race breakages
Thursday April 12th 2012, Author:
James Boyd
, Location: none selected
Mike Sanderson has been spending rather more time ashore than he anticipated in this Volvo Ocean Race. On leg one Team Sanya, which he skippers, had to be shipped to Cape Town after she was holed on the first night out of Alicante. On leg two there was a rigging issue that caused them to put into Madagascar, not rejoining the fleet until the second part of leg three out of the 'mystery' port of Mali in the Maldives. Then, on the most recent leg across the Pacific, Team Sanya had to limp back to New Zealand after one of her rudder stocks snapped. As a result Team Sanya will miss out on leg six as its VO70 is shipped from New Zealand to Savannah from where she will be delivered to Miami ready for leg seven.
According to Sanderson Team Sanya is due to reach Miami on 26 April and she will then undergo a refit and this will include fitting two new rudders.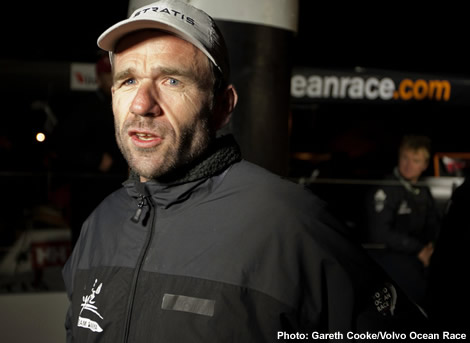 "That was obviously a pretty disappointing breakage, because we owned that, if you like," says Sanderson. As Telefonica Blue in the last Volvo Ocean Race, the boat experienced problems with her rudders, but when the boat went through her transformation into Team Sanya in Hamble last year, the rudders – both stocks and blades – were replaced. "We even went to the extra trouble of X-Raying the stocks before the blades on them. So they were what we thought they were, but it obviously wasn't meant to be..."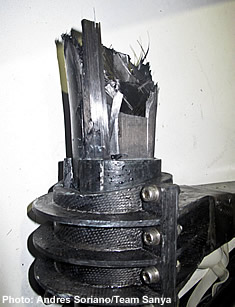 The rudder bearings were already majorly beefed up since the boat set out on the 2008-9 Volvo Ocean Race. Then she had 100mm diameter bottom bearings. At present they are 140mm. "That is a pretty big percentage change. We thought that we had ticked that one off with quite a lot of reserve," says Sanderson. So the new rudders to be fitted in Miami will have to be made strong still, in fact as strong as they can be to fit into the existing bearings, with more carbon in the tubes.
Oddly it was the windward rudder that broke on Team Sanya and Sanderson says that this previously also happened on one of the ABN AMRO boats before the start of the 2005-6 Volvo Ocean Race. So the rudder may have suffered from the same kind of 'slapping' forces that used to cause the windward bows of ORMA 60 trimarans to snap off. In the Team Sanya instance, Sanderson says "there is a funny dynamic load that comes on to windward rudder. We were at the top of a wave, going fast, just starting to bear away and head down to the new wave and the rudder re-enters into the water with angle of attack. And then BANG." This was a big bang, of the same magnitude as the rig breaking or the keel snapping off, he recalls.
While he admits that they can't absolutely rule out having hit something, Sanderson says he is as certain as he was that they did have a collision with something in the water on the first leg, that they didn't on this occasion.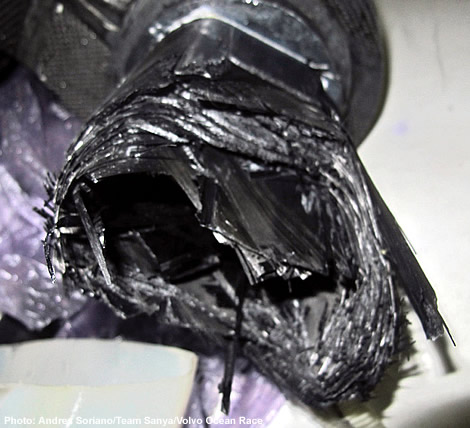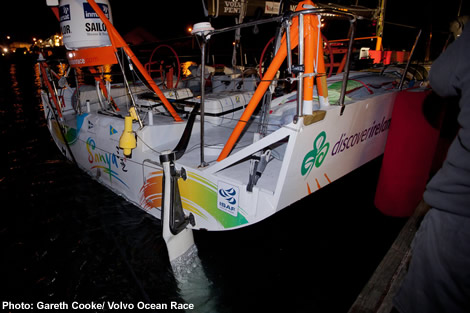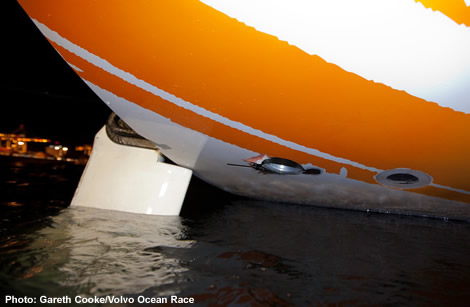 Another potentially much more serious issue was uncovered when they had returned to New Zealand and lifted the boat out in Tauranga: a 1.5m long crack in the outer skin of the hull, running between the prop box and the broken rudder, indicative of torsional movement within the hull.
"We were actually very lucky that we turned around and came back," says Sanderson. "I don't like to think too much about the consequences. I am under no illusion it wouldn't have stayed there all the way to the Horn. So we would have been in a world of bother if we'd carried on."
Fortunately as they sailed back to New Zealand slowly, the force of the water didn't peel off the outer laminate around the crack as it had after the hull was punctured on the first leg. "We have been talking about being unlucky, but maybe we have been lucky in this instance."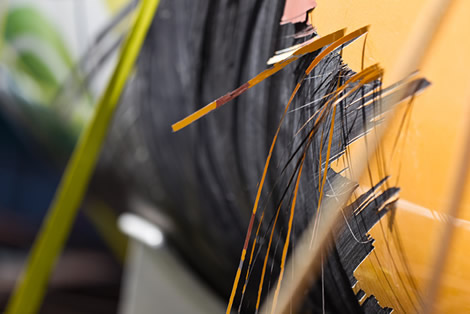 According to Sanderson the core doesn't appear to be damaged, so they won't have to replace the entire panel. Instead they can repair it and to prevent a recurrence of the possible torsional issue, some additional internal structure will be fitting for stiffening.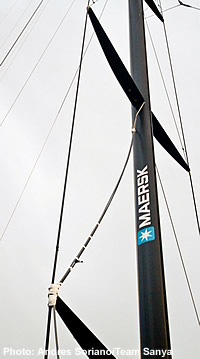 As to the dismastings that have occurred, the spec for VO70 masts is conservative with limits placed on the section shape, a minimum weight of 625kg and a minimum vertical position for the centre of gravity, so VO70 dismastings are typically not caused by tube failures. Equally the spec of the rigging has considerable safety margin. As Sanderson points out: "it is all sized for stretch, none of it is sized for break, so it is operating at about one fifth of its break load. It is all supposed to be just cruising."
Unfortunately the various new carbon fibre rigging technologies have been suffering from teething. "It has been having some issues under compression - it has never been on the windward side that people have been having issues," says Sanderson. "Unfortunately every composite [rigging] manufacturer in the race has now had issues. The only thing is that composite rigging is here to stay. Lots and lots of masts fell down in the early days of rod rigging, so unfortunately we have just got to get through it."
Sanderson adds that these breakages are a function of not having been allowed enough time under the new Volvo Ocean Race rule to test this gear prior to the start of the race. "There was no restriction to the latest developments, but there was restriction to how much time you could put on it. Obviously with ABN AMRO [in the 2005-6 race] it was the first time with the VO70 and the first time where PBO rigging was being used in the Volvo Ocean Race, but we did eight months of sailing with it leading into the race. Something has to be resolved there. Either the boats have to slip into a new world which is a whole lot more conservative, or we need to be allowed to sail them for longer periods of time to develop them. I don't know which is right."
Another point Sanderson is at pains to make is that when the breakages have occurred, they haven't been pushing to absurd levels. "We didn't think we were being reckless. The boat was in a comfortable mode. We were sailing like we had sailed it before, certainly well within the realms of Volvo normality. There is a perception out there that people are pushing them hard. We are nowhere near to where the guys were in the 2000-1 Whitbread 60 race where the boats had got a bit dangerous because of how hard people were pushing them and you never backed off. For sure everyone is still backing off in Volvo world. After that first night out of Auckland, we were beside Groupama and Puma and they had both their storm jibs on and two or three reefs. We had our J4 up and three reefs. Everyone was well aware that they had to get through that first night. So the breakages have been odd. I think we have one of the highest calibre fleets, in terms of boat preparation, that we have ever seen in the race, so I am not sure why the boats have decided to let us down."
As to the structural issues that have occurred in the bows, Sanderson had previous experience of this with the two ABN AMRO VO70s on the first leg of the 2005-6 race, when work had to be carried on both at the first stopover in Cape Town. "There the outside skin remained intact, so the job was actually much bigger than was let on to be fair. With ABN it was always a constant battle, however that was before maximum keel weight. Then we had the widest boat with the heaviest keel, so she was theoretically a lot more extreme structurally than the boats are today."
With the new boats Sanderson reckons they are lighter than the organisers may have foreseen. New rules for this race include a 7,400 kg maximum combined keel fin and bulb weight while in measurement trim the all-up weight of the boat must be 14,000-14,500kg. So while in previous races it was a case of taking all possible weight off the boat to maximise bulb weight for measurement, now that this is restricted, teams typically add as much gear as they can for measurement to bring their boats up to minimum weight, thus allowing them to build their hulls as lightly as they can. So the 'toothbrush cutting in half' mentality remains.
"For sure all the intentions are there, just it doesn't matter what you do there is always some smart people who will twist it around. It is the same with Formula 1. Every year they believe they have slowed the cars down and every year they go faster, so it is pretty similar," says Sanderson.
So what is the solution for future Volvo Ocean Races? Sanderson says that the boats going one design doesn't appeal to him – part of the challenge he enjoys is the development of the boat. "The Volvo has always been such a wonderful platform for development which has legitimately filtered down into the grand prix racing scene. It would be a real shame if the Volvo boats suddenly weren't the most thoroughbred of our offshore racing boats. You always had Wild Oats and Speedboats, etc but it has been the Volvo boats which have been the test platform for composite rigging, for canting keel systems, daggerboards, the Code 0, and other pretty fun stuff."
However he is aware that continuing down this avenue unrestrained could have terminal consequences on the race. "Whatever we have to do to keep the race alive, we have to do and maybe there is an argument for going one design for two or three iterations to get us through the tough times and then open it back up again. I don't know."
Sanderson also worries about the prospect of human loss or severe injury in the race. During the transatlantic leg of the 2005-6 race, team mate Hans Horrevoets was tragically lost overboard from ABN AMRO Two. "The water coming over the deck is getting quite ridiculous. I think we are on slightly borrowed time with regards to someone getting hurt. Some of the hits are massive. They fully take your breath away, knock-the-feet-out-from-under-you hits."
Certainly on Team Sanya with its sunken cockpit to reduce windage and low the CoG of the stack, they have less protection. The stack is naturally smaller as less sails are carried on board, so the ones that are there are stacked more aggressively with sails being 'bricked' (ie folded up in a cube) so their weight can be positioned further aft.
Over the next few days we will be getting more views on the Volvo Ocean Race breakages.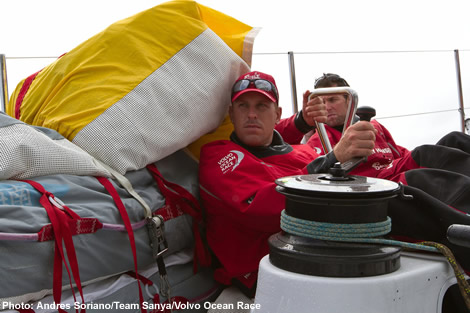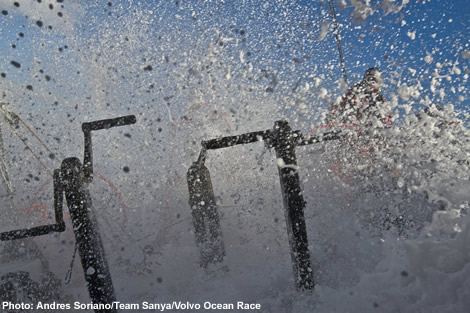 Back to top
Back to top