Ellen MacArthur in the DHL First Nation Home
It seems hard to believe that the lass from land-locked Derbyshire, who made such a name for herself in shorthanded offshore racing - finishing second to MichDes aboard Kingfisher in the 2000-1 Vendee Globe and then setting a new solo non-stop around the world record in her B&Q Castorama trimaran in 2005 – should have undergone such as almighty career change into an 'eco-economist', spearheading the drive towards a 'circular economy' via her Ellen MacArthur Foundation.
The rather thin excuse for this interview is that today Dame Ellen MacArthur is returning to the water, playing her part in the British team competing in the DHL First Nation Home, as part of Sport Relief 2012. This will involve her skippering a Challenge yacht from Belfast to Stranraer with the England team, led by rugby international Josh Lewsey, and comprising other rugby stars Phil Vickery and Martin Corry, Olympic cycling gold medallist Chris Boardman and TV presenters Phil Spencer and Katy Hill, among others.
In the DHL First Nation Home, four teams from Scotland, England, Wales and Ireland, started off from their respective capitals on Saturday in an eight day long lap of the British Isles and Ireland that involves running, cycling, rowing and, of course sailing. While Ellen is leading the England team's sailing effort, taking on this role in the other teams includes Ian Moore for Ireland, Jock Wishart for Scotland and Finn sailor Ed Wright for Wales. The event culminates on 25 March with a six mile run – the RanSlam - into the four capital cities involved, which anyone can take part in.
It seems reasonably hard to find out what is going on in this in real time, however the whole event looks set to come together in a television show to be broadcast by the BBC on 25 March to coincide with the RanSlam. Non-participants can donate here.
While Ellen has officially retired from the high profile sailing events that she gave her such unprecedented profile during her 20s, she still lives on the Isle of Wight and does sail regularly. So when was the last time she went sailing? "On Sunday. And Saturday. It was just for fun," she says. "On my own boat - a small sailing canoe in fact... And regularly throughout the winter I have been sailing. I have been out a lot!"
She also has her beloved Iduna [the Corribee she sailed around Britain when she was 19] on her driveway in Cowes, although she only came out of the water in January.
Surely Iduna must be going up in value by now? Time to recoup the dinner money? We tease. "That is not my prime concern! It was a sound investment, but I'd rather have the boat! It was really nice to sail her again. It was fantastic."
In addition during the summer Ellen still spends one day a week with the Ellen MacArthur Cancer Trust, which impressively celebrates its 10th birthday this year and this often involves her getting afloat. The Trust takes young people aged between 8-24 out on either one day or four days trips to help them regain their confidence, on their way to recovery from cancer, leukaemia and other serious illnesses.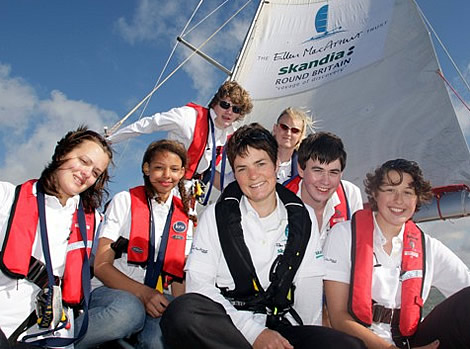 But recently Ellen's time has been taken up primarily with her Foundation, which earlier this year published its 96 page magnum opus Towards a Circular Economy, (which can be downloaded here) with research work carried out by management consultancy giant, McKinsey & Company. Ellen presented this report to the captains of industry at the World Economic Forum in Davos at the end of January. Following on from ideas conceived by economist Walter Stahel in the 1970s, the report is believed to be the first of its kind to fully analyse the economic case for making the transition from our present linear economy ['take-make-dispose'] to a circular model.
"It has been an incredible journey, right through from when we first put the project together and went to talk to McKinsey about a year ago, through to writing the report and working very closely with McKinsey on all the analytics and then putting it all together," says Ellen. "It wasn't a particularly large space of time to do a piece of work that size, so it was pretty full on, but we thoroughly enjoyed working with McKinsey and the founding partners to do it. Then to go to Davos and get the reception that we got from CEO and Chairman level people at our breakfast briefing, was extraordinary," she says, with the same degree of zeal she once used to describe her time on the water. See her interview with the BBC at Davos here.
Including several case studies, the Foundation's report is an impressive document and reveals that through changing from a linear to a circular economy, a subset of the EU manufacturing sector could realise net materials cost savings worth up to US$630 billion per annum towards 2025.
Ellen explains: "If you look at a circular economy washing machine: the manufacturer will make more profit and the user would have the use of that machine for less money than they would otherwise buying a machine off the shelf. They call it the NTV – which is positive on both sides. Trying to make our linear economy more efficient doesn't work in the long term, whereas this is about rethinking the whole system. The light commercial vehicle example is also extraordinary - you remanufacture it at 100,000 miles and you end up with the same warranty as a new car for 50% of the price, but making three times the profit that they would on a new vehicle. Raw material costs for European automobile manufacturers went up by 500 million Euros and, with more volatility and increases in prices than we have ever seen before, that is not going to be sustainable. So economically it is massive."
With the Foundation, Ellen says that around one third of the work she does involves targeting businesses – as part of this the Foundation has an online 'knowledge transfer network' enabling businesses to share ideas about circular economy.
Companies, particularly the ones Ellen refers to as the Foundation's 'founding partners', are already initiating circular economy projects within their organisations. "They are of varying scales," says Ellen. "Some are really huge. Some are around business models as well as products. It is not just designing products in a different way, it is about changing the business model so you can get the reverse logistics working, so you can get the materials back and you can market products in a different way."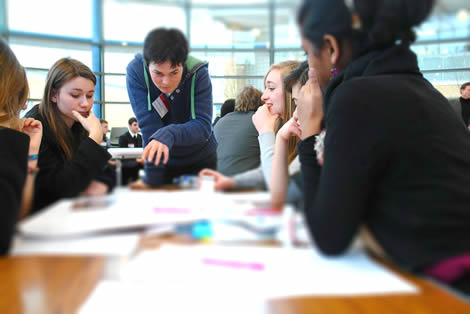 A considerable amount of Ellen's time with the Foundation is also spent on education, where they typically work with existing organisations and business schools. The first post-graduate course is taking place at the moment and they are currently working on introducing two MBA courses on 'circular economy'. "By next September we should have 50% of UK secondary schools with a teacher trained up to understand the benefit of a circular economy..." she adds.
There is still a sailing tie: The Ellen MacArthur Foundation operates from the top floor of the Ratsey & Lapthorn sail loft by the chain ferry in Cowes. Around 23-24 people now work there. "The team is awesome. When you have that level of energy among a group of people it is amazing what you can take on." The office is also on the commuter route for her old colleagues at Offshore Challenges on the way to and from their base in East Cowes.
"Whoever thought I would be sitting in a room talking about economics!" Ellen concludes. "Certainly not me, even five years ago, but that is the majority of what I talk about these days. I am loving it. I still find it hard around race starts, but I have no regrets. The Foundation has been amazing. We raised all the funds that we were looking for by September 2010. Now we are 18 months in and we are having some extraordinary meetings with some extraordinary people about projects on an extraordinary scale and just having that kind of feeling that something is happening... And it is all about opportunity and shifting business models and it is all about the more you do, the better. That is such a positive environment to be working in and is really energising."
Back to top
Back to top