Three in a row for Courrier Dunkerque
Described by the skippers as the most tactically challenging leg of the tour to date, the third leg of Sailing Arabia – the Tour could have gone to any one of the first three teams home with less than ten minutes separating first to third, after a challenging 232km leg.
Constantly changing conditions meant there was always going to be winners and losers on the back of major shifts. The race started in fast 20 knot downwind conditions and it was again tour leader Daniel Souben and his professional French crew sailing Courrier Dunkerque that rounded the windward start mark ahead of countrymen Bertrand Pace on Team Commercalbank and Cedric Pouligny on Team BAE Systems.
With masthead spinnakers set, Team Commercalbank and Team BAE Systems were able to eat into Courrier Dunkerque's lead and sailed clear for the initial stages of the 30 mile run to the first gate. However Courrier Dunkerque were not going to go easy on them, and fought back hard to pass through the gate 2min 2sec ahead of Team Commercalbank and 4min 19sec ahead of Team BAE Systems.
Team Commercalbank continued to heap on the pressure and narrowed the gap on Courrier Dunkerque to 1min 55sec, but for all Pace's match racing pedigree he could not find a way through, eventually crossing the line 2min 29sec behind Souben and Courrier Dunkerque. Pouligny's Team BAE Systems held onto third and finished a further 7min 7sec behind second-placed Team Commercialbank.
Pace commented after the race that while turning in his best result to date, he was realistic that it would be difficult to snatch a win from Souben's professional French crew.
"It was a very complicated race and Daniel (Courrier Dunkerque) sailed very well and covered us until the end. We are still tuning our yacht for speed but I don't think we can beat them unless they make a mistake. Professional's don't make mistakes so we are happy to be second."
Souben said he had to work incredibly hard to hold off the challenge from Team Commercialbank and praised the crew for their determination in difficult sailing conditions: "Bertrand never gives up. This we know and you have to sail very, very, well to beat him. We achieved this tonight but we can't afford to take anything for granted. He will come back at us again and we must be cautious."
The battle for fourth and fifth was equally intense with just a 14-minute finishing deficit between the UK's Dee Caffari and her all-women Al Thuraya BankMuscat crew and local Omani skipper Ahmed Al Mamari and his all-Omani crewed Team Renaissance.
Denied the podium finish they so deserve, Al Thuraya BankMuscat's skipper Dee Caffari was again full of praise for her Omani crew and their growing confidence in the class and commitment to the race: "Tactically, this was without question the most difficult leg of the tour with ever-changing conditions, a strong current and an incredible amount of shipping. It was like a motorway out there. But through all that the girls hung in and come Wednesday we'll go out again and try to go one better."
Oman's Ahmed Al Mamari and his Team Renaissance crew have continually improved throughout the race and believe they're a genuine contender for a place on the podium: "We sailed well and I'm realistic because of the professional sailors we are racing but we're finding better speed and working together as a crew. We had a great battle with the girls and see them as our major competition. We have three legs left and a podium place is still very achievable. We hope to better our performance in the next leg"
Al Mamari concurred that conditions were tricky and says the result might have been different had he not picked up an abandoned fishing net near the finish which he says cost his team considerably.
The award for most improved performance definitely goes to Team Ras Al Khaimah and skipper John Curran who brought his yacht home in sixth place ahead of Team Bahrain, Team Muscat 2012 and Team Kingdom of Saudi Arabia.
Curran says that after finishing last in the previous two legs it was gratifying for his inexperienced crew to get the jump on the back markers and arrive in his home port with a good result: "The guys deserved a good result and we're rapt. The script couldn't have gone any better."
Tomorrow, the nine-boat fleet will complete a series of inport races in Ras Al Khaimah, before embarking on the next leg to Manama, Oman on 22 February.
Leg Three results including finishing time
1. Team Courrier Dunkirque 04.20.34
2. Team Commercialbank 04.23.09
3. Team BAE Systems 04.30.16
4. Al Thuraya BankMuscat 04.51.47
5. Team Renaissance 05.05.20
6. Team Ras Al Khaimah 05.19.34
7. Team Bahrain 05.21.12
8. Team Muscat 2012 0.521.58
9. Team Kingdom of Saudi Arabia 05.28.14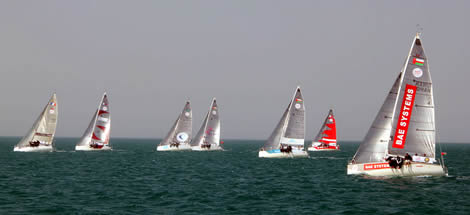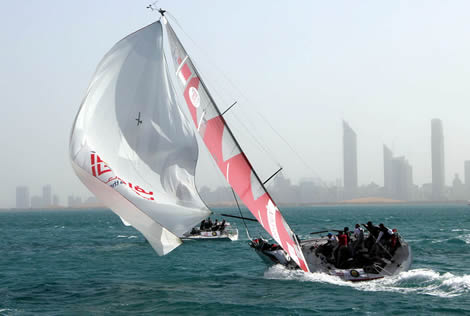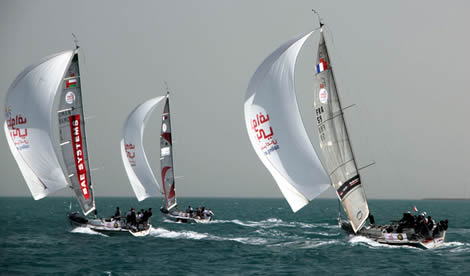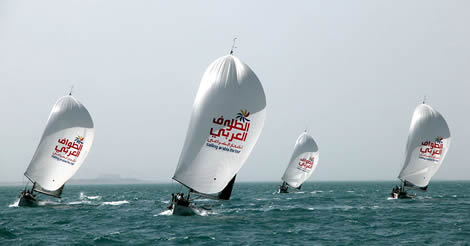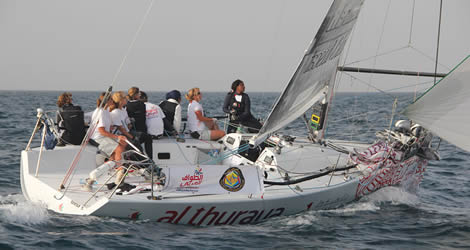 Back to top
Back to top