Last boat into Wellington
At 15:14:30 GMT (04:14:30 local) today, the South African team of Nick Leggatt and Phillippa Hutton-Squire took fifth place in Leg 2 of the Global Ocean Race aboard their Class 40 Phesheya-Racing, completing the 7,000 mile course from Cape Town to Wellington, New Zealand, in 36 days 05 hours 14 minutes and 30 seconds.
On New Year's Day, the South African duo of Leggatt and Hutton-Squire and Phesheya-Racing began sailing parallel to the coast of South Island, New Zealand, for the race's final 600 miles. Southwesterly breeze of between 25-30 knots pushed them along the coast making the South African's best speeds of the entire 7,000-mile voyage across the Indian Ocean with a 24-hour run of 273 miles.
At 01:00 GMT on Wednesday morning, Leggatt and Hutton-Squire rounded Cape Farewell for a fast run through Cook Strait, putting in their final gybe of the voyage off d'Urville Island at 08:00 GMT and rounding the final headland of the voyage at Cape Terawhiti on the North Island coast four hours later.
In the moonless and cloudless pre-dawn, Phesheya-Racing 'turned left' out of Cook Strait between the Barrett Reef buoy and Pencarrow Head for a final, bone-shaking beat in 45 knots under triple-reefed main and staysail. Leaving the exposed and jagged rocks of Barrett Reef in a mass white water to port, Leggatt and Hutton-Squire crossed the finish line off Worser Bay and continued under sail, hardening up around Point Halswell and Point Jerningham before finding some shelter off the city of Wellington.
"We thought Leg 2 was really, really tough," confirmed 44 year-old Leggatt, as the South African sailors moored alongside the GOR race pontoons. "But when the handle on the kettle broke it was even tougher!" adds his 28 year-old co-skipper. "That happened this morning and since then, things have gone downhill!" continues Leggatt with a broad smile. "We couldn't have tea with fruitcake and it's all been a disaster," Hutton-Squire explains, laughing.
The lack of refreshment in the final hours of Leg 2 overshadowed the broach that Phesheya-Racing underwent shortly before entering Wellington Harbour: an event that ripped the radar from the Class40's carbon fibre mast, but barely merits comment following 36 days of hardship and storms in the Roaring Forties.
The South Africans navigated a successful course across the Indian Ocean's high latitudes taking a similar, northerly option as Marco Nannini and Hugo Ramon on Financial Crisis: "Financial Crisis definitely had it worse than us," Leggatt believes. "When we realised we weren't keeping up with the cold fronts, we figured the next best option was to find the route with the least hard work."
As Phesheya-Racing left the restrictions of the GOR's western Indian Ocean Ice Limit at 42°S after nine days of racing, Leggatt and Hutton-Squire dropped down to 44°S having crossed the Celox Sailing Scoring Gate north of Kerguelen as a series of fronts swept through the fleet. Skating along the Australian Ice Limit at 45°S, the duo maintained this latitude until ascending towards New Zealand through the Tasman Sea. "The strongest wind we had the whole time was 47 knots, which compared to what Marco and Hugo had was nothing," confirms Leggatt. "It was never that extreme, but just started getting slightly monotonous and wet and cold."
Throughout Leg 2, Leggatt and Hutton-Squire constantly logged wildlife as part of their passion for the sea and continuously recorded data for the Environmental Investigation Agency's marine research programme running during the GOR: "Other than all the birds, the most interesting sight was the Southern Right Dolphins on Christmas Eve," say Phillippa Hutton-Squire. "Also the Minke whales that surfed next to the boat with their heads out of the water stayed with us for 20 minutes and I really thought we were going to hit them as they were so close," she explains. "If we'd got the boat hook out we could probably have touched them, they were so tame." Leggatt has a practical approach to the whales: "They were about the same length as the boat, but they weigh something like 18 tons, so you don't really want to argue with them!"
With 24 days in Wellington before the start of GOR Leg 3 on Sunday 29 January, Leggatt and Hutton-Squire have a lot of work ahead to prepare for the Pacific Ocean and South Atlantic voyage from Wellington to Punta del Este, Uruguay, as despite every attempt to preserve their four year-old Akilaria in the Southern Ocean, there is much to be done. "I don't even want to start with the list and we've got to work out how to pay for the repairs in Wellington," comments Hutton-Squire, although the South Africans have no intention of pulling out of the race. "There's no turning back now," says Leggatt. "Even to get home, we've got to go downwind round Cape Horn anyway as we're certainly not beating back to South Africa," he jokes.
While Nico and Frans Budel complete preparation for their dismasted Class40, Sec Hayai, in Cape Town and are working towards rejoining the GOR for Legs 4 and 5, the five teams in Wellington are now recovering from Leg 2 and looking ahead to Leg 3. The GOR's Race Ambassador, Dee Caffari, has four circumnavigations to her credit, knows Wellington well and has been following the fleet's progress closely: "It's great to see the smiling faces of these teams as they are given a warm, Wellington welcome," says Caffari. "They have worked hard and sailed a long way through some pretty hostile conditions to get there and the people of Wellington know only too well what these guys have gone through as they are practised at welcoming sailors to their shores."
Dee has been especially impressed by the performance of the Leg 2 winners, Conrad Colman and Sam Goodchild with Cessna Citation: "It's without doubt an impressive victory by the young guns of Sam and Conrad and it must be a doubly special feeling for Conrad being a Kiwi and victorious in his home waters," says Caffari. "Each boat that arrives deserves the congratulations from us all and this leg can only help fuel confidence and adrenalin for the next leg," she believes. "Leg 3 starts at the end of the month and takes us across the Pacific Ocean and round the notorious Cape Horn," Dee explains. "Right now though, it is about rest and recuperation for our crews," she adds. "They need to eat well and sleep well and work on the jobs list to ensure they and their boats are in the best possible condition for the next leg," advises the GOR Race Ambassador.
Caffari has raced across the Pacific's Southern Ocean fully-crewed, double-handed and solo and provides sound advice to the GOR teams: "There are no bolt holes or Islands providing sanctuary on the way," she warns. "The Pacific Ocean is the most remote sea area in the world, although the weather is normally less harsh than the Indian Ocean, however, I can guarantee at least one big blow before the Horn just to remind our sailors that Mother Nature is in control out there no matter how confident they feel!"
However, before the ten sailors set off on Leg 3, they have just over three weeks in Wellington. "It really is a beautiful time of year to be in New Zealand," says Caffari. "My last visit was at this exact time with the launch of my Open 60 Aviva in January 2008," she recalls. "We sailed daily checking everything was okay before we left the safety blanket of our building task force at Hakes Marine in Wellington and I wish these guys well and can reassure the Global Ocean Race fleet that if they need any boat building work done, these guys are the best," advises Caffari. "Hakes Marine has seen me successfully cover many thousands of miles with very few problems."
GOR leaderboard 4 January:
1. Cessna Citation 30d 22h 20m 40s
2. BSL 32d 11h 38m 40s
3. Campagne de France 33d 10h 40m 15s
4. Financial Crisis 33d 20h 13m 45s
5. Phesheya-Racing 36d 05h 14m 30s
GOR cumulative Leg 1 and Leg 2 points:
1. BSL: 64 (4 points at the Celox Sailing Scoring Gate + 25 points for 2nd place in Leg 2)
2. Campagne de France: 56 points (5 points at the Celox Sailing Scoring Gate + 20 points for 3rd place in Leg 2)
3. Cessna Citation: 54 (6 points at the Celox Sailing Scoring Gate + 30 points for Leg 2 win)
4. Financial Crisis: 42 (3 points at the Celox Sailing Scoring Gate + 15 points for 4th place in Leg 2)
5. Phesheya-Racing: 24 (2 points at the Celox Sailing Scoring Gate + 10 points for 5th place in Leg 2)
6. Sec. Hayai: 6 (RTD from Leg 2)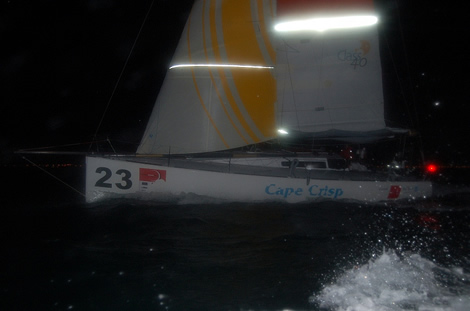 Back to top
Back to top