Decisive night for race leaders
At 1640 local time (0540 UTC) the leading maxi boats in the Rolex Sydney Hobart Yacht Race were just over half way across Bass Strait, having spent the day making reasonable progress in southwesterly winds that have been slowly dropping off from the 30 knots they saw last night and into this morning.
Ian 'Fresh' Burns, co-navigator on line honours leader Wild Oats XI reported this afternoon there being 10-15 knots of wind from the southwest and this was allowing them to point "around 20 degrees low" of the Tasman Light (marking the entrance to Storm Bay still some 250 miles away). As a result they were further east than they might otherwise be. "It has been pretty good so far. We haven't been becalmed or even slowed down. This is pretty much the lightest wind we have seen so far this trip."
However Burns added that they were preparing for a most difficult night ahead. "It is going to be really really tough because we have a patch of light wind to fight our way through to get to the Tasmanian coast." This is likely to involve a hitch west, which will happen if, as forecast, the wind backs into the southeast. Burns says they will then be aiming for a narrow band of favourable northerlies off the Tasman coast. Alas, there is one problem. "Between us and them there is a large 50-60 mile wide stretch of no wind and how we negotiate that and how that moves is really going to decide what we get."
In addition to this since leaving Sydney Harbour yesterday Wild Oats XI has had a constant thorn in her side in the form of Anthony Bell's Investec Loyal maxi. Over the course of today Loyal has dropped back to being 18 miles astern (in terms of distance to finish) but this is because she has been heading further east, with around 20 miles west-east split between the two yacht's tracks this afternoon.
"It is going to be really difficult," continued Burns. "Knowing the guys on Loyal as well as we do - Stan Honey and Michael Coxon - we know they will be throwing everything at us if it goes light, because when you are leading and the wind stops, the boat behind has a bunch of options to go around either side. I can see those guys plotting and scheming all evening to put us in a tough spot, but we will all be working our absolute hardest to keep things going. The guys are right now all concentrating on getting some rest while the boat is sailing along nicely to make sure we are in good shape tonight to throw everything at them that we need to."
Tonight will be a lottery, or "nervous times" as Burns puts it. A couple of knots of difference in wind strength with a maxi can mean the difference of stuck at 0 knots or making 5 knots. Burns anticipates their arrival in Hobart tomorrow night before sunset, however if tonight does not go well then it could be Thursday morning, in which case Wild Oats XI's seventh Rolex Sydney Hobart could also be her slowest ever.
Meanwhile the bulk of the fleet, from the 52 footers back, have spent the afternoon tight into the New South Wales coast. This is to enable them to set out into the powerful southwesterlies as they embark on their crossing of Bass Straight tonight, on the best possible course.
"Right now we have got about 16-18 knots and we are close reaching, with the no2 and full main, approaching Gabo Island, about another 40 miles from here," reported Dirk Johnson, navigator on Rives Potts' 1969-built Carina. "We have a number of boats around us, all paralleling each other, waiting for the southwesterly breeze to come around the corner."
According to Johnson, last night was bumpy, but in terms of wind strength he doesn't remember seeing more than 29 knots. "It was a little uncomfortable. There were some bigger waves than we are used to seeing, but everyone did good and we held on and we had a good night."
Johnson was looking forward to getting into the favourable current offshore tonight, but anticipated the wind generally getting lighter while a large meteorological question mark hangs over the rest of the race. As he states: "The situation changes dramatically from day to night and depending on where you cross the Strait, at different points on the Strait you can have different conditions. We are ready for everything I guess."
While earlier the maxis were leading under IRC, as they have slowed so the smaller boats have pulled up the handicap standings. With Carina – which just four and a half months ago on the opposite side of the world, won her class in the Rolex Fastnet Race - up to third, so Roger Hickman's 1985 Farr 43 Wild Rose is back in front again, from Stephen Ainsworth's much tipped Reichel Pugh 62, Loki in second. The Beneteau 40 footers - Lunchtime Legend, Balance, Two True and Victoire - currently just north of Eden this afternoon, remain in the top 10.
Fans of 18 year old Australian solo round the world sailor Jessica Watson will also be pleased to hear that her teenage team on Ella Bache is the top Sydney 38 under IRC (albeit fourth in class). Her crew of eight, including fellow youth solo round the world sailor, Britain's Mike Perham, have been training for the Rolex Sydney Hobart for the last three months, a schedule that included a dry run, sailing their pink boat from Sydney to Hobart and back three weeks ago.
"We are quite excited because the forecast is similar to the forecast we had for our practice run," says Watson, shortly before leaving yesterday. "So we've experienced almost those exact same conditions."
Watson and her crew are aiming to be the youngest crew to complete the Rolex Sydney Hobart. However Watson says she has higher expectations. "We put a lot of time and energy into this, so we'll be here to perform as well as possible particularly within our own division."
This afternoon has seen four more retirements, leaving 81 boats still racing. The GP42 Duende pulled out after crewman Tom Wormald suffered a dislocated shoulder and was dropped ashore. Later Sam Chan's Hong Kong-based TP52 Ffreefire 52, skippered by Anthony Day, headed back to Sydney after suffering mainsail problems. Finally Matthew Percy's Beneteau First 44.7 Alacrity suffered rigging damage and was putting into Eden while Jonathan Stone's Davidson 34 Illusion had hull damage and was returning to Sydney.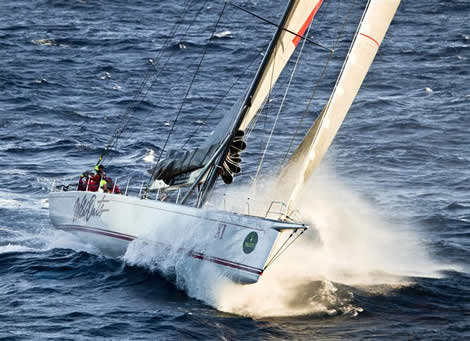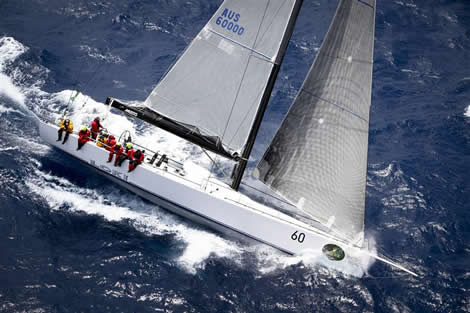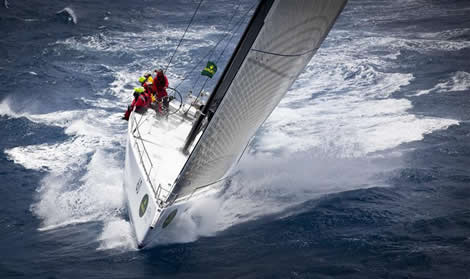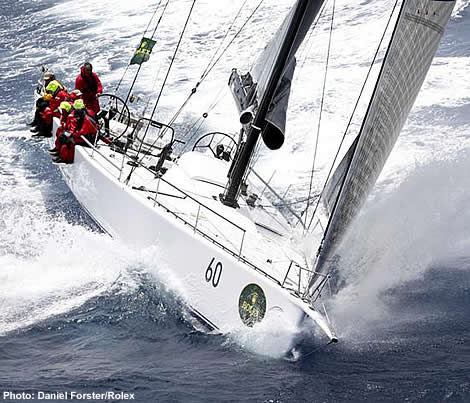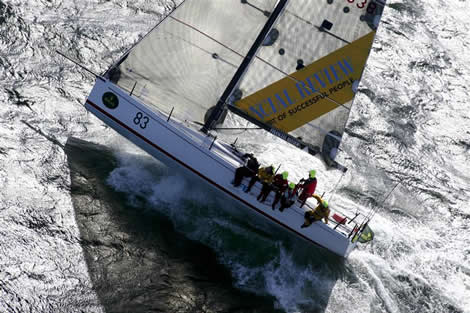 Back to top
Back to top