Telefonica finishes two minutes ahead of Camper
Monday December 26th 2011, Author:
James Boyd
, Location: none selected
The Spanish VO70 Telefonica made it two in a row when they narrowly beat the Emirates Team New Zealand-crewed Camper into the mystery port at the finish of the first stage of leg two of the Volvo Ocean Race. The Iker Martinez-skippered VO70 arrived at the mystery finish port at 17:57:20 UTC beating her Spanish rival by just one minute 57 seconds, after 15 days of racing.
On arriving Martinez commented: "We are very happy. Most of all to have been fighting it out in different situations. This really is a complicated leg, but we pushed on. We've seen that we can be up there at the front, we can go fast and we have always pushed forward."
The double Olympic medallist explained how the hours before the finish played out: "The last few miles were crazy. I've never sailed so close to the rocks at night with so many and such complex manoeuvres. With just a few miles to go we didn't think we had a chance of overtaking Camper and during the night we hit zones with no breeze three or four times. It was all a bit chaotic, but our luck changed, although really either of us could have crossed that line first. It was very complicated and a real game of cat and mouse."
Throughout the approach to the mystery port the two boats were match racing, the lead swinging between the two. At this morning's 0700 GMT sched Telefonica led by 1.8 miles, but by 10:00 GMT Camper were back in first place, just 0.5 miles in front, with Telefonica pulling ahead again at 16:00 GMT with just eight miles to go.

This morning Martinez commented: "We've been trying to overtake Camper for some 15 hours now, but they're defending in true match-racing style. We tried to get past last night to leeward, but they pushed forward and we just missed the chance. We almost took the position from them but it wasn't to be."

While the Juan K-designed Telefonica is usually best in winds of 15+ knots, in Cape Town before the start of leg two the team concentrating hard on optimising the Spanish boat for less wind. This seems to have worked: "We had seven knots, a windward course with swell - basically they were their conditions. However, Telefónica was happy in them and we were able to put up a fight. The second attempt was on the windward side. We were almost parallel to them but they managed to hold onto their position and a bit later we tried again on the leeward side. That time we were clearly in front but a gust came along and pushed them back alongside us and then they managed to push forward again."
Despite the outcome, the result remains provisional after Camper informed race management they had raised a protest flag over a manoeuvre made towards the end of the race.
If the result stands then Telefónica will claim 24 points for first place in the first part of leg two, while Camper will take 20 for second. Thus the overall leaderboard will see Telefónica increase her lead to 61 points, followed by Camper in second on 54.
From the mystery port, the boats will now be shipped to a point off the Sharjah coastline in the northern United Arab Emirates in time to start the final day-long sprint to Abu Dhabi in early January for the remaining 20% of the leg points.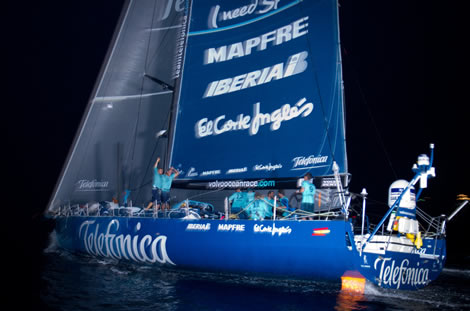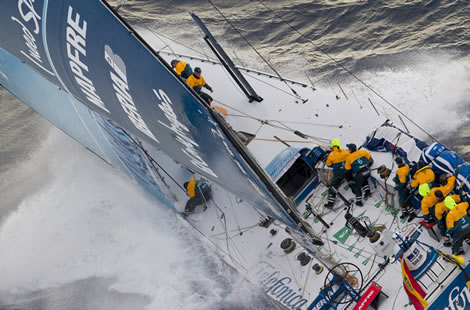 Back to top
Back to top