Rolex Sydney Hobart preview
If the forecasts prove accurate, then the 88 crews in the 67th Rolex Sydney Hobart will be breathing a tentative sigh of relief as conditions for this year's annual Boxing Day run south to Tasmania, are not currently showing a brutal boat breaking, wind-against-current race as claimed the lives of six sailors in 1998.
According to Rob Webb, Regional Director of the Australian Government Bureau of Meteorology, Monday's start from Sydney Harbour, at 1300 local time, will be accompanied by 15-20 knot northerlies, providing an initial blast south for the crews, but this will be shortlived. Later that afternoon, southerly/SSWerly headwinds are expected to fill in on the north side of Bass Strait and up the New South Wales coast, although these won't be generated by a 'southerly buster'. Two days in and the weather on the south side of Bass Strait and down the east coast of Tasman turns into a lottery, with light patchy wind dominating the course until an area of high pressure moves in from the west later in the week.
Clear favourite for line honours is of course Bob Oatley's 100ft maxi Wild Oats XI, first to Hobart in five of the last six races and winner of the 'triple' (line and handicap honours, plus the course record) in 2005. Anticipating stiff competition this year from American George David's Rambler 100 (until her keel snapped off in the Rolex Fastnet Race this August), so Wild Oats XI has over the last 18 months been significantly turboed, with twin daggerboards replacing her forward CBTF 'canard', a new keel, the canting angle of her keel increased by 4° (providing around 2 tonne metres more righting moment) and her mainsail and largest spinnaker enlarged by 30 and 50sqm respective, her mainsail now 3Di, etc. But given the latest forecast, even with more horsepower available, tactician Iain Murray says Wild Oats XI is still only going to get down to Hobart in two days four to five hours, some way outside of her one day 18 hour and 40 minute record.
"We will barrel out of Sydney, probably look for some leverage in the east so that we get some runway to land us back on the coast as the breeze starts to turn to the southwest," says Murray. "Then we'll go straight across Bass Straight and after that it is pretty sketchy how it is going to be off the east Tasmanian coast. It is always difficult there. You end up with patches of no wind and the breeze goes over the top of Tasmania."
Mid-fleet favourites

It could pan out that there is a general Bass Strait/NW Tasmania park-up, but Wild Oats XI gets through, however the general consensus is that if the varying forecast is likely to favour one size range this year, then it would be the mid-fleet, the 40-60 footers.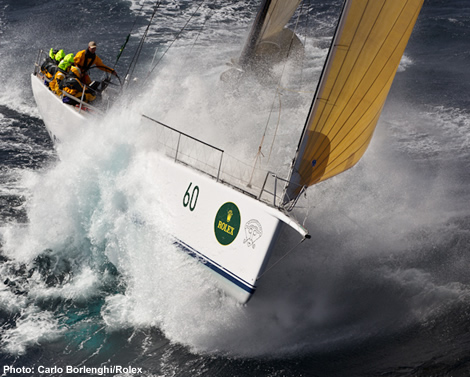 At the top end of this band falls Stephen Ainsworth's three year old Reichel Pugh 63, Loki, one of Australia's most successful race boats. Most recently Loki was winner of the 2010-11 Bluewater Pointscore Championship, the result of a spectacular season in which she regularly podiumed, and for example won line honours and her class in the Audi Sydney Offshore Newcastle Yacht Race.
Slightly down the size range are the eight 52 footers, including five former TP52s. These include Stuart Robinson's former Stay Calm, now simply Calm and belonging to Jason Van Der Slot, Graeme Ainley and John Williams, Anthony Lyall's 2005 Farr design Cougar II (ex Rush) and Anthony Day's Hong Kong boat Ffreefire 52 (originally the Alan Andrews design J-Bird III, built in 2001. However the most promising of this crop are probably Geoff Hill's Strewth (ex-Trader), Rob Hanna's Shogun (the Reichel-Pugh former Glory) and Ragamuffin (ex-Pegasus/Morning Glory) of Australian legend Syd Fischer, the man who put James Spithill on the map when he appointed him skipper of Young Australia.
Aged 84, Fischer this year sets off on his 43rd Rolex Sydney Hobart. Asked if he agreed that the forecast might favour baots in Ragamuffin's size range, he remained sceptical: "I will confirm that when I see it. I don't trust the forecast and the weather is very volatile at the moment." Fischer says that since acquiring the boat they have modified it quite a lot, including replacing the keel. He points out that while there are a number of Mediterranean TP52s now in Australia, most notably the ex-Emirates Team New Zealand 2009 and 2010 MedCup winner, "most of the Med boats couldn't do the Hobart race because they aren't built solidly enough. Their structure isn't strong enough, when you dive off a big wave."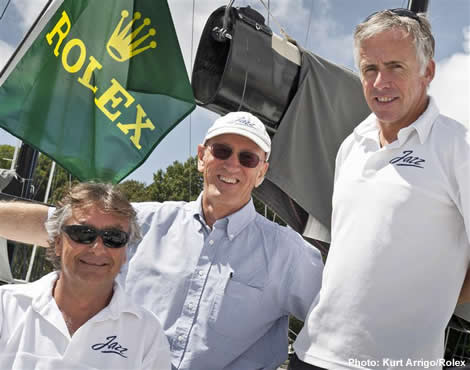 Despite having a slightly shorter boat, Chris Bull, owner and skipper of Jazz, says that his canting keel Cookson 50 invariably sees off the TP52s offshore on handicap, but even he isn't confident of their prospects with the present weather forecast.
This is Bull's fifth Rolex Sydney Hobart and his second in the Cookson 50. "We'd like it to be breezy upwind and breezy downwind. But we definitely need some breezy upwind. A couple of days ago it was looking good. Unfortunately the forecast seems to be backing off a bit in terms of the wind strength. It is not looking too bad for us, but not as good as last year when there were pretty gnarly conditions which suited us."
Jazz is back in Sydney having completed an action-packed year including the Atlantic Ocean Racing Series, culminating in the Rolex Fastnet Race. "We never got enough wind to be truly competitive," says Bull. "We did reasonably well, but in terms of getting a top result we needed more wind, so we are a little bit disappointed about that. We were hoping to get it here and we could yet, but in the forecast at the moment there isn't as much as we'd hoped."
As to the competition Bull says it is the TP52s in the light to medium, while they will also be up against another Cookson 50. "Pretty Fly 3 did quite well last year, after we parked up at Tasman Island for 1.5 hours. Before that no one was doing well except us until Tasman Island but unfortunately that was the way it goes. We parked up everyone caught up and the race started again. But we will be keeping keeping an eye on them."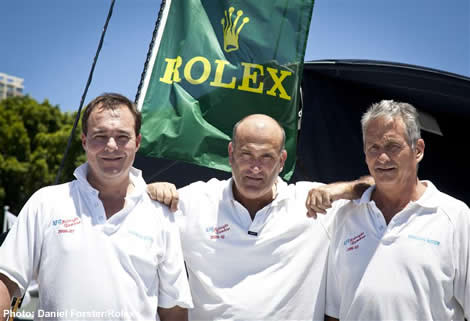 At the bottom end of the favoured mid-fleet is a new hot boat in the hands the handicap winners of the 1998 race. The new AFR Midnight Rambler, owned by Ed Psaltis, Bob Thomas and Michael Bencsik, is a Ker 40, sistership to Jonathan Goring's Keronimo.
Psaltis refers to Jason Ker as becoming the "new Bruce Farr of yacht design", being particular good at penning IRC boats (under which the race's Tattershall Cup is run, although the CYCA are also running ORCi this year). "It is very fast off the breeze, but this boat is also fast upwind. It is quite unique to have a boat that is strong on all points of sails. We are very pleased with it so far. It is quite radical. It is going to be a brutal race for us and quite wet, but if you are going fast the discomfort is quite tolerable." However Psaltis admits they are on a steep learning curve with the boat having only taken ownership in September, but even so they were second in the Cabbage tree and won the most recent preparation race for the Hobart.
As to the forecast, Psaltis says they were hoping to get more downwind sailing at the outset, but says they should also be strong when the wind backs into the south. "The first day and a half looks good for us. The Tasman coast is still a lottery. The report today was the different to the report we saw yesterday and it will change again tomorrow. What happens off the coast of Tassie is anyone's guess right now."
The European solo sailing community is well represented. From his collection of IMOCA 60s, Alex Thomson has his Juan K-designed Hugo Boss here in Sydney. This will be his third race south to Tasmania.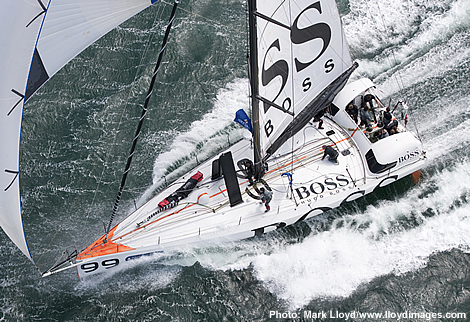 We put it to Thomson that this might be a good race for the boat which he reckons is too much of a handful to sail singlehnaded. "The boat was built as an IMOCA 60, but where we got to with the boat you can't get the full performance to compete with one person on board. It is very much a doublehanded boat, so sailing with six people we should be able to get 100% of the performance. We are really looking forward to be able to sail it properly in this race. I think it is a good boat for this race."
When he did the race in 2005 on his Lombard IMOCA 60 Thomson says he sailed with nine. "We thought that was way too many. So six should be perfect."
After the race this Hugo Boss 60 is going to stay in Australia prior to completing a tour of Asia during what seems likely to be a busy 2012 for Thomson and his Hugo Boss team.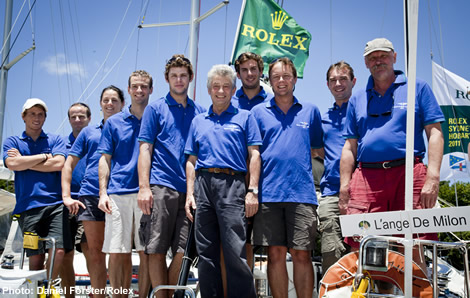 A dark horse could be the all-French crew aboard Jacques Pelletier's X-43 L'Ange de Milon. Among her crew of Pelletier's family and friends are three sailors who normally compete in the singlehanded Figaro class, among them Nicolas Lunven, 2009 winner of the class' premier event, La Solitaire du Figaro. While L'Ange de Milon competed in the Rolex Sydney Hobart last year, this is Lunven's first time and he says he is looking forward to it. However he adds they may not see their ideal weather: "She likes lots of wind and upwind, which is good for the boat, but not very good for the crew!"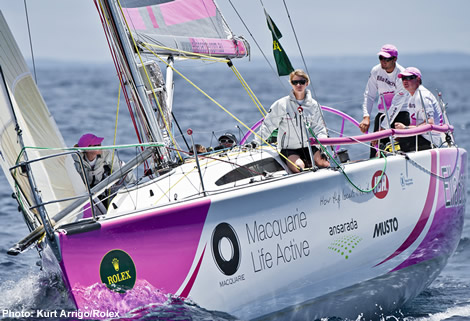 Unusually, the bottom end of the fleet is likely to get considerable attention locally as the Sydney 38 class includes Ella Bache. This is skippered by 18 year old, Jessica Watson, who famously sailed around the world singlehanded when she was just 16, becoming a media sensation in Australia in the process. Watson's youth crew also includes Britain's Michael Perham, 19, who sailed singlehanded around the world when he was 17.
"I have never sailed in the Rolex Sydney Hobart race, but as a navigator I've been studying it a lot recently, looking at the weather patterns and the current around here which are big factors for us small boats," said Perham, who is down in Australia, after Watson competed with him in the UK this year in the Round the Island Race.
The Rolex Sydney Hobart sets sail at 1300 local time from within Sydney Harbour.
Entries by length/TCC
| | | | |
| --- | --- | --- | --- |
| Boat | Nat | Type | TCC |
| | | | |
| Wild Oats XI | AUS | RP100 | 1.954 |
| Investec Loyal | AUS | Maxi | 1.911 |
| Wild Thing | AUS | IRC Maxi 98 | 1.805 |
| Lahana | AUS | 30m Maxi | 1.683 |
| Brindabella | AUS | Jutson 79 | 1.497 |
| Ichi Ban | AUS | Jones 70 | 1.599 |
| Merit | AUS | Volvo 60 | |
| Southern Excellence | AUS | Volvo 60 | |
| Loki | AUS | Reichel Pugh 63 | 1.517 |
| Hugo Boss | GBR | Open 60 | 1.673 |
| Alchemy III | AUS | Beneteau 57 | 1.132 |
| Living Doll | AUS | Farr 55 | 1.408 |
| Flying Fish Arctos | AUS | Radford 16.4 | |
| Shogun | AUS | JV 52 | 1.364 |
| Scarlet Runner | AUS | Reichel Pugh 52 | 1.363 |
| Calm | AUS | TP52 | 1.360 |
| Cougar II | AUS | TP52 | 1.358 |
| Ragamuffin | AUS | TP52 | 1.351 |
| Strewth | HNK | TP52 | 1.348 |
| Ffreefire 52 | HNK | TP52 | 1.342 |
| Duende | AUS | JV52 | 1.300 |
| Jazz | AUS | Cookson 50 | 1.356 |
| Pretty Fly III | AUS | Cookson 50 | 1.353 |
| Knee Deep | AUS | Farr 49 | 1.271 |
| Vamp | AUS | Corby 49 | 1.269 |
| Ocean Affinity | AUS | Marten 49 | 1.250 |
| Optimus Prime | AUS | Marten 49 | 1.247 |
| Carina | USA | McCurdy & Rhodes 48 | 1.049 |
| St Jude | AUS | Sydney 47 | 1.179 |
| Elektra | AUS | Beneteau 47.7 | |
| Kioni | AUS | Beneteau First 47.7 | |
| Celestial | AUS | Rogers 46 | 1.267 |
| NSC Mahligai | AUS | Sydney 46 | |
| Icefire | AUS | Mummery 45 | 1.202 |
| Balance | AUS | Beneteau 45 | 1.132 |
| Victoire | AUS | Beneteau First 45 | 1.130 |
| Outrageous Fortune | NZL | Beneteau First 45 | 1.121 |
| Patrice IV | AUS | Beneteau First 45 | 1.108 |
| ColorTile | AUS | Sayer 44.9 | 1.217 |
| Last Tango | AUS | Salona 44 | 1.122 |
| Alacrity | AUS | Beneteau First 44.7 | 1.118 |
| Bacardi | AUS | Peterson 44 | 1.042 |
| Minerva | AUS | DK 43 | 1.173 |
| L'Ange De Milon | FRA | X 43 | 1.084 |
| Wild Rose | AUS | Farr 43 | 1.037 |
| Accenture Yeah Baby | AUS | GP42 | 1.246 |
| Cadibarra 8 | AUS | Jones 42 | 1.214 |
| Patrice Six | AUS | X41 | 1.121 |
| Natelle Two | AUS | Peterson 41 2 Tonne | 1.027 |
| Nemesis | USA | C & C 41 | |
| The Banshee | AUS | MBD41 | |
| Chutzpah | AUS | IRC 40 | 1.204 |
| AFR Midnight Rambler | AUS | Ker 40 | 1.196 |
| One For The Road | AUS | A40 | 1.111 |
| Papillon | AUS | Archambault 40RC | 1.092 |
| Two True | AUS | Beneteau First 40 | 1.083 |
| Willyama | AUS | Beneteau First 40 | 1.082 |
| Lunchtime Legend | AUS | Beneteau First 40 | 1.081 |
| Chancellor | AUS | Beneteau First 40 | 1.073 |
| Shepherd Centre | AUS | Beneteau 40.7 | 1.063 |
| Wave Sweeper | AUS | Beneteau First 40.7 | 1.058 |
| Aurora | AUS | Farr 40 - One Off | 1.045 |
| Eressea | AUS | Hanse | |
| LMR Solar | AUS | Sayer 40 | |
| Quetzalcoatl | AUS | Jones 40 | |
| She | AUS | Olsen 40 | |
| Jazz Player | AUS | Bakewell - White 39 | 1.152 |
| Kiss Goodbye to MS | AUS | Inglis 39 | 1.145 |
| Sweethart | AUS | Jutson 39 | 1.099 |
| Copernicus | AUS | Radford 12 | 1.070 |
| Samurai Jack | AUS | Farr39mlMOD | |
| Wasabi | AUS | Sayer 12 MOD | |
| Deloitte As One | AUS | Sydney 38 | 1.113 |
| Ella Bache | AUS | Sydney 38 | 1.113 |
| Mondo | AUS | Sydney 38 | 1.109 |
| TSA Management | AUS | Sydney 38 | 1.107 |
| The Goat | AUS | Sydney 38 | 1.105 |
| Mille Sabords | AUS | Sydney 38 | 1.101 |
| Dodo | AUS | Sydney 38 | 1.100 |
| Martela | AUS | IMX 38 | 1.048 |
| Fullynpushing | AUS | Sydney 38 | |
| Menace | AUS | Phillips/Simpson 11.7 | |
| Dump Truck | AUS | Ker 11.3 | 1.151 |
| Whistler | AUS | MBD36 | 1.062 |
| Nutcracker | AUS | X35 | 1.049 |
| Illusion | AUS | Davidson 34 | 0.995 |
| Not Negotiable | AUS | UFO34 | 0.920 |
| Maluka Of Kermandie | AUS | Ranger | 0.899 |
Back to top
Back to top