89 confirmed for the Rolex Sydney Hobart
Entries have now closed for this year's Rolex Sydney Hobart Yacht Race and from the original 100 applications, the Cruising Yacht Club of Australia has confirmed a quality international fleet of 89 yachts is being fine tuned for the Boxing Day dash south.

From the close of nominations to the close of entries, typically 10 percent of yachts are withdrawn each year for a variety reasons.

The owners of Alibi, Helsal III and Questionable Logic were the last to opt out of this year's starters and riders list prior to last Friday's 5pm close of paperwork.

Some doubt was hanging over Michael Martin's Sayer 40 LMR Solar from Lake Macquarie, which suffered a compression fold in the mast during a training sail in foul weather off Stockton Beach, Newcastle, that brought the rig down.

While it's a tight timeline, LMR Solar's crew is on track to hear the 1300 blast of cannon fire from close quarters on 26 December. A brand new aluminium Whale Spars mast is scheduled to be installed on the 16th of this month and the sail wardrobe is due to arrive from Malaysia three days later, leaving a week to put the spanking new set up to the test.

"Christmas is a speed bump compared to this," Martin admitted today. "Then again, I would rather it happened off Stockton Beach than in the middle of Bass Strait."

Martin has used the incident as an opportunity to modify the boat's rig, removing the runners.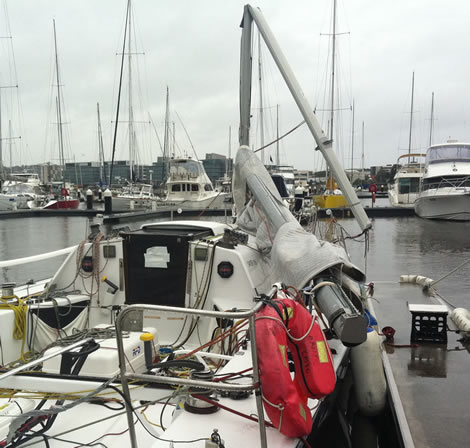 One of the race regulars and a former line honours winner (2003) will be on the start line sporting a brand new look. Grant Wharington's 98ft Wild Thing has had more than its fair share of Hobart drama over the years, but like a cat with nine lives the boat, and its wily skipper, have endured.

Wild Thing has been resprayed black and will be heading south with fewer sails. Wharington, whose passion for the great ocean race has never waned, believes his calculated decision to sail with minimal crew and cloth might give him an edge over the powerful Wild Oats XI and Investec Loyal in the line honours stakes.

Two name changes have been submitted to race organisers, Louis and Marc Ryckmans' GP42 Yeah Baby is now called Accenture (Yeah Baby) and Tony Levett's Sydney 38 Eleni will race as TSA Management

In last year's Rolex Sydney Hobart, 87 yachts take took their places on the two Sydney Harbour start lines, with 18 of those subsequently retiring.

The salt spray will start flying from this Friday when the Rolex Trophy - One Design Series kicks off for the Sydney 38 and Farr 40 fleets.

Next Tuesday, Sydney Harbour will be the playground for all the hotted up super maxis and larger IRC grand prix racers readying to contest the Rolex Sydney Hobart when they join together for the invitation-only CYCA's annual SOLAS Big Boat Challenge.

Two days later, the main challengers for handicap honours in this year's Rolex Sydney Hobart will contest the final shakedown, the Rolex Trophy - Rating Series from Thursday 15 to Sunday 18 December.
Back to top
Back to top