Transat Jacques Vabre start postponed
Charts above courtesy of Expedition/Tasman Bay Navigation Systems and PredictWind.
After a meeting between skippers and Race Committee of the Transat Jacques Vabre this morning, Race Director Jean Maurel announced the decision to postpone the start of the biennial race from Le Havre to Puerto Limon, Costa Rica. Instead a prologue race will be staged with a start at 1302hrs.
The decision was taken because of the approach of a very significant low pressure system due to generate storm force winds potentially battering the 35 doublehanded teams which were due to set off today at 1302 CET.
Although the weather forecast promises fair winds for the first 24 hours conditions deteriorate from Tuesday on with the arrival of the large very deep depression generating storm-force conditions for 48 hours: sustained winds of 45 knots, gusting to 55-60 knots with 8-10m seas forecast behind the cold front.
"It's a decision taken as a sailor," said Race Director Jean Maurel, "which takes into account the participation of all three classes. We wanted to maintain the overall integrity of the whole fleet "
The start is postponed to a date to be announced later depending on the evolution of this depression, but it will not be set before Wednesday.
The prologue exhibition race will be staged today instead, following a 13 miles coastal course. The race organisers and skippers have shown a determination to provide a spectacle for the tens of thousands of visitors and spectators who have come to Le Havre for the race start.
The only problem with the start being delayed is that the long term forecast shows that there is another intense depression following the one which would have struck the fleet from Tuesday night through to Thursday.
Depression number 2 - (long range forecast for Sunday 6 November 1300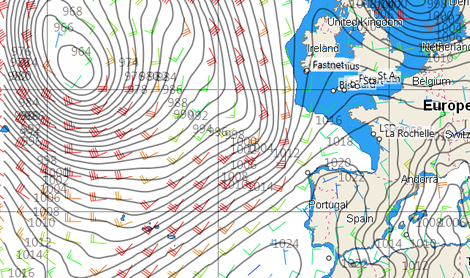 Back to top
Back to top