On course
Saturday October 1st 2011, Author:
James Boyd
, Location: none selected
Series class at 1000 GMT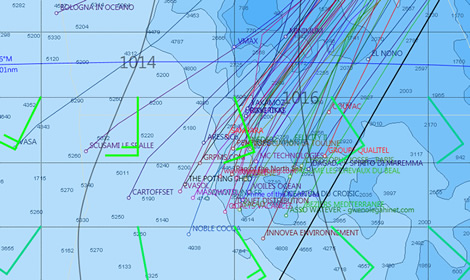 Charts above courtesy of Expedition/Tasman Bay Navigation Systems and PredictWind. Click to enlarge. Latest scheds below.
Despite what the GRIB files are indicating, it looks like the Proto leaders in the Charente Maritime Bahia Transat 6.50 (Mini Transat) have overnight seen the wind backing slightly allowing them to turn their bows on to a more southerly course, closer to laying the finish line at Funchal, Madeira. This indicates that perhaps the SSEerly winds off the Portugese coast are extending further west than the GRIB files show.
Jorg Riechers on mare.de and Sébastien Rogues on Eole Generation - GDF Suez continue to hold a 20 mile advantage over the chasing pack of Protos, however between the 0600 and 1000 scheds this morning Rogues has just pulled into the lead ahead of his German rival. However the big repositioning has been made by David Raison in his scow-shaped Team Work Evolution who over the early hours of this morning tacked southeast, taking up residence on the left side of the course, closer to the great circle. Raison is now just ahead of his Team Work team mate Etienne David, who's easterly position since passing Cape Finisterre has finally paid off. The Swiss Tour Voile veteran has elevated himself from 10th place at the last sched yesterday to fourth this morning.
The leader in the Series class has been moving around over the last 24 hours. At the end of play yesterday Chinese sailor Guo Chuan's westerly flier appeared to have reaped dividends moving him into the lead. This morning Chuan has dropped to fourth with yesterday morning's leader Eric Llull on Noble Cocoa back in front. However it remains close and with a 125 mile spread across the race track from Chuan in the west and Davy Beaudart on Innovea Environnement in the east and with Llull and Fabrice Sorin on Cartoffset in between the contest for the lead looks like being a four boat race.
British competitor Pip Hare on The Potting Shed has dropped to 12th, but is in the midst of the pack some 20.5 miles directly astern of Llull.
Weather-wise the forecast seems to have changed little from yesterday with headwinds extending across the race course. The competitors will use the shift into the southeast to gain some southerly ground for being as east as possible is likely to pay coming into the finish when the wind will return to the south.
Back to top
Proto positions at 1000 GMT
| | | | | | | | | | | | |
| --- | --- | --- | --- | --- | --- | --- | --- | --- | --- | --- | --- |
| Pos | No | Skipper | Boat | Latitude | Longitude | Spd | Crs | Spd2 | Dist | DTF | DTL |
| | | Nom bateau | | | | Between scheds | | 24 hours | | | |
| 1 | 716 | ROGUES Sébastien | EOLE GENERATION - GDF SUEZ | 40° 3.38' N | 013° 55.80' W | 8.94 | 192 | 5.72 | 215 | 473.34 | 0 |
| 2 | 753 | RIECHERS Jorg | MARE.DE | 40° 9.36' N | 014° 11.50' W | 6.06 | 228 | 5.62 | 218 | 475.66 | 2.32 |
| 3 | 747 | RAISON David | TEAM WORK EVOLUTION | 40° 16.48' N | 013° 11.24' W | 7.99 | 214 | 5.11 | 193 | 497.01 | 23.66 |
| 4 | 679 | DAVID Etienne | TEAMWORK | 40° 26.04' N | 013° 12.49' W | 6.72 | 203 | 5.99 | 222 | 505.6 | 32.25 |
| 5 | 800 | RIOUX Antoine | FESTIVAL DES PAINS | 40° 39.49' N | 014° 3.95' W | 7.38 | 186 | 5.98 | 220 | 506.25 | 32.91 |
| 6 | 802 | BERTRAND Etienne | CHASSEUR DE PRIMES | 40° 36.97' N | 013° 11.71' W | 6.78 | 203 | 5.1 | 210 | 516.05 | 42.7 |
| 7 | 756 | CARACCI Andrea | SPEEDY MALTESE | 40° 50.54' N | 014° 1.66' W | 5.6 | 194 | 5.39 | 218 | 517.38 | 44.03 |
| 8 | 787 | NORMAND Thomas | FINANCIERE DE L'ECHIQUIER | 40° 46.50' N | 013° 39.86' W | 3.5 | 205 | 5.9 | 228 | 518.15 | 44.8 |
| 9 | 754 | DELESNE Bertrand | ZONE LARGE | 40° 58.94' N | 014° 26.66' W | 1.23 | 180 | 5.23 | 219 | 520.95 | 47.61 |
| 10 | 509 | SCHRODER Lucas | BRUNEL | 40° 51.74' N | 013° 44.35' W | 3.64 | 221 | 5.62 | 224 | 522.15 | 48.81 |
| 11 | 788 | CHAPPELLIER Aymeric | LA TORTUE DE L'AQUARIUM DE LA ROCHELLE | 40° 57.89' N | 014° 11.30' W | 4.67 | 182 | 4.89 | 215 | 522.63 | 49.29 |
| 12 | 759 | KOLACEK Milan | GABEN > FOLLOW ME | 40° 52.49' N | 013° 43.23' W | 3.48 | 208 | 5.78 | 224 | 523.12 | 49.78 |
| 13 | 198 | PICAULT Sébastien | KICKERS | 40° 48.59' N | 013° 18.23' W | 6.14 | 195 | 5.61 | 223 | 525.31 | 51.96 |
| 14 | 719 | BOIDEVEZI Nicolas | DEFI GDE | 41° 7.43' N | 014° 24.74' W | 1.25 | 135 | 4.87 | 221 | 529.56 | 56.22 |
| 15 | 347 | GELABERT Aleix | GAES-ANTAAS | 40° 48.73' N | 012° 57.18' W | 6.46 | 206 | 5.29 | 217 | 530.96 | 57.62 |
| 16 | 417 | DUCROZ Aurélien | NISSAN | 40° 50.71' N | 012° 55.69' W | 6.21 | 208 | 5.13 | 219 | 533.22 | 59.88 |
| 17 | 551 | PATOU Henri | ECARTIP | 41° 4.70' N | 013° 42.56' W | 2.99 | 199 | 5.54 | 229 | 534.96 | 61.62 |
| 18 | 797 | CAVAGNOUGH Scott | www.brainchild.org.au | 41° 3.34' N | 013° 26.15' W | 5.51 | 189 | 5.36 | 229 | 537.36 | 64.01 |
| 19 | 791 | REINHART Thibault | ARALDITE® | 40° 56.77' N | 013° 1.26' W | 6.33 | 204 | 5.24 | 223 | 537.38 | 64.04 |
| 20 | 629 | MAUFFRET Louis | SOLIDAIRES | 41° 3.96' N | 013° 23.63' W | 5.6 | 197 | 5.23 | 224 | 538.54 | 65.2 |
| 21 | 814 | DARAMY Jean-Baptiste | EKI HAIZEA | 40° 58.00' N | 012° 59.59' W | 6.18 | 198 | 5.3 | 220 | 538.98 | 65.63 |
| 22 | 265 | MARETTE Paul | REGION NORD PAS DE CALAIS | 41° 2.45' N | 013° 12.26' W | 6.23 | 183 | 5.55 | 222 | 539.89 | 66.55 |
| 23 | 617 | DYTCH Dan | SOITEC | 40° 58.51' N | 012° 50.77' W | 5.96 | 195 | 5.39 | 217 | 541.84 | 68.5 |
| 24 | 741 | FERMIN Rémi | BOREAL | 40° 51.90' N | 012° 10.30' W | 6.62 | 205 | 5.06 | 205 | 547.85 | 74.51 |
| 25 | 667 | LE BREC Guillaume | OCCAMAT / ATD | 40° 51.99' N | 011° 44.98' W | 7.27 | 204 | 4.85 | 200 | 556.39 | 83.05 |
| 26 | 624 | OLIVA Juan-Carlos | ZUMEX | 41° 17.65' N | 013° 3.37' W | 5.58 | 201 | 5.28 | 227 | 556.46 | 83.11 |
| 27 | 454 | BOUCHET Romain | IB REMARKETING | 41° 14.84' N | 012° 52.48' W | 6.18 | 210 | 5.35 | 220 | 556.64 | 83.3 |
| 28 | 618 | MONTAGNE Lucas | ONG CONSEIL | 40° 54.37' N | 011° 40.68' W | 7.57 | 208 | 4.53 | 204 | 560 | 86.66 |
| 29 | 606 | CARME Donatien | 606 CHERCHE SPONSOR | 41° 17.26' N | 012° 41.95' W | 6.62 | 208 | 5.36 | 218 | 561.74 | 88.39 |
| 30 | 574 | CREIGHTON Emma | POCKET ROCKET | 41° 8.60' N | 011° 56.70' W | 6.51 | 206 | 4.76 | 206 | 567.35 | 94.01 |
| 31 | 542 | ROSSETTI Tiziano | UNA VELA PER EMERGENCY | 42° 5.64' N | 011° 43.31' W | 5.86 | 210 | 5.12 | 225 | 623.36 | 150.02 |
| 32 | 513 | GALLO Maurizio | YAK | 42° 15.38' N | 011° 22.56' W | 6.43 | 218 | 5.24 | 223 | 638.66 | 165.31 |
| 33 | 790 | KOWALCZYK Radoslaw | CALBUD | 42° 56.69' N | 011° 12.14' W | 5.96 | 233 | 5.06 | 242 | 679.38 | 206.03 |
Series position at 1000 GMT

| | | | | | | | | | | | |
| --- | --- | --- | --- | --- | --- | --- | --- | --- | --- | --- | --- |
| Pos | No | Skipper | Boat | Latitude | Longitude | Spd | Crs | Spd2 | Dist | DTF | DTL |
| | | | | | | Between scheds | | 24 hours | | | |
| 1 | 566 | LLULL Eric | NOBLE COCOA | 40° 56.27' N | 012° 28.39' W | 6.02 | 199 | 4.8 | 214 | 546.22 | 0 |
| 2 | 781 | SORIN Fabrice | CARTOFFSET | 41° 13.09' N | 013° 5.82' W | 5.15 | 196 | 5.33 | 221 | 551.54 | 5.33 |
| 3 | 674 | BEAUDART Davy | INNOVEA ENVIRONNEMENT | 40° 54.17' N | 011° 42.17' W | 6.37 | 202 | 4.57 | 203 | 559.3 | 13.08 |
| 4 | 487 | GUO Chuan | VASA | 41° 36.52' N | 014° 16.03' W | 5.19 | 233 | 5.3 | 231 | 559.4 | 13.18 |
| 5 | 746 | CIZEAU Pierre | MASQHOTEL | 41° 13.14' N | 012° 25.86' W | 6.61 | 213 | 4.99 | 218 | 562.49 | 16.27 |
| 6 | 599 | MARIETTE Benoit | ODALYS VACANCES | 41° 6.68' N | 012° 5.95' W | 6.6 | 203 | 4.72 | 202 | 562.65 | 16.43 |
| 7 | 739 | LENGLET Benoît | EVASOL | 41° 16.28' N | 012° 33.83' W | 6.46 | 204 | 5.18 | 218 | 563.09 | 16.87 |
| 8 | 535 | MARY Renaud | www.runo.fr | 41° 12.81' N | 012° 17.31' W | 6.32 | 202 | 5.1 | 217 | 564.73 | 18.51 |
| 9 | 554 | SABBATINI Giacomo | SCUSAMI LE SPALLE | 41° 34.91' N | 013° 32.43' W | 5.1 | 225 | 5.49 | 234 | 566.1 | 19.89 |
| 10 | 514 | BOUYSSOU Clément | DOUET DISTRIBUTION | 41° 9.15' N | 012° 0.69' W | 6.36 | 206 | 4.77 | 210 | 566.56 | 20.34 |
| 11 | 519 | DIDAC Costa | SALAO | 41° 7.79' N | 011° 56.78' W | 6.4 | 210 | 5.52 | 216 | 566.6 | 20.38 |
| 12 | 743 | HARE Pip | THE POTTING SHED | 41° 19.36' N | 012° 30.83' W | 6.1 | 211 | 4.77 | 214 | 566.8 | 20.58 |
| 13 | 767 | ENDT Ysbrand | PRIME OF THE NORTH SEA | 41° 12.08' N | 011° 55.00' W | 6.16 | 210 | 5.1 | 214 | 571.05 | 24.83 |
| 14 | 455 | GAHINET Gwénolé | ASSO WATEVER - gwenolegahinet.com | 41° 5.03' N | 011° 27.95' W | 6.89 | 204 | 4.08 | 200 | 573.92 | 27.7 |
| 15 | 552 | BRASSEUR Pierre | VOILES OCEAN | 41° 15.84' N | 011° 51.01' W | 6.4 | 203 | 4.95 | 210 | 575.74 | 29.52 |
| 16 | 539 | LAURIERE Benoit | www.teamkalonig.com | 41° 23.24' N | 012° 8.85' W | 5.87 | 203 | 4.82 | 212 | 576.85 | 30.63 |
| 17 | 772 | BRÄNDSTRÖM Ulf | GRPMS.COM | 41° 29.40' N | 012° 21.49' W | 5.85 | 203 | 4.89 | 216 | 578.76 | 32.54 |
| 18 | 512 | HOEBLER Cyril | OCEARIUM DU CROISIC | 41° 12.39' N | 011° 32.23' W | 6.99 | 206 | 5.6 | 213 | 578.95 | 32.73 |
| 19 | 721 | CHOMBART DE LAUWE Pascal | XANLITE | 41° 22.38' N | 011° 58.97' W | 6.21 | 200 | 4.91 | 212 | 579.11 | 32.89 |
| 20 | 596 | CHAVARRIA Renaud | BEZIERS MEDITERRANEE | 41° 7.37' N | 011° 18.19' W | 6.6 | 208 | 5.34 | 213 | 579.46 | 33.24 |
| 21 | 758 | TEN BRINKE Christa | RAN OF THE NORTH SEA | 41° 24.16' N | 012° 1.48' W | 6.09 | 203 | 4.71 | 210 | 579.94 | 33.73 |
| 22 | 473 | GUILLONNEAU Jean Claude | ZERLINE | 41° 21.88' N | 011° 53.35' W | 5.79 | 195 | 5.6 | 221 | 580.44 | 34.22 |
| 23 | 527 | LAVAYSSIERE Hugo | ARES&Co. | 41° 38.77' N | 012° 19.08' W | 5.73 | 204 | 4.81 | 219 | 588.11 | 41.89 |
| 24 | 591 | BLANCHARD Florian | MC TECHNOLOGIES | 41° 30.16' N | 011° 46.76' W | 6.52 | 207 | 4.94 | 213 | 590.05 | 43.83 |
| 25 | 405 | CLAVEAU Mathieu | OKOUME LES CHEVAUX DU BEAL | 41° 23.03' N | 011° 25.57' W | 6.04 | 195 | 4.82 | 207 | 590.7 | 44.48 |
| 26 | 745 | BEYER Susanne | PENELOPE | 41° 36.09' N | 012° 0.95' W | 6.43 | 212 | 4.88 | 216 | 591 | 44.79 |
| 27 | 757 | ARCHIN Brendan | ASSOCIATION LA TOULINE | 41° 35.72' N | 011° 50.28' W | 6.58 | 205 | 5 | 213 | 593.97 | 47.75 |
| 28 | 602 | ROSEN JACOBSON Robert | NED602 | 41° 37.58' N | 011° 52.07' W | 6.2 | 210 | 4.71 | 212 | 595.09 | 48.87 |
| 29 | 636 | MADDEN Jorge | SAMSARA | 41° 41.70' N | 012° 4.41' W | 5.98 | 208 | 4.77 | 212 | 595.1 | 48.88 |
| 30 | 529 | GAILEY Bruce | BLACK MAMBA | 41° 36.58' N | 011° 49.11' W | 6.2 | 199 | 4.64 | 208 | 595.11 | 48.89 |
| 31 | 660 | DUVIGNAC Marie | CHRISTOPHE JOSSE - PARIS | 41° 28.18' N | 011° 18.41' W | 6.8 | 204 | 5.04 | 210 | 597.75 | 51.54 |
| 32 | 704 | GESI Simone | DAGADA' - SPIRITO DI MAREMMA | 41° 26.56' N | 011° 14.09' W | 6.26 | 207 | 5.19 | 216 | 597.83 | 51.62 |
| 33 | 585 | BOSSYNS Bert | FELICITY II | 41° 38.58' N | 011° 25.10' W | 6.59 | 212 | 4.62 | 213 | 604.73 | 58.51 |
| 34 | 435 | KERBOURIOU Vincent | CGGVERITAS | 41° 50.87' N | 011° 55.84' W | 6.72 | 210 | 4.47 | 213 | 606.07 | 59.85 |
| 35 | 697 | FRANCOIS Amaury | GROUPE QUALITEL | 41° 32.56' N | 011° 4.17' W | 6.84 | 204 | 4.81 | 208 | 606.63 | 60.42 |
| 36 | 626 | FREELS Björn | RIKKI TIKKI | 41° 51.04' N | 011° 52.87' W | 6.6 | 206 | 4.51 | 212 | 607.12 | 60.9 |
| 37 | 728 | PRONO David | Get It Right, www.esi-group.com | 41° 34.09' N | 011° 3.25' W | 6.55 | 208 | 5.31 | 216 | 608.31 | 62.09 |
| 38 | 737 | PAMIR Tolga | YAKAMOZ | 41° 54.47' N | 011° 51.96' W | 5.98 | 200 | 4.2 | 202 | 610.53 | 64.31 |
| 39 | 769 | FRATTARUOLO Sergio | BOLOGNA IN OCEANO | 42° 38.12' N | 013° 50.57' W | 4.54 | 243 | 5.06 | 241 | 623.72 | 77.5 |
| 40 | 796 | GROUX Nicolas | COUVAC | 41° 52.90' N | 011° 1.47' W | 5.51 | 205 | 4.15 | 204 | 625.54 | 79.32 |
| 41 | 472 | CHUH Kan | VMAX | 42° 22.72' N | 012° 0.30' W | 6.18 | 220 | 5.85 | 233 | 634.09 | 87.87 |
| 42 | 230 | BERTRAND Serge | MINIMUM | 42° 27.25' N | 011° 28.37' W | 5.89 | 208 | 4.6 | 216 | 647.62 | 101.41 |
| 43 | 744 | SIMONNET Bruno | EL NONO | 42° 17.24' N | 010° 37.27' W | 3.63 | 223 | 4.17 | 227 | 655.49 | 109.27 |
| 44 | 708 | ROBIN Fabienne | HOROQUARTZ | 43° 8.77' N | 010° 55.74' W | 2.44 | 187 | 4.7 | 243 | 695.39 | 149.17 |
| 45 | 774 | OGER Jean-Marie | BRAZIL FOREST - E.LECLERC | 43° 26.58' N | 008° 31.62' W | 3.6 | 277 | 0.32 | 306 | 770.12 | 223.9 |
| NC | 520 | PENDIBENE Andrea | INTERMATICA - ITA 520 | | | 0 | | 0 | | 0 | -546.22 |
Back to top