David Raison's scow takes the lead
Weather situation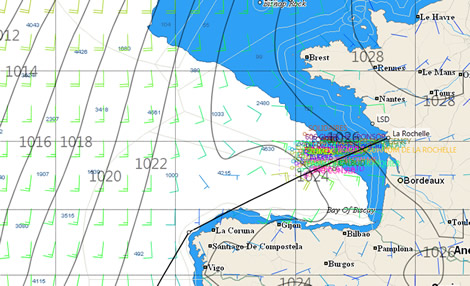 Series class - click to enlarge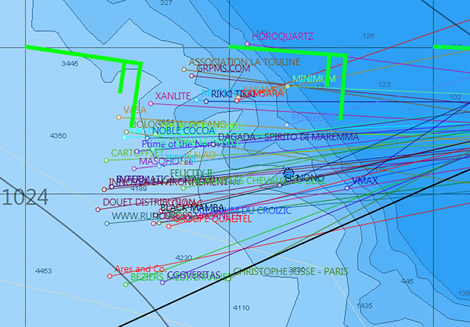 Charts above courtesy of Expedition/Tasman Bay Navigation Systems and PredictWind. Click to enlarge. Latest scheds below.
The 79 solo sailors competing in the Charente Maritime Bahia Transat 6.50 (Mini Transat) are likely to have had a bumpy night as they cross the continental shelf, where the sea floor plummets from around 150m to around 4000m.
In the Proto class it is the two 'Team Work' boats, one sailed by Tour Voile veteran Etienne David and the 'bathtub', the innovative scow designed and sailed by David Raison have been doing well. Raison took the lead from David overnight, his TeamWork Innovation in the mid-left of the race track, now 6.5 miles ahead of second placed Nicolas Boidevezi on Defi GDE and 11.5 miles ahead of third placed Sebastien Rogues on Eole Generation - GDF Suez, both boats to the north of Raison after all three gybed last night. Yesterday morning's leader Jorg Reichers on mare.de is down to fifth with Etienne David now eighth.
In the leader in the Series class is now 35 miles astern of the Proto leader, who is surprisingly Gwenole Gahinet aboard one of the older Pogo 2s. However the Gahinet name is well known in France - his father Gilles was a famous yacht designer and a two time winner of La Solitaire du Figaro. However he has Pierre Brasseur on Voiles Oceans and Clement Bouyssou on Douet Distribution within a mile of him, also both sailing Pogo 2s. Brasseur is one of the favourites for the Series win, this being his third attempt on the Mini Transat having sailed the last race in the Proto class.
Among the Brits Pip Hare on The Potting Shed is down to 29th, 20 miles off the lead in the Series class, while Dan Dytch on Soitec is 21st in the Protos some 30 miles astern of Raison.
Weather-wise, at present there seems to be more pressure on the race course than yesterday's forecast indicated there would be today with 15-20 knots from the east or the southeast (for those further south). However is only likely to last for the morning with the centre of the weak high hovering over the race course again this afternoon and it still being pretty unclear whether it is better to go north or south. About the only thing that is certain is that a north Atlantic depression encroaches on to the race course by tomorrow (Wednesday) night, bring with it 15-20 knot southerlies. Later in the week a N-S orientated trough develops just off the Bay of Biscay and the only way to get out of the southerlies will be to head west to the opposite side of this trough and into the northwesterlies there.
Back to top
Positions at 1000GMT - Series class
| | | | | | | | | | | | |
| --- | --- | --- | --- | --- | --- | --- | --- | --- | --- | --- | --- |
| Pos | No | Skipper | Boat | Latitude | Longitude | Spd | Crs | Spd2 | Dist | DTF | DTL |
| 1 | 455 | GAHINET Gwénolé | ASSO WATEVER - gwenolegahinet.com | 45 12.98' N | 005 18.75' W | 5.5 | 250 | 5.41 | 260 | 943.25 | 0 |
| 2 | 552 | BRASSEUR Pierre | VOILES OCEAN | 45 16.65' N | 005 21.12' W | 6.02 | 256 | 5.47 | 263 | 943.92 | 0.67 |
| 3 | 514 | BOUYSSOU Clément | DOUET DISTRIBUTION | 45 14.07' N | 005 18.03' W | 5.85 | 249 | 5.38 | 261 | 944.27 | 1.02 |
| 4 | 527 | LAVAYSSIERE Hugo | ARES&Co. | 45 3.38' N | 005 7.28' W | 4.27 | 245 | 5.21 | 259 | 945.07 | 1.83 |
| 5 | 596 | CHAVARRIA Renaud | BEZIERS MEDITERRANEE | 44 58.64' N | 005 2.65' W | 4.63 | 242 | 5.07 | 253 | 945.61 | 2.37 |
| 6 | 535 | MARY Renaud | www.runo.fr | 45 14.02' N | 005 15.60' W | 6.11 | 248 | 5.38 | 263 | 945.68 | 2.43 |
| 7 | 674 | BEAUDART Davy | INNOVEA ENVIRONNEMENT | 45 20.01' N | 005 17.57' W | 6.26 | 246 | 5.4 | 262 | 947.88 | 4.63 |
| 8 | 774 | OGER Jean-Marie | BRAZIL FOREST - E.LECLERC | 45 7.77' N | 005 1.76' W | 5.9 | 268 | 5.1 | 255 | 950.65 | 7.41 |
| 9 | 435 | KERBOURIOU Vincent | CGGVERITAS | 45 3.90' N | 004 57.27' W | 5.07 | 263 | 5.11 | 253 | 951.48 | 8.23 |
| 10 | 739 | LENGLET Benoît | EVASOL | 45 23.82' N | 005 15.05' W | 6.66 | 261 | 5.31 | 264 | 951.52 | 8.27 |
| 11 | 520 | PENDIBENE Andrea | INTERMATICA - ITA 520 | 45 22.70' N | 005 13.32' W | 6.32 | 257 | 5.29 | 263 | 951.87 | 8.62 |
| 12 | 781 | SORIN Fabrice | CARTOFFSET | 45 26.95' N | 005 16.94' W | 6.54 | 253 | 5.4 | 265 | 952.27 | 9.02 |
| 13 | 599 | MARIETTE Benoit | ODALYS VACANCES | 45 16.96' N | 005 1.70' W | 6.83 | 269 | 5.07 | 259 | 955.5 | 12.25 |
| 14 | 697 | FRANCOIS Amaury | GROUPE QUALITEL | 45 12.53' N | 004 56.44' W | 7.02 | 259 | 4.98 | 257 | 956.32 | 13.07 |
| 15 | 602 | ROSEN JACOBSON Robert | NED602 | 45 16.77' N | 004 59.37' W | 6.82 | 263 | 4.91 | 262 | 956.78 | 13.53 |
| 16 | 746 | CIZEAU Pierre | MASQHOTEL | 45 26.64' N | 005 7.45' W | 6.78 | 255 | 5.13 | 263 | 957.51 | 14.27 |
| 17 | 796 | GROUX Nicolas | COUVAC | 45 17.49' N | 004 58.52' W | 6.89 | 262 | 4.94 | 259 | 957.67 | 14.42 |
| 18 | 529 | GAILEY Bruce | BLACK MAMBA | 45 15.49' N | 004 56.07' W | 6.81 | 255 | 4.99 | 258 | 958.08 | 14.83 |
| 19 | 473 | GUILLONNEAU Jean Claude | ZERLINE | 45 24.54' N | 005 3.00' W | 7.66 | 252 | 5.12 | 262 | 958.89 | 15.64 |
| 20 | 767 | END Ysbrandt | PRIME OF THE NORTH SEA | 45 27.75' N | 005 5.78' W | 7.07 | 244 | 5.14 | 263 | 959.11 | 15.86 |
| 21 | 512 | HOEBLER Cyril | OCEARIUM DU CROIZIC | 45 12.51' N | 004 50.97' W | 6.65 | 249 | 4.79 | 257 | 959.62 | 16.38 |
| 22 | 566 | LLULL Eric | NOBLE COCOA | 45 26.44' N | 005 3.26' W | 7.19 | 238 | 5.06 | 263 | 959.82 | 16.57 |
| 23 | 487 | GUO Chuan | VASA | 45 33.01' N | 005 9.73' W | 6.84 | 241 | 5.17 | 268 | 959.94 | 16.69 |
| 24 | 758 | TEN BRINKE Christa | RAN OF THE NORTH SEA | 45 32.30' N | 005 8.38' W | 6.78 | 248 | 5.18 | 265 | 960.29 | 17.04 |
| 25 | 585 | BOSSYNS Bert | FELICITY II | 45 22.35' N | 004 57.68' W | 7.38 | 251 | 5 | 260 | 960.79 | 17.55 |
| 26 | 554 | SABBATINI Giacomo | SCUSAMI LE SPALLE | 45 26.22' N | 005 0.73' W | 7.13 | 248 | 5.05 | 261 | 961.15 | 17.91 |
| 27 | 769 | FRATTARUOLO Sergio | BOLOGNA IN OCEANO | 45 32.01' N | 005 5.92' W | 6.52 | 251 | 4.99 | 269 | 961.5 | 18.26 |
| 28 | 539 | LAURIERE Benoit | www.teamkalonig.com | 45 34.12' N | 005 6.23' W | 6.5 | 241 | 5.1 | 267 | 962.58 | 19.33 |
| 29 | 743 | HARE Pip | THE POTTING SHED | 45 28.50' N | 004 59.38' W | 6.98 | 241 | 4.92 | 265 | 963.23 | 19.98 |
| 30 | 660 | DUVIGNAC Marie | CHRISTOPHE JOSSE - PARIS | 44 59.85' N | 004 34.43' W | 6.15 | 257 | 4.66 | 247 | 963.91 | 20.66 |
| 31 | 405 | CLAVEAU Mathieu | OKOUME LES CHEVAUX DU BEAL | 45 21.72' N | 004 47.72' W | 6 | 255 | 4.68 | 259 | 966.36 | 23.11 |
| 32 | 519 | DIDAC Costa | SALAO | 45 27.74' N | 004 51.07' W | 6.66 | 252 | 4.72 | 264 | 967.64 | 24.39 |
| 33 | 721 | CHOMBART DE LAUWE Pascal | XANLITE | 45 36.89' N | 004 56.43' W | 5.97 | 243 | 4.84 | 268 | 969.75 | 26.51 |
| 34 | 704 | GESI Simone | DAGADA - SPIRITO DI MAREMMA | 45 31.71' N | 004 43.75' W | 6.66 | 258 | 4.63 | 263 | 974.11 | 30.86 |
| 35 | 591 | BLANCHARD Florian | MC TECHNOLOGIES | 45 34.52' N | 004 41.80' W | 6.55 | 231 | 4.5 | 264 | 976.81 | 33.56 |
| 36 | 728 | PRONO David | Get It Right, www.esi-group.com | 45 36.33' N | 004 40.18' W | 6.64 | 238 | 4.58 | 260 | 978.76 | 35.51 |
| 37 | 744 | SIMONNET Bruno | EL NONO | 45 17.75' N | 004 23.39' W | 7.56 | 248 | 4.35 | 248 | 979.11 | 35.86 |
| 38 | 757 | ARCHIN Brendan | ASSOCIATION LA TOULINE | 45 40.00' N | 004 42.02' W | 6.23 | 232 | 4.46 | 268 | 979.78 | 36.53 |
| 39 | 626 | FREELS Björn | RIKKI TIKKI | 45 37.47' N | 004 38.98' W | 6.57 | 241 | 4.53 | 265 | 980.1 | 36.85 |
| 40 | 772 | BRÄNDSTRÖM Ulf | GRPMS.COM | 45 42.21' N | 004 40.09' W | 6.18 | 243 | 4.44 | 268 | 982.15 | 38.91 |
| 41 | 636 | MADDEN Jorge | SAMSARA | 45 37.32' N | 004 31.70' W | 6.36 | 245 | 4.33 | 252 | 984.25 | 41 |
| 42 | 737 | PAMIR Tolga | YAKAMOZ | 45 38.57' N | 004 26.17' W | 5.41 | 225 | 4.28 | 261 | 988.17 | 44.92 |
| 43 | 745 | BEYER Susanne | PENELOPE | 45 34.37' N | 004 20.00' W | 6.36 | 245 | 4.08 | 257 | 989.56 | 46.31 |
| 44 | 708 | ROBIN Fabienne | HOROQUARTZ | 45 44.78' N | 004 20.82' W | 6.33 | 224 | 4.2 | 267 | 994.71 | 51.46 |
| 45 | 472 | CHUH Kan | VMAX | 45 18.43' N | 003 53.23' W | 6.08 | 245 | 3.81 | 242 | 998.21 | 54.97 |
| 46 | 230 | BERTRAND Serge | MINIMUM | 45 43.33' N | 004 11.41' W | 4.29 | 236 | 3.86 | 264 | 999.42 | 56.18 |
Positions at 1000GMT - Proto class

| | | | | | | | | | | | |
| --- | --- | --- | --- | --- | --- | --- | --- | --- | --- | --- | --- |
| Pos | No | Skipper | Boat | Latitude | Longitude | Spd | Crs | Spd2 | Dist | DTF | DTL |
| 1 | 747 | RAISON David | TEAM WORK EVOLUTION | 44 58.81' N | 005 49.30' W | 7.48 | 241 | 6.28 | 257 | 917.43 | 0 |
| 2 | 719 | BOIDEVEZI Nicolas | DEFI GDE | 45 11.38' N | 005 50.64' W | 7.13 | 255 | 6.2 | 262 | 923.95 | 6.52 |
| 3 | 716 | ROGUES Sébastien | EOLE GENERATION - GDF SUEZ | 45 21.02' N | 005 52.24' W | 8.63 | 233 | 6.28 | 264 | 929.02 | 11.59 |
| 4 | 800 | RIOUX Antoine | FESTIVAL DES PAINS | 45 14.38' N | 005 43.90' W | 7.35 | 231 | 6.11 | 263 | 929.55 | 12.12 |
| 5 | 753 | RIECHERS Jorg | MARE.DE | 45 30.48' N | 005 59.97' W | 8.48 | 239 | 6.37 | 270 | 931.12 | 13.68 |
| 6 | 791 | REINHART Thibault | ARALDITE® | 45 8.52' N | 005 34.43' W | 5.37 | 244 | 5.82 | 261 | 931.58 | 14.14 |
| 7 | 754 | DELESNE Bertrand | ZONE LARGE | 45 29.66' N | 005 54.63' W | 8.33 | 246 | 6.34 | 267 | 933.36 | 15.92 |
| 8 | 679 | DAVID Etienne | TEAMWORK | 44 59.35' N | 005 23.13' W | 5.04 | 248 | 5.57 | 257 | 933.37 | 15.93 |
| 9 | 759 | KOLACEK Milan | GABEN > FOLLOW ME | 45 7.16' N | 005 27.93' W | 5.56 | 259 | 5.72 | 257 | 934.64 | 17.21 |
| 10 | 787 | NORMAND Thomas | FINANCIERE DE L'ECHIQUIER | 44 58.43' N | 005 17.64' W | 3.76 | 253 | 5.65 | 252 | 936.25 | 18.82 |
| 11 | 667 | LE BREC Guillaume | OCCAMAT / ATD | 44 51.60' N | 005 6.72' W | 3.14 | 249 | 5.45 | 248 | 939.76 | 22.33 |
| 12 | 198 | PICAULT Sébastien | KICKERS | 45 12.01' N | 005 22.64' W | 5.43 | 269 | 5.54 | 258 | 940.43 | 23 |
| 13 | 618 | MONTAGNE Lucas | ONG CONSEIL | 44 49.98' N | 005 3.57' W | 2.91 | 246 | 5.21 | 248 | 941.01 | 23.58 |
| 14 | 802 | BERTRAND Etienne | CHASSEUR DE PRIMES | 45 29.06' N | 005 38.81' W | 6.56 | 255 | 5.92 | 266 | 941.42 | 23.99 |
| 15 | 788 | CHAPPELLIER Aymeric | LA TORTUE DE L'AQUARIUM DE LA ROCHELLE | 45 22.30' N | 005 30.69' W | 6.67 | 260 | 5.81 | 256 | 941.74 | 24.31 |
| 16 | 347 | GELABERT Aleix | GAES-ANTAAS | 45 20.57' N | 005 26.87' W | 6.18 | 268 | 5.59 | 263 | 942.88 | 25.44 |
| 17 | 509 | SCHRODER Lucas | BRUNEL | 45 24.56' N | 005 30.99' W | 6.47 | 255 | 5.78 | 264 | 942.94 | 25.5 |
| 18 | 741 | FERMIN Rémi | BOREAL | 44 50.99' N | 004 57.53' W | 3.11 | 259 | 5.08 | 248 | 945.31 | 27.87 |
| 19 | 454 | BOUCHET Romain | IB REMARKETING | 45 29.83' N | 005 30.60' W | 6.77 | 264 | 5.61 | 268 | 946.39 | 28.96 |
| 20 | 756 | CARACCI Andrea | SPEEDY MALTESE | 45 33.39' N | 005 33.66' W | 7.61 | 256 | 5.8 | 268 | 946.96 | 29.53 |
| 21 | 617 | DYTCH Dan | SOITEC | 45 25.29' N | 005 24.24' W | 6.83 | 257 | 5.67 | 263 | 947.16 | 29.73 |
| 22 | 624 | OLIVA Juan-Carlos | ZUMEX | 45 23.26' N | 005 21.12' W | 7.47 | 248 | 5.48 | 263 | 947.73 | 30.3 |
| 23 | 265 | MARETTE Paul | REGION NORD PAS DE CALAIS | 45 28.27' N | 005 24.52' W | 6.48 | 239 | 5.53 | 265 | 948.81 | 31.37 |
| 24 | 797 | CAVAGNOUGH Scott | www.brainchild.org.au | 45 27.63' N | 005 17.28' W | 6.96 | 248 | 5.54 | 263 | 952.49 | 35.05 |
| 25 | 417 | DUCROZ Aurélien | NISSAN | 45 28.69' N | 005 18.26' W | 7.36 | 252 | 5.42 | 265 | 952.56 | 35.13 |
| 26 | 574 | CREIGHTON Emma | POCKET ROCKET | 45 25.96' N | 005 13.12' W | 6.55 | 251 | 5.29 | 263 | 953.87 | 36.43 |
| 27 | 814 | DARAMY Jean-Baptiste | EKI HAIZEA | 45 29.75' N | 005 11.18' W | 7.37 | 260 | 5.27 | 264 | 957.19 | 39.76 |
| 28 | 606 | CARME Donatien | 606 CHERCHE SPONSOR | 45 46.14' N | 005 27.26' W | 5.74 | 253 | 5.64 | 268 | 958.63 | 41.2 |
| 29 | 551 | PATOU Henri | ECARTIP | 45 39.03' N | 005 9.75' W | 7.14 | 246 | 5.23 | 268 | 963.57 | 46.14 |
| 30 | 629 | MAUFFRET Louis | SOLIDAIRES | 45 59.67' N | 005 17.45' W | 7.22 | 247 | 5.36 | 278 | 972.74 | 55.31 |
| 31 | 542 | ROSSETTI Tiziano | UNA VELA PER EMERGENCY | 45 36.32' N | 004 40.63' W | 6.53 | 240 | 4.43 | 267 | 978.49 | 61.06 |
| 32 | 790 | KOWALCZYK Radoslaw | CALBUD | 45 0.32' N | 003 53.64' W | 6.5 | 251 | 3.86 | 238 | 990.34 | 72.91 |
| 33 | 513 | GALLO Maurizio | YAK | 45 42.73' N | 004 23.67' W | 5.02 | 233 | 3.96 | 268 | 991.91 | 74.48 |
Back to top