Class 40 photo finishes
After a quiet 24 hours, so overnight boats have been streaming into Plymouth. We have seen some tight finishes in this Rolex Fastnet Race between the Volvo Open 70s and the IMOCA Open 60, but the closest by far occurred in the early hours this morning in the Class 40, where the top five boats arrived within just six and a half minutes.
Having led for the majority of the race, there was a deserved win for defending champion Tanguy de Lamotte aboard his Rogers-designed Initiatives - Alex Olivier, which arrived two and a half minutes ahead of the new Italian-owned Kiwi 40 Peraspera, in turn just 30 seconds in front of the German boat, Red, skippered by Mathias Mueller von Blumencron, Editor-in-Chief of Der Spiegel magazine.
De LaMotte's crew included Tanguy Leglatin, a leading French offshore racing coach, who has worked with Dee Caffari and Sam Davies - tactician for this race - and David Sineau, a competitor in this year's La Solitaire du Figaro (who ran aground on leg two, in case you're wondering).
Having led for most of the race, Initiatives - Alex Olivier was overtaken by Peraspera at the last headland coming into Plymouth and it was only because their last tack into the finish took them further south of the Plymouth breakwater that the French team won. "We could go on one tack to the finish line and that is where we pulled away and overtook them again," recounted de LaMotte. "It was a literally a few hundred metres before the finish line. So it could have gone any way, anyone could have won it."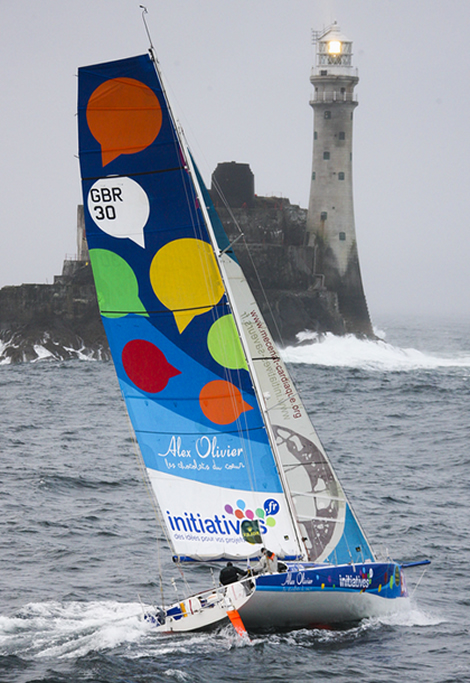 While Initiatives - Alex Olivier may no longer be the latest technology in the Class 40, De LaMotte says she held her own again the new Farr designs, although her performance was clearly boosted by superb tactics from Leglatin. "In the light upwind they were slightly ahead, so we were struggling to control them from the Scilly Isles, and they eventually caught us right up and then they overtook us, but in the end positioning and tactics were important too," said de Lamotte.
Finishing 3 hours and 13 minutes astern of the Class 40 leader and 12th in Class 40 was the American Class 40 Dragon, skippered by Michael Hennessy, who recently sailed his boat in the Transatlantic Race 2011. "It is pretty exciting stuff," said Hennessy of the close finish. "We had a tough race. It is challenging because no one on the boat knows English waters at all and local knowledge played a big part from Bishop Rock on. We had a couple of lead changes after that and the last one went against us."
Hennessy is a regular competitor in the US-equivalent of the Rolex Fastnet Race, the Bermuda Race. "That is great, but this is far more tactically challenging. You break it down and there are eight segments to this race and each has its own unique challenge to it. This was a really tactically challenging race and far more competitive than I had anticipated. It is the best race I have ever done."
Overnight the leaders in IRC 1 arrived in Plymouth, those arriving after dawn to be greeted by prolonged and torrential rain. At present French boats are looking to be the strongest contenders for the handicap win with the familiar Grand Soleil 54 Codiam of Nicolas Loday and Jean Claude Nicoleau ahead of the Laurent Gouy's Ker 39, Inis Mor.
"It was good. Going out of the Solent was fast and quick, but it was hard getting to the Fastnet," said Inis Mor skipper Laurent Goyh, who works for North Sails France and admits his last Fastnet Race was in 1997 aboard a Grand Mistral one design maxi. Goyh said he felt they had sailed an extremely good race, despite running out of wind for 30 minutes at Bishop Rock, and was frustrated that their result wasn't better.
Peter Rutter's Quokka 8, the recently-crowned UK IRC National Champion, arrived in at 07:31:12 this morning in IRC2, the boat on this occasion part of the seven strong fleet entered by charter company Sailing Logic. Rutter and Sailing Logic's Philippe Falle were sailing Quokka 8 with a youth crew. "We did very well indeed," said Rutter on his arrival. "It was superb racing as always with the Fastnet. It was quite a rough second night. After Bishop Rock we watched the whole fleet sailing up to us, we stopped and we managed to get slightly inshore of the rest of the fleet and then got 4 miles ahead in the space of about 1.5 hours, which was pleasing."
Just ahead of them on the water but sailing in IRC 1, was the Scheveningen-based Swan 42 Baraka Gp skippered by Piet de Graaf and sailed by a crew comprising many family members. "I think we sailed pretty well, especially in the first part of the race," said elder son Dirk de aGraaf. "We worked well and our navigator and tactician did good preparation. We were off Land's End in a good position. In the Irish Sea we had some tough conditions and we saw 30 knots."
The Swan 42 is not known for being an offshore boat and it was Baraka Gp and her crew's first Rolex Fastnet Race. However the team had prepared extensively including competing in the North Sea Race earlier this year, along with some other qualifiers. "We have sailed some offshores before, but not as big as this one. This is the best race I have ever done," concluded Dirk de Graaf.
Weather-wise there is a weak depression over northern France, but dominate is the Azores high bringing northerly winds to the race course. Over the next 24 hours the high pressure is expected to turn more into a ridge, and by tomorrow morning this will be on an NE-SW axis straight across the middle of the race track, with precious little wind in its vicinity through until Saturday, making for a slow finish for the tailenders.
Back to top
Back to top