Photo finish for IMOCA 60s
Following the arrival of the 100ft maxi ICAP Leopard this morning, so the first of the Mini Maxis arrived in Plymouth this afternoon in the form of 2009 Rolex Fastnet Race winner, Rán.
The Judel Vrolijk 72 campaigned by Skype co-founder Niklas Zennström crossed the line off Plymouth at 12:53:44 BST, in an elapsed time of 2 days 3 minutes and 44 seconds.
"It was a good race in that we had good boat speed all the time," commented Zennström. "The worst thing with offshore races is that you sail into an area with no wind and you sit there, but we didn't have that this time. In the places where we thought it would be very light, like the transition around Land's End, we had good pace. But it was tough. Half way to the Rock and all the way back there was no visibility, lots of wind and rain - everything was very wet. But if you go fast, that makes up for it. It was great racing and we were doing 20-22 knots boat speed all the time in big waves. We pushed it pretty hard."
Rán benefitted from the retirements yesterday of Beau Geste and Alegre. According to Gavin Brady, Beau Geste was forced to pull out when some cracking developed across her deck and with conditions set to build around the Fastnet Rock and the onset of night, so they chose to err on the side of prudence, the boat this afternoon back in Gosport. "We were really surprised, because we were doing 15-16 knots of boat speed side by side with the VO70s, and everything as business as usual," said the former America's Cup helmsman. "If it had been a moderate forecast we might have tried to fix it. It was disappointing, a tough decision to make, because we were in a good position at that point of the race."
While they had been putting miles on Alegre behind them, Rán was on Beau Geste's tail when she retired. Navigator Steve Hayles says they would have had a tough time holding on to the Farr 80 reaching back from the Rock, however despite lively conditions, the wind peaking at 30 knots, their luck with the weather could not have been better in their rounding of the Rock. "We were in a perfect situation where we reached in and on the beat out to the Pantaenius buoy the right shift started to come, so we reached both ways - we were very well placed timing-wise."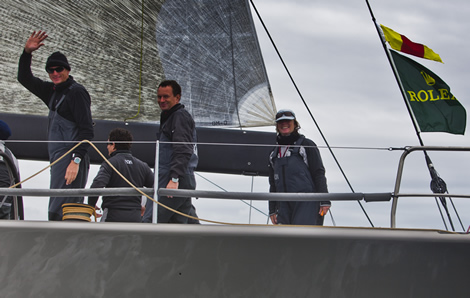 According to Zennström before they started the race, the forecast was indicating that this year's Rolex Fastnet Race would not just be a big boat race, but a 'very big' boat race, so their competitive focus was on Beau Geste, ICAP Leopard and Rambler 100, rather than at the smaller boats behind them. With two of these not making it to the finish, so Rán now looks like being a strong contender for the defending her Rolex Fastnet Race title this year. Navigator Steve Hayles qualified this: "In reaching races it could be boats like the canting keel Cookson 50s, but they have too much to do, so it might be a whole different size of boat. But to be honest the forecast shuts down from now. At the moment it certainly looks good particularly against the next boats in."
After the Volvo Open 70s first thing, late morning there was an equally close finish between the first three IMOCA Open 60s. This was won by 2004-5 Vendee Globe winner Vincent Riou in his orange PRB. She was less than four minutes ahead of Virbac Paprec 3 skippered by Jean-Pierre Dick, two time winner of the Barcelona World Race, in turn less than two minutes ahead of double Velux 5 Oceans solo round the world race winner Bernard Stamm on his new Cheminées Poujoulat.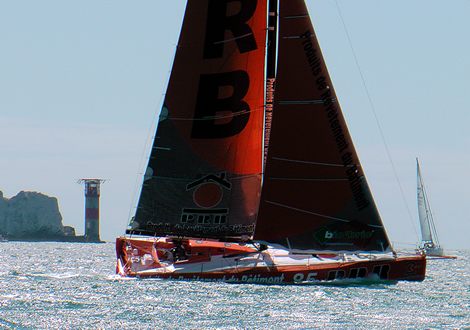 "It feels good,very good," commented Riou of his win, his second having previously won the event in the IMOCA 60 class in 2007. "We are glad to have had a good result, especially as there was a lot of contact between the boats for the whole duration of the race. "Passing the Fastnet Rock itself was special because it was very windy and grey and then suddenly the Fastnet just appeared out of the fog as we were going past with 30 knots of wind - it was rather lovely."
Frenchman Marc Guillemot, who finished fourth aboard Safran, summed up why the Rolex Fastnet Race was special. "It is a very nice course to go to the Fastnet and to come back because there is a lot of variation in the conditions and the sea and also there are three or four of the best IMOCA boats here, so it is always interesting to race against them."
While Safran finished 45 minutes after PRB, they had been level at Bishop Rock, but Guillemot admitted that they had had subsequently chosen the wrong sail to get them to the Lizard, allowing the others to get ahead.
Virbac-Paprec 3 had been leading at the Scilly Isles, but did well to come home second after they had broken their starboard primary winch, causing them a few complications in the cockpit. "It was pretty close and interesting too with sometimes quite a lot of wind or little wind, shifty – it was a nice race," said Dick. "It was complicated with the current, but this is the nice part. It is more like the Tour de France a la Voile. It is a nice race, so I am happy to have done it."
The next boats set to finish in Class Zero are the American STP65 Vanquish while the Swiss TP52 Near Miss late this afternoon was off the Scilly Isles, but based on times taken at the Fastnet Rock, Ràn remains ahead on corrected time. In IRC 1 Colin Buffin's Swan 62 Uxorious IV is leading under IRC, while of the eight boats to have rounded in IRC 2, Samuel Prietz's A40 Vitaris Response is in front.
With an area of high pressure encroaching over the Celtic Sea, so the wind is forecast to continue veering into the north and then northeast tonight and lightening over the next 24 hours, with, in stark contrast to what the frontrunners experienced, precious little wind at the Fastnet Rock tomorrow afternoon.
Back to top
Back to top