VO70 claims monohull record
While the multihull record and course record fell last night to Maxi Banque Populaire (FRA), so earlier this morning the monohull record for the Rolex Fastnet Race was also demolished. Surprisingly the new record went not Mike Slade's 100ft supermaxi ICAP Leopard, which had established the record at 1 days 20 hours and 18 minutes in 2007, but the smaller Volvo Open 70 Abu Dhabi, skippered by double Olympic silver medallist Ian Walker.
The black-hulled VO70 arrived at an overcast and drizzly Plymouth finish line at 07:49:00 BST this morning, just 4 minutes and 42 seconds ahead of Franck Cammas' VO70 Groupama 4 (FRA). In doing so she broke ICAP Leopard's 2007 record by 1 hour 39 minutes.
Despite this, for ICAP Leopard, line honours winner in the last two Rolex Fastnet Races, the race was still good as she had led her faster rival, George David's supermaxi Rambler 100, for more than 24 hours.
"It was a very good race," commented owner Mike Slade. "The weather at the beginning and the end and the surge around the top were very, very exciting and we were all doing big numbers. I thoroughly enjoyed coming out of the Solent - we led Rambler there and led her most of the way up to the Rock. Rambler is a quicker boat in terms of righting moment and weight. So that was a great thrill."
In the fog Slade says that they knew there was an issue with Rambler but not the full extent of what had happened. When they passed the location of the incident, between the Fastnet Rock and the Pantaenius offset mark, there had been thick fog.
The three Volvo Open 70s subsequently sped past ICAP Leopard in the 20-30 knot winds heading across to Bishop Rock.
According to Slade this may be ICAP Leopard's last Rolex Fastnet Race before she goes in for a major refit over this winter that will effectively transom her into a superyacht with a full luxury interior. "I have done about eight or nine Fastnet race but I think this is as good as it gets," said Slade.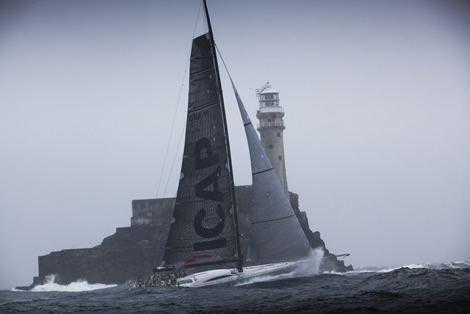 For the three Volvo Open 70s competing in this year's Rolex Fastnet Race, this was the only occasion they will line up before they set off round the world this autumn. Their race around the 608 mile course was formidable, with Abu Dhabi, Groupama 4 and Team Sanya, of former Volvo Ocean Race winner Mike Sanderson, each holding the lead for parts of the race.
"It was wet," recounted Abu Dhabi skipper Ian Walker. "From half way across the Irish Sea to the [Fastnet] rock and back was flat out. I think our average was into the 20s, blast reaching and we definitely hit 30 knots on a couple of occasions. And it was a great race."
They had shared the lead with the French VO70 along the south coast of the UK while Team Sanya pulled ahead after cutting the corner at Land's End. Abu Dhabi had pulled ahead and led around the Fastnet rock, before being overhauled once again by Groupama 4 on the reach back to the Scilly Isles. However ultimately Abu Dhabi took the win, passing Franck Cammas' VO70 as they rounded the Lizard this morning, to finish just 4 minutes and 42 seconds ahead of them, with Team Sanya coming in an hour later.
"It is fantastic to win this race. When you have the 100, normally no one gets a look in, so to win it in a 70ft boat is pretty cool," said a contented-looking Walker upon his arrival into Plymouth's Sutton Harbour. "And it is nice to do a race! I haven't done one for about a year and I can't remember the last time I won one! It is also especially good for the shore crew and all the people who have been working 12 hours a day to build the boat and get us here."
The Rolex Fastnet Race was not without its incidents and Walker reeled off a list including the A-frame on the bow, flooding the engine, ripping a block off the deck, dropping the media computer in the water, etc. But their troubles were small fry compared to those experienced on Team Sanya.
Ian Walker reported how while rounding the Fastnet Rock they had had to slow down from 25 knots in order to allow the bowman to change the headsail. When Team Sanya attempted this there were further complications that at one stage forced them to point their bow the opposite way up the race course. Unusually they also snapped their main sheet when it chafed through on a newly resurfaced winch, also forcing them into taking some downtime. Most dramatic of all was when one of the skin fittings up forward on the hull blew off causing a major flood.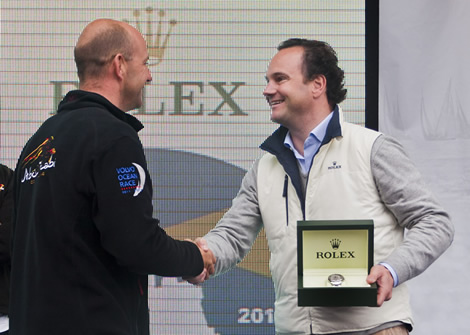 "We had tons of water downstairs, so we were hovering bow down, but the rule is great because we have great pumps although they have been used a bit too often in this program!" recounted Sanderson.
Having won the 2005-6 Volvo Ocean race, Sanderson was not involved in the 2008-9 round the world race, but seems elated by his return to the class that made his name. "I was a bit apprehensive about coming back and doing the race, but I love it and everything about it. It is a great team and you forget how cool the boats are, doing 30 knots in a 70 footer with another one beside you doing 30 knots. The Volvo boats – they never cease to amaze. You get back on them and it is like 'man, these things are quick'. And we are really pleased with the result."
Groupama 4 made a swift about-turn back towards her base in Lorient, France immediately after finishing. "We had a great race and we fought well. Unfortunately we finished just behind Abu Dhabi," said skipper Franck Cammas. "It was really interesting to find ourselves competing with our future rivals in the Volvo. Our performances are very close and there should be some interesting battles ahead."
Meanwhile more details have emerged of the keel loss and subsequent capsize of George David's maxi Rambler that occurred at 17:25 BST yesterday. Project Manager, Mick Harvey, who was on board at the time, said: "We were beating into big seas, launching Rambler off the top of full size waves. I was down below with navigator Peter Isler when we heard the sickening sound of the keel breaking off. It was instantaneous; there was no time to react. The boat turned turtle, just like a dinghy capsizing. Peter Isler issued a Mayday and we got out of there as quickly as we could."
Crew on deck were able to clamber over the guardrails and onto the upturned hull and helped those that had ended up in the water. However the swell made it difficult for all the crew to get out and five, including skipper George David and partner Wendy Touton, were swept away and out of reach. This group linked arms, forming a circle, but ended remaining in the water for two and a half hours. Fortunately the Coastguard diverted a local fishing boat, Wave Chieftain, to assist, which winched the remaining crew on board, from where Wendy Touton was airlifted to hospital for medical attention suffering from hypothermia. The remaining four were taken to Baltimore Harbour where they were re-united with the 16 crew who had been rescued from the upturned hull of Rambler 100 by the Baltimore Lifeboat.
Back to top
Back to top