Records ready to tumble
Records are expected to fall in a major way over the next 24 hours in the Rolex Fastnet Race with the world's fastest offshore boat, Loick Peyron's 40m long trimaran Maxi Banque Populaire (FRA), due to break not only the outright race record (which Peyron set in 1999), but also the record for the course, set in 2002 by Steve Fossett's 125ft maxi-catamaran, PlayStation (USA). Meanwhile tomorrow morning there is the possibility of George David's Rambler 100 (USA) breaking Mike Slade's outright monohull record for the Rolex Fastnet Race of 1 days 20 hours and 18 minutes, set in 2007.
To break the outright race record of 1 days 16 hours 27 minutes set by Loick Peyron's ORMA 60 trimaran Fujicolor (FRA) in 1999, Maxi Banque Populaire would have to finish before 03:27 BST tomorrow morning. However the crew have their hopes set on even breaking the outright course record of 1 day 11 hours and 17 seconds set by PlayStation in 2002. This would require them to arrive in Plymouth by 22:17 BST this evening. This afternoon Loick Peyron believed their ETA at the finish line in Plymouth would be at 2100-2200 BST, inside Fossett's record.
After being on the wind all the way to the Fastnet Rock, Banque Populaire had a fast run southeast to Bishop Rock. During this time they hit 36 knots, while upwind they had merely been making 20-22 knots. She passed Bishop Rock at 1500 BST and bearing away for the Plymouth finish line, skipper Peyron expected her progress to slow a little: "The wind is supposed to decrease and then we will be dead downwind, gybing to the finish."
Banque Populaire's sole British crewman Brian Thompson added: "Now we are sprinting for the finish, we are not getting any sleep because we are going to see if we can snatch PlayStation's record."
Banque Populaire will be followed in tonight by Gitana 11. Seb Josse's 77ft trimaran was an hour behind Banque Populaire at Bishop Rock with the two MOD 70 trimarans, Steve Ravussin's Race for Water and Roland Jourdain's Veolia Environnement a further hour astern.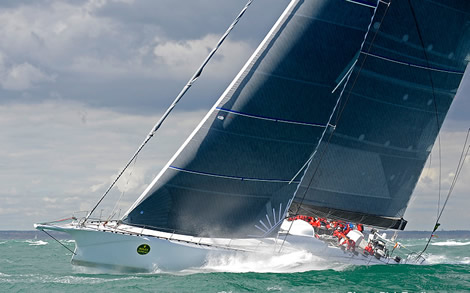 In the giant supermaxi monohull dust-up, the inevitable has happened and George David's faster Rambler 100 has finally overhauled Mike Slade's ICAP Leopard. Rambler 100 was due to round the Fastnet Race at 1800 BST this evening with a lead of around four miles on her British rival.
Since this morning there has been a change in the outlook for the Volvo 70s with the Ian Walker-skippered Abu Dhabi regaining the lead, with Franck Cammas' Groupama 4 up to second and Mike Sanderson's Team Sanya third around 22 miles astern, with Abu Dhabi (UAE) less than 20 miles from the Fastnet Rock at 1700 BST.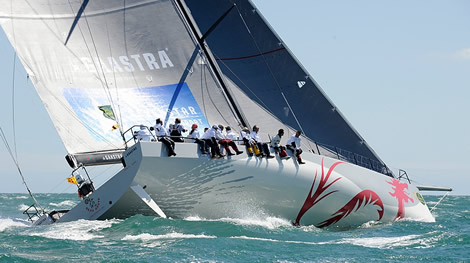 There was disaster in IRC Z this afternoon for Karl Kwok and Jim Swartz's Farr 80 Beau Geste that suffered a 'structural problem' while mid-away across the Celtic Sea en route to the Rock. She has since turned her bow back towards Land's End. The very latest news is that Andres Soriano's Mills 68 Alegre has also retired witih 'damage'. More detail on both incidents is at present unavailable.
Yesterday there was another high profile retirement when Johnny Vincent's TP52 Pace returned to her berth in the Hamble with mast problems. In the Class 40s John Harris' GryphonSolo2 has also pulled out, retiring to Dartmouth.
Harris reported: "I am sorry to report that we have elected to retire from the 2011 Rolex Fastnet due to sail damage that has rendered us uncompetitive. We ripped our Solent jib - our main workhorse headsail, as we exited the Solent near The Needles after the start. We were changing down to a smaller sail and roller furled the Solent jib in about 22 knots of wind and the sail flogged very badly and tore along the leech (trailing edge). It also tore horizontally along a batten pocket and the damage was fairly extensive. Although I immediately had a sinking feeling at the time that our race was over, we kept racing under the staysail, as we beat our way down the South Coast of England. It wasn't until we had rounded Portland Bill headland that the wind went light enough that we could unroll the jib for a look. We sent Tristan Mouligne up the mast in the bosun's chair on a spinnaker halyard and then unfurled the sail. The sail is lashed to a swivel on the mast and Tristan cut the lashing and the sail fell down the headstay to the deck. Josh, Tristan and I looked the sail over carefully and determined that the damage was too extensive to repair, so we would not be able to use it. That left us with the smaller staysail and the larger Code Zero, neither of which are effective going to windward in 8-16 knots of wind, which is exactly what we had and were forecast to have more of."
For the smaller boats passing Land's End this afternoon and this evening and heading out into the Celtic Sea, they can expect a lively night with the wind building to 25-30 knots.
On Jonathan Goring's Ker 40 Keronimo in IRC 1 they were battening down hatches. "The forecast has quite radically changed and into this evening we are expecting 25-30 knots, so we are busy getting all the windy reaching sails out so we are ready to get through that," recounted tactician Simon Shaw. However Shaw said he was expecting this weather to have passed as they approached the Fastnet Rock. "We are going to end up probably dead upwind in much lighter conditions trying to lay the Rock in about 10 knots. Then once we are round, the wind slowly builds back up to about 20 knots." Shaw said they were hoping to get as far down the course as possible before the wind possibly disappears altogether at some point on Wednesday, although the nature of this 'shut-down' remained far from certain. "If the shut-down hits, it will just become a classic big boat race. But we are in with a shot at the moment we think."
Slightly further back up the track, Andrew McIrvine on his First 40 La Rèponse was passing Land's End this afternoon. "We did very well down to half way towards the Lizard from Start Point when the wind went very very light," the RORC Commodore recounted. "But we reckon we've made quick passage to Land's End. As far as we can see the weather is going to swing a bit south and increase on the next bit, which we quite like."
McIrvine said he believed they would make it past Land's End with the favourable tide, while in the 10 knot breeze, the boats astern would struggle. "It will close the gate to a lot of our class behind us, which would be good for us."
However he was expecting a fast passage across the Celtic Sea. "The wind is going to increase and it is also going to back a bit which should free us off to do the next bit. And then according to the GRIBs we've got it should swing back again by the time we get to the Fastnet Rock, because of the low moving across to the north, so we will then have a following wind on the way back, which would be very nice."
After the big multihulls arrive tonight, we can expect a small gap before finding out if one of the 100ft supermaxis will break the monohull course record tomorrow morning before 0718 BST.
Back to top
Back to top