The greatest offshore race
The largest, most diverse fleet of racing boats ever assembled in the history of offshore yachting sets sail tomorrow on the 608 mile Rolex Fastnet Race.
While the previous record entry was 303, this year 318 yachts are due to start, and the fleet is as impressive in its size as it is, is its variety: from the 40m long trimaran Maxi Banque Populaire to the 9.1m Rogers 30, Bernie Bingham's Brightwork. The first gun for the multihulls is to be fired at 1100 (BST) with the last start for the Volvo Open 70s and big monohulls, including the two 100 footers, George David's Rambler 100 and Mike Slade's ICAP Leopard, at 1310.
In addition to the strong IRC entry, the Royal Ocean Racing Club has made the inspired move this year to invite non-IRC classes to take part over and above their 300 limit, and this has succeeded in attractin a wealth of high profile racing hardware from around the world.
Line honours is expected to go to Banque Populaire, the fastest and largest offshore racing multihull in the world, with Loick Peyron having taken over from Pascal Bidegorry as skipper earlier this year and with a crew line-up that includes Britain's Brian Thompson and Volvo Ocean Race and America's Cup winner Juan Vila as navigator.
Banque Populaire's 24 hour record saw her cover the equivalent of one and a half Fastnet races in a day or an average speed of 37.84 knots. This pace would have her in by 0300 on Monday! Unfortunately this won't happen, as Juan Vila states: "It is a middle range breeze at the beginning getting lighter towards Land's End and then hopefully we can get a nice southwesterly ahead of the cold front so we can have a fast run back from the Rock. So at the moment the routing is saying around 1 days and a half. It is very hard to break the record with this forecast."
Loick Peyron (who is jetting in from Cascais tonight, having spent a pleasant week helming the Energy Team AC45) won't mind. The present record for the Rolex Fastnet Race for a non-handicap boats dates back to 1999 when he set a time of in 1 days 16 hours and 27 minutes on his ORMA 60 trimaran Fujicolor II.
The Rolex Fastnet Race will also be a good showcase for the new MOD70, the successor to the ORMA 60. The first two examples launched, Race for Water and Veolia Environnement, will be competing. Former ORMA 60 skipper Steve Ravussin will skipper Race for Water, having recently won the new incarnation of the Round Gotland Race, while this will be the competitive debut for hull no2, Roland Jourdain's Veolia Environnement.
Competing on board Race For Water (and jumping for joy...) is British solo star Dee Caffari. "I am SO excited. I have sailed with them two days to learn the ropes. It looks like it will be an amazing experience and really fast. So I am very excited...and very nervous at the moment," said Caffari.
The Rolex Fastnet Race is also honoured this year to be holding the one and only race for the new generation Volvo Open 70s prior to start of the fully crewed round the world race on 29 October from Alicante, Spain. While a few older boats were initially entered, they have dropped out and the field is now limited to three, all of whom will be competing in the full deal later this autumn.
While Puma and Telefonica are keeping their powder dry in the Canaries and Camper is on a ship due to dock in the UK any day now, competing tomorrow are: Franck Cammas' Groupama4, the Ian Walker steered Abu Dhabi, and Team Sanya, the former Telefonica Blue newly relaunched after a significant refit in Hamble and skippered by 2005-6 Volvo Ocean Race winner Mike Sanderson. So design-wise Juan K, versus Farr versus Farr.
En route from Gosport to the skipper's briefing in Cowes, Franck Cammas stopped off in Ocean Village to have a poon at the Abu Dhabi Ocean Racing VO70 and says he liked what he saw, even if it was very different to his own Groupama 4.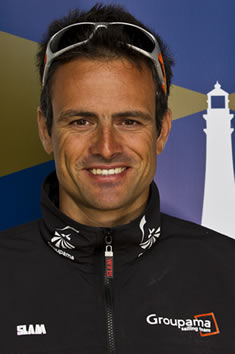 Cammas first raced the Rolex Fastnet Race 12 years ago in his Groupama 1 trimaran but on that occasion had to pull out when they broke the battens in the mainsail on the first night. He says he is uncertainly how this race will be given it is his first ever race on a large monohull and it will be Groupama 4's competitive debut.
"The forecast is good because normally we will have some reaching legs in the Celtic Sea," Cammas told us. "It is upwind going down to the Scillies. We will have to beat then and the wind will drop in the first night but then there is a new low pressure and the southwest." The 46 strong fleet of singlehanders in La Solitaire du Figaro leave Dun Laoghaire tomorrow and the organisers expect them to be heading south past the Scilly Isles on Monday early afternoon, which will of course coincide with the larger part of the mid-fleet passing Land's End in the opposite direction. BEWARE! Cammas (a past winner of La Solitaire) reckons he might see them on their way back from the Fastnet.
The IMOCA 60 class also has top representation. Sadly Alex Thomson's Hugo Boss is the sole UK representative - Mike Golding's Ganesha is still in refit - and it will be interesting to see if she can make inroads into the heavyweight French and Swiss contingent that includes two time Velux 5 Oceans winner Bernard Stamm, aboard his brand new [ie they are screwing bits on still] Juan K-designed Cheminées Poujoulat, this extremely cool boat making her race debut in the Rolex Fastnet Race; 2004-5 Vendee Globe winner Vincent Riou on PRB; double Barcelona World Race victor Jean-Pierre Dick on Virbac-Paprec 3 and Marc Guillemot on Safran. The 60s are sailing doublehanded as training for this autumn's Transat Jacques Vabre.
The largest single fleet within the Rolex Fastnet Race is that of the Class 40s, featuring 20 of the IMOCA 60's little brother. The line-up is very international boats including BSL, the Verdier design being campaigned by father 'n' son team of Ross and Campbell Field (no introduction needed we feel) to Michael Hennessy's Dragon and Joe Harris' new Gryphon Solo 2, both from the USA, to Round Britain winner Rune Assberg on Solo. Aside from the Fields (although this will be their Class40 debut), we suspect the boats to watch will be Tanguy de la Motte, back to defend his title in the Rolex Fastnet Race from 2009 on his Rogers design Initiatives-Alex Olivier and experienced Belgium round the world sailor Michel Kleinjans on Roaring Forty 2, one of the new Farr-designed Kiwi 40s.
But of course the bulk of the fleet of around 281 boats will be the IRC fleet, racing for the Fastnet Challenge Cup.
With high pressure forecast to descend on the course in a major way from Tuesday on, on handicap it looks like being a big boat race and in this case there is a formidable array of international hardware more than capable of claiming the overall prize. Stars of the show will certainly be the two 100ft maxis, American George David's Rambler 100 and Mike Slade's ICAP Leopard, line honours winner in 2007 and 2009 and now fitted with a new bowsprit since she broke it in the Transatlantic Race 2011.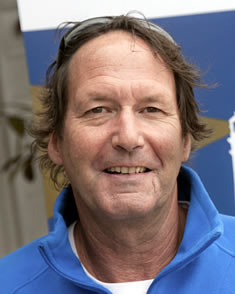 Navigator on Rambler 100, Peter Isler brings news that the latest forecast is showing that their giant Juan K design could be in with a chance of breaking the monohull elapsed time record of 1 day 20 hours 18 minutes set by ICAP Leopard in 2007. "What has changed in the last 24 hours is that there is going to be a left shift when we get to Land's End that will make it a solid reach (to the rock)." So it will be on the wind to Land's End and then a fast reach to the Fastnet Rock and back and also downwind for the final run back to Plymouth. However this forecast will also bode well for the VO70s and it will be interesting to see if despite their shorter waterlines, the punchy and newer generation round the world boats can hang on to the coat tails of the elongated ABN AMRO Two as Puma did in the Transatlantic Race.
Then there are the Mini-Maxis with Niklas Zennstrom's J-V72 Ràn back to defend her title, but she will be up against powerful competition from Andres Soriano's Mills 68 Alegre, although she is perhaps more Mediterranean optimised, while they will both be chasing Karl Kwok's 80 footer, Beau Geste, on this occasion being skippered by American Jim Swartz (he who once campaigned the STP65 Moneypenny, racing here under new ownership as Vanquish).
There is some equally tough competition in the 45-55ft range that includes the perennial Dutch competitor and past Rolex Fastnet Race winner, Piet Vroon. His Ker 46 Tonnerre de Breskens 3, at present is the runaway leader in the RORC Season's Points Championship. Then there are the two TP52s, Johnny Vincent's Pace and the Swiss entry Franck Noel's Near Miss (the 2007 generation Artemis, in case you were wondering) both with crack crews, and the two Cookson 50s Lee Overlay Partners and Chris Bull's Jazz.
According to Bull "there are quite a lot of changes in the weather with fronts coming, though the timing of which is uncertain. So it is one of those ones where you can't be very sure what you are going to get, but it looks like you will get medium speeds most of the time and getting light towards the end."
For the tailenders, the high pressure coming in looks set to make it a long ride but at least it will be in pleasant summery conditions, whereas the big boats could see as much as 35 knots off southeast Ireland.
Back to top
Back to top