Class 40 victory by 25 seconds
While Jacques Fournier and Jean-Edouard Criquioche aboard Groupe Picoty may have been first home on the return leg of the Class 40's Les Sables-Horta-Les Sables races, it was Stéphane Le Diraison and Vincent Barnaud who were the ultimate winner based on results in the outbound and return legs, their accumulated elapsed time for the two being 13 days 5 hours 53 minutes and 26 seconds.
However to say it was close for the overall prize would be an understatement with ex-Vendee Globe skipper Yannick Bestaven and Christophe Bouvet aboard Aquarelle.com second overall by just 25 seconds.
It was hard to determine who was the more elated of the two crews who crossed the finish line by Les Sables d'Olonne's Nouch Sud this afternoon - Fournier and Criquioche enjoying their first substantial victory in a Class 40 event or ex-Mini sailor Le Diraison and Barnaud for whom this was one of their first races in their Pogo S2 Bureau Véritas.
Bureau Veritas had come second on the leg into Horta, astern of the leg winner Aquarelle.com and the two and a half hour advantage she had over Groupe Picoty, which finished third on the outbound leg, was more than enough for Le Diraison and Barnaud to outweigh Groupe Picoty's 15 minute lead on the return leg into Les Sables d'Olonne.
Bureau Veritas' Vincent Barnaud commented: "With this race, we had an accelerated training in the Class40. We don't yet know what we can do and what we can't."

Stéphane Le Diraison added: "This win - it builds trust. We are now convinced that we can go fast. It also puts helps our preparation for the next Transat Jacques Vabre."
Combined elapsed times:
| | | | | |
| --- | --- | --- | --- | --- |
| Pos | Boat | Crew | Combined time | To 1st |
| 1 | Bureau Véritas | Stéphane Le Diraison/Vincent Barnaud | 13d 05h 53min 26s | |
| 2 | Aquarelle.com | Yannick Bestaven/Christophe Bouvet | 13d 05h 53min 51s | 25s |
| 3 | Groupe Picoty | Jean-Edouard Criquioche/Jacques Fournier | 13d 08h 10min 00s | 2h 16min 34s |
| 4 | mare.de² | Jörg Riechers/Etienne David | 13d 14h 20min 03s | 8h 26min 37s |
| 5 | L'Express-Sapmer | Denis Lazat/Frédéric Nouel | 13d 22h 55min 07s | 17h 01min 41s |
| 6 | MatetMat.com | Matthieu Galland/Mathis Prochasson | 14d 02h 24min 33s | 20h 31min 07s |
| 7 | Techneau | Arnaud Daval/Benoit Daval | 14d 06h 41min 57s | 1d 00h 48min 31s |
| 8 | Velevent | Stéphanie Alran/Julien Pulvé | 14d 10h 58min 56s | 1d 05h 05min 30s |
| 9 | Grassi Bateaux | Olivier Grassi/Jean-Baptiste Glin | 14d 11h 13min 03s | 1d 05h 19min 37s |
| 10 | Spliff | Andrew Dawson/Jon Mc Coll | 15d 02h 36min 25s | 1d 20h 42min 59s |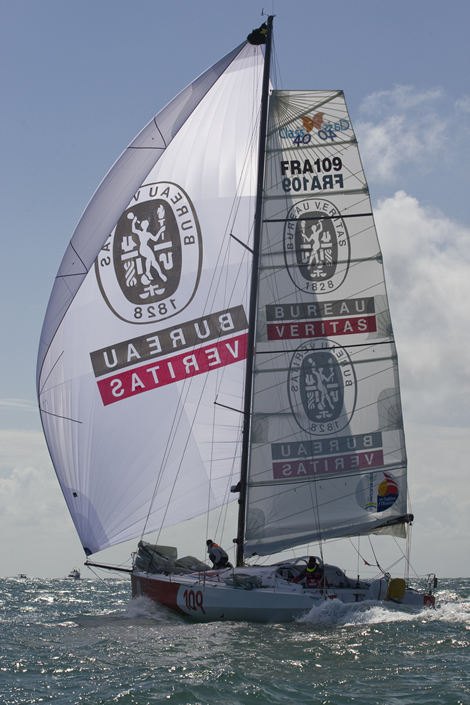 Back to top
Back to top