Super maxi dust up
The clash of the titans is due to get under way tomorrow when the fast boats set off on the third start of the Transatlantic Race 2011 from Newport to the Lizard.
Favourite for line honours is certainly George David's Juan K-designed supermaxi Rambler 100 but gunning hard, particularly on handicap, will be Mike Slade's ICAP Leopard. Slade isn't sailing on board on this occasion when his Farr-designed 100 footer will be skippered by American Clarke Murphy. Murphy is the Global Leader of New York-based headhunters Russell Reynolds Association's CEO and Board Services Practice and has so far this year jointly skippered ICAP Leopard with Slade in the RORC Caribbean 600 and the Annapolis-Newport race. Murphy competed in the Rolex Transatlantic Race in 2005 aboard Stuart Robinson's Stay Calm and brings with him Ian Budgen and Will Passano, to complement the normal Leopard crew roster that includes the likes of Guillermo Altadill, Guy Salter, Jim Turner, Luke Molloy, Mark Thomas and of course navigator Hugh Agnew and Leopard's Captain Chris Sherlock. For the Transatlantic Race they are sailing 18 up, which Sherlock says is the same number as they had on board for their last attempt on the west to east monohull transatlantic record.
Of course Rambler 100 are hardly a bunch of rookies with Peter Isler navigating, Erle Williams on tactics and a whole roster of Volvo Ocean Race sailors in their midst including Rodney Ardern, Stu Wilson, Justin Clougher, Jerry Kirby, Jan Dekker and Scott Beavis.
Ironically, given that they have twice made attempts on the transatlantic record, for next week's race to the Lizard, the weather is looking set to make for a fast crossing, with high pressure set up to the south. The routing at present has them completing the course in 7-8 days.
"At the moment it looks like being pretty much a run the whole way to England with a couple of transitions - half way across and then coming into England, it gets a bit light around Land's End is what our routing is telling us now," says Sherlock. "No doubt that will change a bit. Having the high to the south means we will have flat water in front of us, so it looks really nice."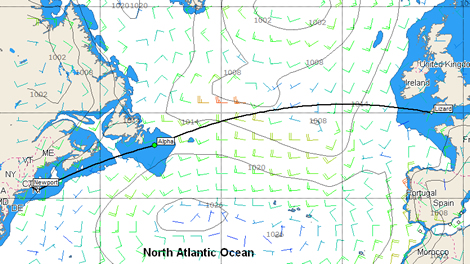 After leaving Newport, the boats have to round 'Point Alpha' the icegate at 46deg 20N, 51degW, on the Grand Banks, ESE of Newfoundland. Sherlock reckons the start will be in 12-15 knots filling in to almost 30 knots. It looks set to be a drag race out to Point Alpha but after that tactical options open up, as Sherlock summaries: "The further north you go there will be more wind and rougher water and the further south you are there will be less wind and flatter water."
Routing is allowed during the Transatlantic Race, so while Hugh Agnew will be on board he will be working with Roger 'Clouds' Badham on the best choice of tactics.
"There's nothing really scary out there at the moment, which is a little disappointing for us!" continues Sherlock. "We would have liked a bit of hard upwind or a bit of hard something, but at the end of the day these boats in 20 knots of wind surfing day in and day out the loads are huge and there is always the potential for something." (see the bottom of this article for a video about the expected weather)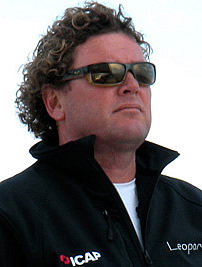 Presumably ICAP Leopard will be looking for more breeze than Rambler 100, which will lure her into taking a more northerly route, but this will depend on how the routing is looking and in particular how the 'transitions' Sherlock talks about pan out. Definitely the weather requirement for Rambler and Leopard will differ and Sherlock admits that given the forecast they will be hard pressed to take on their rival on the water. "I'd be kidding myself to say we'll be faster than them in these conditions. They have got 30% more righting moment, and we'll be max keel cant on both boats, sail area is similar but they are 10 tonnes lighter. It is just physics. We don't kid ourselves. What we can hope for is a good race, where we keep our boat in one piece, we look after our sails, etc. They might slow down coming into England. There might be a re-start at the ridge or at Land's End even if we're within 100 miles of them. We have to just keep playing our cards."
While the result in the Transatlantic Race is important is also forms part of the new Atlantic Ocean Racing Series. This comprises seven races – the Pineapple Cup, RORC Caribbean 600, Annapolis to Newport, Transatlantic Race 2011, Rolex Fastnet Race, the Royal Yacht Squadron's Biscay Race (to Sansenxo, Spain) and the Rolex Middle Sea Race. Those competing must race in at least three of these seven events, while the Transatlantic Race carries a 1.5x co-efficient.
At present Rambler leads the Atlantic Ocean Racing Series from ICAP Leopard, Chris Bull's Cookson 50 Jazz, Karl Kwok's Farr 80 Beau Geste and Sherlock reckons that it will end up being a scrap between these four. "We know that Beau Geste is going sail a very smart tactical race and they are more optimised than both Rambler and ourselves are, so you'd have to expect them to be up there. Then it is between Rambler and us."
While they are not taking part in the Atlantic Ocean Racing Series and are sailing in 'Volvo mode', in no way optimised for IRC (ie they are paying a 2% penalty for stacking), Puma's new Volvo Open 70 mar mostro will also be in the hunt in the Transatlantic Race. Sherlock believes that in the conditions expected Puma will be proportionally slower than Leopard, as Leopard will be compared to Rambler. "As soon as it gets up above 20 knots, the VO70 would be the same for sure - they are lighter and surf quicker, etc and they have their sweet spot there. Under 16 knots, the VO70s are under-wicked, because they are not set up for IRC and the maxis will have the legs on a VO70. But you don't need much to go wrong, plus they have the best crew on the track on Puma, so we'll see how they go."
One point in ICAP Leopard's favour compared to Rambler 100 is that this will be their third eastbound crossing of the north Atlantic in race mode, whereas for Rambler 100 it will be her first after her aborted trip as Virgin Money with Richard Branson that ended with them stopping in Bermuda.
But Sherlock doesn't believe that Rambler 100 will have a reliability issue. "They have spent a massive amount of money on that boat and they have very good personnel in every department who can sort it out quickly. If they hadn't done all this work and it was in its old configuration, I would have given them a 50-50 chance of getting across, but after all the mods they have done and they have sailed that boat an awful lot, I don't think that will be an issue unless it get extreme. If it does get extreme their biggest problem (as it will be for us) is slowing down, but I don't think we are going to get those conditions."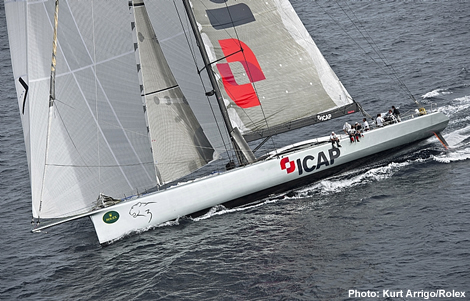 After the Transatlantic Race, ICAP Leopard is competing in the Rolex Fastnet Race and then the Biscay Race down to Spain and on to Les Voiles de St Tropez, for which owner Mike Slade will be back in the driver's seat. There is a question mark over whether or not they will take part in the final race of the Atlantic Ocean Racing Series, the Rolex Middle Sea Race.
This is set to be the last season ICAP Leopard sails in her present configuration as over this weekend she will be taken into Hamble Yacht Services where she will undergo a severe seven month long refit turning her into a 'superyacht'. This will include adding 6ft to her transom and fitting her with a luxury interior.
"We looked around on the open market in the 110-130ft size range and there is nothing in carbon out there and most of them are at a stage where they need so much money spending on them and they still go slow compared to Leopard," explains Sherlock. "We won't change the sail plan at all and all the mods we are only 1.2 tonnes heavier than we are now. With Leopard, we have a beautiful boat which requires not too many crew. On these other boats you need 6-7 crew whereas I am happy with 4-5 crew on this full time. Then we are going to take off and do another round the world trip."
This won't entirely mark the end of ICAP Leopard's racing career, only that at 106ft she will be ineligible for events like the Rolex Sydney Hobart and the Fastnet Races. Instead she will compete in Superyacht Cup-type events.
Back to top
Back to top