Lightweight IRC 40 sportsboat
New kid on the block, or on the Solent at least, this season is Jonathan Goring's Keronimo, the first example to hit UK waters of the McConaghy-built Ker 40. This is a step-up for Goring who is perhaps best known for campaigned his J/109 Jeronimo in the 2004 Rolex Commdores' Cup. The new boat has been project managed by Ian Smyth of Liquid Marine.
The Ker 40 is unique in several ways. Firstly it is a full-on IRC race boat, but it is also a production boat and hence represents substantially better value for money than a one-off custom build. Unlike other new non-IRC 40 footers such as the Farr 400 and Soto 40, the Ker 40 is designed for both inshore and offshore racing. Keronimo is due to compete in the Rolex Fastnet Race this year while hull no3 is heading for Australia and the Sydney-Hobart.
But the Ker 40 is particularly unusual as it bucks the theory that grand prix IRC boats of this size should be heavier than they would be if they were not IRC-optimised. For example while the Mills 39 Mariners Cove displaces 6.5 tonnes, the Ker 40 weighs in at 4.85. That's one huge difference in displacement.
According to designer Jason Ker, the new 40 came about as they had a number of enquiries for boats of this size, but these seemed habitually to be going cold when they were costed out as a custom build. Ker reckons that the production boat represents a saving of around 50% over a one-off. Ancasta are the agent for the Ker 40 in the UK where ex VAT but including sails and instruments delivered and commissioned in UK the boat costs in the order of £320,000.
While the boat is IRC-optimised Ker says that it should also be okay under ORC and the ultimate aim is for the boat to become a one design. To this end with McConaghy they are attempting to ensure that boats come out as near identical as they can be with every component weighed, etc.
The new 40 follows Piet Vroon's highly successful Ker 46 Tonnerre de Breskens and, more recently, the Salthouse-built 44 footer Ptarmigan for American owner Lawrence Dickie, currently competing at Block Island Race Week.
So how is the new boat different from an IRC 40 Ker might have penned a few years ago? "The main difference is that we went through the AC90 and AC33 cycle and we spent quite a lot of time tank testing and doing CFD work on that and that has been a bit influential." They have also learned a lot from Tonnerre. "That was the first race boat we'd done for IRC for a long time. And the rule has changed and our knowledge of what is fast has changed as well," Ker adds.
With a substantially lighter displacement the Ker 40's performance is expected to be more like that of a sportsboat, a blast in particular downwind. During the RORC's Myth of Malham race, Keronimo survived 45 knots and they had a hair-raising sleighride back from the Eddystone. According to Simon Shaw tactician and performance analyist on board, they averaged 17-18 knots for six hours... "It was absolutely roaring. Unfortunately we only had an A4 as our most uprange spinnaker and we could really have done with an A6, because we had way too much sail up. But the boat was just ripping and that basically won us that race. It was amazing - water over the deck, like a little Volvo 70."
What has surprised Shaw is that given the boat's light displacement, Keronimo also seems to be potent upwind. "Normally when you are sailing a 40 footer you find yourself going the same speed as all the other 40 footers, but this boat wasn't like that. It felt more like we were on 50 footer the way we were going past everyone. That is a good sign for the future."
Despite her lightness, Keronimo has an IRC rating of 1.196, which is high for a 40 footer but not as high as it could be. In fact it puts her into a reasonably empty space within this year's RORC fleet. If she had been entered in last year's Rolex Commodores' Cup she would have been the second highest rated boat behind the Farr 45 Alice II (1.226) and ahead of the Mark Mills-designed South African-owned Landmark 43 Windpower (1.164).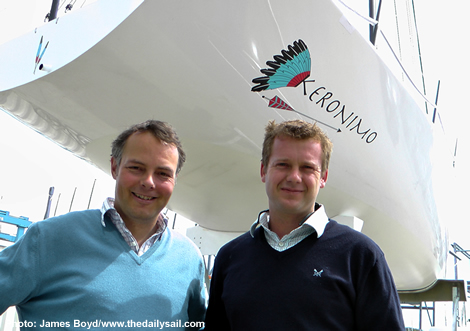 Jason Ker (left) and Simon Schofield

Ker acknowledges that under IRC at 40 foot it is hard to make a light boat competitive and the reason they have achieved this is less due to any changes in IRC, but is more down to their understanding of what they can do under the rating rule. "It does get harder as you get smaller, but the boat will be a lot of fun for guys that enjoy a sporty boat. It has plenty of sail area. It is not super-light – it has enough weight and stability to go upwind like a train but away from the wind it takes off as well."
He adds: "We continually nudge at the limit to see if we can go lighter. Tonnerre was a lot lighter than the cruiser racers we were doing before. This is a lighter than what we would have done before for a 40 footer. But also with the advanced CFD tools we can be confident of where we are going whereas before you had to be a bit more cautious from straying too far from what you knew was going to work."
Part of the secret lies in her hull shape. As is the recent trend, there is more volume forward, particularly around a quarter of the way back from the bow. Aft, there are no chines, but the hull has enormous flair (without resorting to hollows) enabling the crew to hike further outboard while preserving a narrow waterline. According to Ker, the 40's waterline beam is narrower than Tonnerre and also narrower relative to her BeamMax. "We wanted to make sure it is good in light airs because there are a lot of places around the world where you don't get 15 knots in the afternoon every day such as Asia and east coast USA."
The bulb has developed much from their other recent designs – that came about from their research into the AC90 and AC33 – however Ker says the fin has progressed, enabling the boat to have a wider groove and making it more forgiving to sail. The fin is cast iron encapsulated in GRP with a 'rule legal' fairing on its trailing edge.
The transom has a lip around it rather than a round corner. Aside from being a construction detail, this sharp corner has better hydrodynamic properties, maintains Ker.
On deck, due to the flair the sidedecks around the cockpit are wide and the cockpit features the optional extra of twin wheels (McConaghy make a nice wheel...) Tiller steering comes as standard. Keronimo has the standard deck gear package from Harken with self tailing 50s for the mainsheet, two primaries, two dedicated pit winches and two runners winches. On each side the main sheet reaches its winch via a block at the end of the track a winch, while the traveller controls lines runs along the cockpit sole coming out at jammer on the foot rest between the main trimmer's feet. Very TP52.
The mast is from Hall Spars in NZ (as were Tonnerre's and Ptarmigan's) and is in high modulus carbon as are the boom and the twin sets of swept-back spreaders. Apparently IRC doesn't nobble the modulus of carbon and high modulus carbon is now only marginally more expensive than standard modulus (ultra-high modulus is another matter...) There a two masthead and one fractional halyard for the kites and one jib halyard. Standing rigging is rod, although available as an option are Hall's round of aerofoil section carbon rigging. However Ker warns they get nobbled by IRC and are probably too much for a boat of this size. However in the aerofoil section department, Keronimo is fitted with McConaghy's sweet-looking aerofoil section GRP stanchions and pulpit...
While not quite flush deck, there is not much in the way of a cabin top and according to Ker this has enabled them to get the foot of the jib down to deck level and also for the jib sheet to lead from the fairlead directly to the primary. The fairlead is a flying ring adjusted athwartships by a lateral track (on a 6:1 purchase) while the up/down is on a more grunty 24:1.
There is a bolt-on bowsprit for the kites and on Keronimo, the sail inventory developed via Dave Lenz at North UK includes an A0-3 hybrid, A1, A2, A4, plus four or five jibs and an anticipated A6 fractional kite.
Down below is very minimalist, confirming that the Ker 40 has little pretension of being a cruiser racer. Construction is infusion, with E-glass and epoxy around an SP-provided PVC foam core, M-Core, used in hull, deck and interior structure. The finish is all painted and there is no gelcoat.
According to Jason Ker's right hand man, Simon Schofield "it is built like a one-off, but productionised. We've taken the hours out of it by using flanged bulkheads, so there is no taping, but the construction methods are the same as McConaghy would build any other custom boat and we are keeping down to similar weights." This also includes tThe engineering, carried within the Ker office, Schofield says is done in exactly the same way as it would with a carbon boat, including judicious use of uni-directionals, etc, only it is in glass.
According Schofield the benefits of building in carbon at 40ft are minimal, representing a potential 150kg weigh saving, if that. "The driving factor on a lot of the structure is robustness and thickness, not strength. On a bigger boat the carbon is giving you the strength you need."
PVC foam core is used over Nomex, because it is believed that IRC hammers this harder even than it does carbon. "The crossover is probably 45ft in a custom boat for carbon and in the early 50s for Nomex."
Prising up the one of the floorboards reveals an interesting structural feature – the loads from the keel head are tied in with the bulkheads fore and aft and the mast step via two beams made out of machined aerospace grade alloy. It is made this way to avoid welds potentially failing while machining alloy is highly repeatable and has also allowed them to optimise the engineering with different plate thickness along the length of the beams.
There is the bare minimum by way of a galley (to port of the mast) or a chart table (to starboard), other than that required by the Special Regs. The heads is plumbed in forward of the main bulkhead. There is a bench seat that runs from the 'saloon' back to the transom that is structural and will be fitted with cushions while there are pipecots above this.
Beneath the cockpit there is a central beam structure where the engine, fuel tank and batteries are housed.
Another Ker 40 is believed to be heading for these shores later this year. In the meantime Ker says that there are a few owners nibbling for IRC boats in the 53-55ft range, that could race on equal terms with IRC-ed TP52s but with a few more creature comforts on below.
For Jonathan Goring's Keronimo team, they are being backed by JPMorgan for this weekend's Round the Island and will have Ben Ainslie on board. Otherwise they will continue to compete in the RORC series including the Rolex Fastnet Race, while Goring is keen, the principle reason for acquiring this boat, of competing in the Rolex Commodores' Cup next year.
According to Simon Shaw they haven't had an opportunity yet to line up against any of the heavier 40 footers to find out how competitive they are really. "I spent a lot of time last year bashing around in those boats and my God, this boat is great fun. Ultimately that is why we do this."
Shaw says he has been impressed firstly that the boat isn't as tweaky as he as expecting and also that more or less from day one they have been sailing to the boat's polars. "It is pretty common for a new boat, particularly a boat that is in a new area of the rule, for you to be now talking about whether you are going to saw the keel off or move the mast or change the rudder, and this boat appears to be bang on straight out of the box and that makes my life a lot easier."
With two races under their belt and thanks to a breezy June in the UK, they have yet to experience what it is like to sail her in less than 15 knots of wind.
In terms of how to sail the new boat Shaw says that it is similar to a TP52 in that you have to keep it pressed up without overheeling, the groove lying somewhere between these two conflicting areas.
"Thus far it it appears it likes sailing with twist and you keep the boat twisted up and keep working the main to help work towards keeping that the heel angle constant and keeping the boat driving - that is the groove we have found so far. It is easy to get the jib looking good, but all of our adjustments so far have been relatively coarse. I think we have a bit to learn about how to get the jib set up and refine our techniques.
"The holy grail of this type of boat is the high mode. We are looking to keep the boat pressed up, but the gains are going to be high, not pushing just for straight VMG speed. I know from watching Tonnerre, which is a very similar type of boat that has been very successful, they have a terrific high mode. They are carbon and a bit stiffer, but that is where I am trying to develop our sped loop. I know that once we are up to speed and we have that heel angle, it is then it is a case of working that into height while keeping the boat driving."
Typically they will sail with 10-12 on board and Jason Ker and Simon Schofield are likely to be on board for the majority of races this season.
They have Scott Millar on the main but otherwise Shaw says they are trying to develop their Cat 1 sailors ready for the Commodores' Cup.
Vital statistics:
LOA: 12.2m
Beam: 4.15m
Draft: 2.6m
Displacement: 4.8 tonnes
P: 16.6m
E: 5.3m
I: 16.15m
J: 4.75m
SPA: 170sqm
STL: 6.75m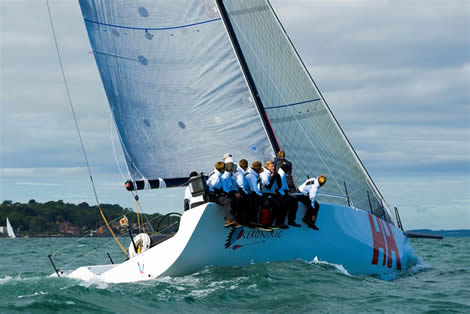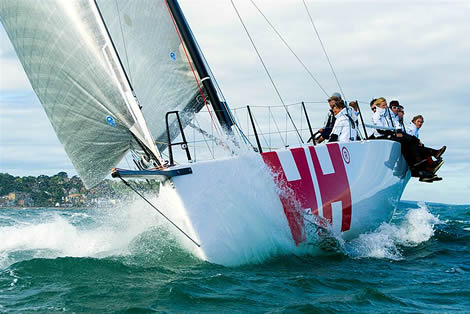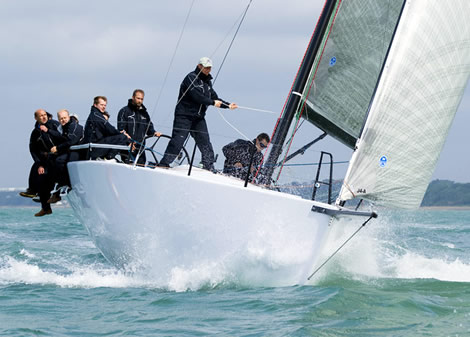 Detail shots from James Boyd/www.thedailysail.com

Back to top
Back to top