Banque Populaire demolishes SNSM record
As expected the monster trimaran Banque Populaire V, under her new skipper Loick Peyron, has demolished the existing time for the Record SNSM. Peyron and his twelve-man crew crossed the finish line at 06:48:30 CET this morning having taken just 11 hours 48 minutes and 30 seconds to cover the 360 miles course along the Brittany coast.
In brisk conditions with a southwest wind of 18-20 knots, they broke the course record previously set in 2010 by Gitana 11 of 19 hours 39 minutes and 58 seconds. For the course Banque Populaire averaged 30.51 knots and had bursts of over 40 knots.
Crew of Banque Populaire V for the Record SNSM comprised Loïck Peyron, Erwan Tabarly, Jean-Baptiste Le Vaillant, Kevin Escoffier, Armel Le Cléac'h, Xavier Revil, Fred le Peutrec, Emmanuel Le Borgne, Ronan Lucas, Yvan Ravussin, Brian Thompson, Pierre-Yves Moreau and Thierry Chabagny.
Peyron commented: "We had a pretty good SNSM Record. We saw nothing, or almost: it was gray and wet ... The start was a little complicated in the middle of a large fleet - with such a big machine, without an engine, it feels a bit limited. We therefore started very cautiously, from behind, but it was also the best way to ensure we finished. And then what an exceptional crew! This boat is an incredible record-breaking machine, a magnificent ship, giving a great feeling of protection, but I think it is not just a feeling: Banque Populaire is very high in the water and well protected, and I think is a thousand times safer than many racing monohulls.
"Overnight there wasn't much visibity. Typically we'd spend an hour, sometimes a little less, at the helm. But this coastal sprint, required extreme concentration as we crossed several times others in the Record SNSM fleet. But I am very happy on these big multihulls and it is also very nice to share such moments with a crew of this quality. For all the sailors on board, this Record SNSM has been very important - we are all very happy with this first race for this boat, which is not designed to compete in fleets, but to hunt records."
Second place was taken by Baron Benjamin de Rothschild's Gitana 11, skippered now by Seb Josse. The 77ft trimaran finished at 09:18:45 CET, two and a half hours behind Banque Populaire. Still they had also upped their performance from last year, covering in the course at a 25 knots average compared to 18 last year.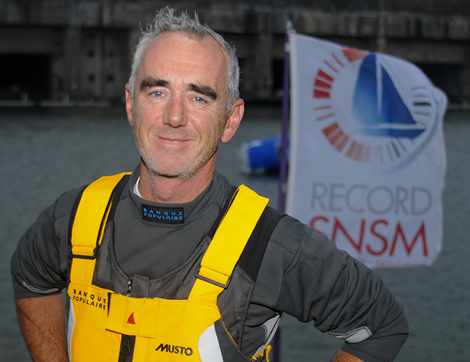 Back to top
Back to top