Seb Josse goes multi
We've caught Seb Josse in two different team shirts this year. In January he was in Lanzarote in the Canaries as part of Franck Cammas' Groupama sailing squad, undertaking their sea trials on the former Ericsson 4 in preparation for the Volvo Ocean Race. But since then Josse has jumped ship following his appointment as skipper of Baron Benjamin de Rothschild's new MOD70.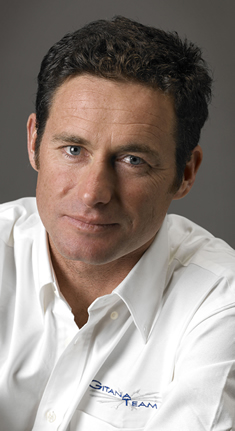 Having sailed the 2005-6 Volvo Ocean Race as skipper of ABN AMRO Two, Josse was at the centre of one of saddest episodes in contemporary offshore yacht racing history. Mid-way into the New York to Southampton leg of that race, Dutch crewman, Hans Horrevoets, one of the most experienced sailors on board, was washed overboard. Horrevoets was recovered, but the crew were unable to resuscitate him. Then, while they were still reeling from this devastating episode, they were instructed to go to the rescue the movistar crew, whose yacht was sinking from under them...
"I never can forget what happened, but we have to move forwards and I know that even with a crew with a lot of experience, you can have accidents anywhere," says Josse looking back at how that episode has affected him. "For sure I have thought about that a lot. I have this small stress about how we sail downwind when it is windy. It changed a lot my sailing and also when I see someone on board, I think it is a double effect, people know what happened, so when maybe I say to be safe earlier than normal, people listen to me. So I am more safe when I sail, but people also understand why that is."
Josse spent last summer sailing with Groupama, when time allowed from his Figaro campaign. Having not been involved with the last Volvo Ocean Race, Josse was impressed by how the VO70s have moved on. His ABN AMRO Two was a first generation VO70 and it could be argued that Ericsson 4, winner of the last race that has since become the Groupama training boat, was third generation. "ABN One was the reference with some bad points especially in light winds. The newer boats are wider at the back but more curved and there is a lot more volume in the bow and the daggerboards are a little different – longer with twist on them. Inside and on the deck they look pretty much the same. For sure they are better."
Aside from skippering ABN AMRO Two, Josse is also well known for his two Vendee Globe campaigns, finishing fifth in 2004-5 aboard VMI, despite suffering a collision with an iceberg that demolished his bowsprit, while in the Southern Ocean just over halfway into the race. He was forced to retire from the last Vendee Globe when his yacht BT suffered steering/rudder problems. He still sees the solo non-stop round the world race as unfinished business. He has some interesting comparisons to make between the IMOCA 60s and the VO70s that despite being only 10ft longer are almost twice the displacement.
So aren't the VO70s too heavy? "The 60s – they have a lot of masts that fall down, they have problems with the track, etc," says Josse. "For sure they are light and fast and easy to sail, but they have a lot of damage because maybe they are a little bit too light. With the exception of Brasil 1 we have never seen a VO70 dismasting. And we push these boats much harder compared to Open 60s."
Anyway, this has all become academic since March when he was announced as the skipper of the Gitana team's Groupe Edmond de Rothschild MOD70. This is to be the fourth MOD70, following Steve Ravussin's Race For Water, Roland Jourdain's Veolia and Michel Desjoyeaux's Foncia, but Josse won't get his hands on it until it is launched on 21 October this year.
"It is a really beautiful opportunity," says Josse. "The first thing is that I want to do is the Vendee, but to be in good shape at the start we had run out of time. When I went with Franck [Cammas] I forgot completely about the Vendee Globe but then Gitana sent a press release that Yann Guichard was no longer skipper, so I said 'why not?' I can try - and it was good. So for sure I am really happy to learn in this conditions, because it is not easy after 10 years in monohulls to get a sponsor from anywhere. It is thanks to Baron Rothschild."
It appears that one reason Josse was chosen was because of his experience sailing with an international crew. While the crew of his MOD70 has yet to be announced it is expected to be not exclusively Breton.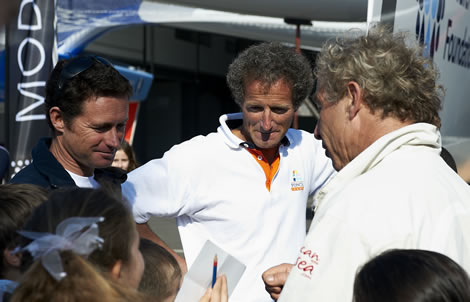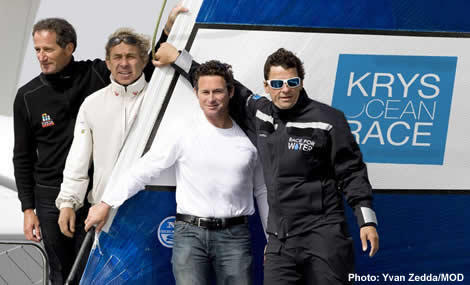 Josse's appointment was also an interesting one, for while he is acknowledged as being one of the most talented skippers of his generation, certainly when it comes to offshore multihull racing he lacks the lengthy CVs of the other titans of this discipline, especially Ravussin and Desjoyeaux, whom he will face in the MOD70s. But by any other measure Josse does have a lot of multihull experience. He was part of Bruno Peyron's crew on Orange 1, when they broke the Jules Verne Trophy record back in 2002. Josse also did a season as bowman on Jean-Luc Nelias' Belgacom ORMA 60.
So prior to the launch of the MOD70 Josse intends to get as much learning in as he can. At the beginning of the year, the Gitana team had quite a collection of multihulls for him to train on, including Gitana 13, ironically the boat which as Orange 1 he sailed on his Jules Verne Trophy attempt, although since sold, and the ORMA 60 Gitana 12, originally Jean le Cam's Bonduelle, that has since been sold to the Artemis America's Cup campaign. This leaves Josse to campaign Gitana 11, probably the boat in the Gitana stable closest to the MOD 70 as it is an ORMA 60 that was elongated to 77ft in order for the team's former skipper Yann Guichard to campaign in last year's Route du Rhum, where it was proved conclusively that even in multihulls size matters and Guichard was roundly beaten by the longer boats.
Gitana 11 was relaunched at the end of April from the team's base in St Philibert, next door to La Trinite-sur-Mer. Aside from training on board, Josse has competed in the Tour de Belle-Île, the French equivalent to our own Round the Island Race. Sailing in brisk 25 knot winds, in this Gitana 11 set a new record for the 41 mile course of 2 hours 42 minutes, although some Multi50s finished close behind her, which Josse put down their crew's better familiarity with their boats. For this race Josse sailed with two of Gitana 11's shore team, Sébastien Thétiot and David Boileau, plus other former Orange crewmen Florent Chastel and Jean-Baptiste Epron and with former ORMA 60 skipper Antoine Koch navigating.
At the beginning of this month, Gitana 11 took part in the new ArMen Race, starting from La Trinite-sur-Mer and rounding the ArMen lighthouse to the west of Pointe du Raz before heading south to Ile d'Yeu off the Vendee coast and then heading home. Again in this, Josse and his crew set a new reference time for the 330 mile course of 14 hours 5 minutes, or an average speed of 23.41 knots.
"Before we set off, Antoine Koch ran the routing for us which called for us to race at 90% of the boat's polars and we respected that, which means that we were able to sail Gitana 11 at almost her full potential," commented Josse on finishing. "This race enabled me to discover the boat in steadier conditions with some long tacks, which wasn't the case during the recent Tour de Belle-Ile. Each time I go out on the water I learn a great deal. The more time we have on the water, the more at ease I feel with the boat. The speeds we recorded are something you can really feel and last night we achieved some peak speeds of 38 knots! I'm incredibly lucky to have the chance to learn on one of the finest boats in the world and each time I sail her I really enjoy it, even though the stress in multihull sailing is always there."
Next up is the Record SNSM this coming Sunday when the prospects of Gitana 11 earning her third line honours will be somewhat reduced as she'll be lining up with Loick Peyron and Banque Populaire, a trimaran that at 40m long almost twice as big as she is...
Although Gitana 11 is yet to feature on the entry list, Josse is also hoping to enter the Rolex Fastnet Race in August. If this comes to pass then Gitana 11 will not only be lining up against the mighty Banque Populaire again, but also two MOD70s, Race for Water and Veolia Environnement. The Fastnet race is a lucky one for Josse who has previously won it three times in the IMOCA class. It is also good for his team – Gitana V, held the race record for nearly 19 years.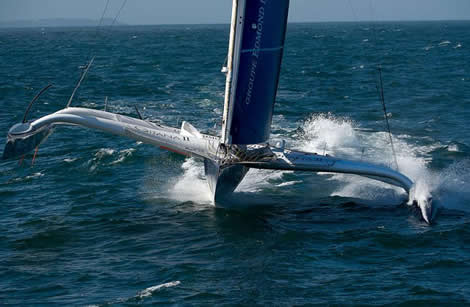 Back to top
Back to top