Brad van Liew bags Velux 5 Oceans victory
American ocean racer Brad Van Liew today sailed over the La Rochelle finish line of the Velux 5 Oceans, having won every leg of the 30,000-mile singlehanded round the world race for the second time in his career.

Not only is the 43-year-old now the only sailor in the 29-year history of the Velux 5 Oceans to have taken clean sweeps in two races (having also won each leg of the 2002/3 edition in class two) but he is also the first American to race solo around the world three times.

By completing his historic third circumnavigation van Liew has surpassed the previous record set by his mentor Mike Plant. Having taken part in the 1986 edition of the race, then known as the BOC Challenge, and then the inaugural Vendee Globe in 1989, Plant was lost at sea en route to his third round the world race in 1992.

"Until now Mike Plant was the definitive American solo sailor," recalled van Liew. "A good friend of mine who also knew Mike asked me what it feels like to have achieved what he was trying to achieve when he died. Well, it's a big deal to me. This win won't mean a whole lot to a whole lot of people but it means one hell of a lot to me and a few others. It is something that I have done and can take to the grave that no-one can deny me it. That's why people climb mountains, sail solo round the world or even go to the moon. It's one of those kind of moments."

As the sun set over the French port of La Rochelle, the place from where eight months ago the Velux 5 Oceans set sail, a lone mast appeared over the horizon. Soon the unmistakable yellow and black of Brad's Eco 60 Le Pingouin came into view sailing along under full main and foresail, in a fresh 15-knot northerly propelling her towards the finish line.

A small fleet of spectator boats were waiting on the finish line as van Liew crossed the line at 1853 GMT. Among the wellwishers were his wife Meaghan and his mother Marcia, as well as French solo sailing legend Catherine Chabaud, the first owner of Le Pingouin. Formerly known as Whirlpool, Tiscali and Pro Form, van Liew renamed the boat Le Pingouin in homage to the name Chabaud registered her as when she was built in 1998. It is the second time the yacht has successfully made it round the world.

As soon as the Velux 5 Oceans started in October last year van Liew, a three times competitor in this event, stamped his dominance on the race, leading the fleet into the Atlantic on an adventure that would see him take victory in each of the five legs. Despite his experience it was no easy feat, with his race rivals pushing Brad to the edge of his limits.

"It's just been a really fantastic event," he added. "You've got to live life large and for me this event is who I am. It feels amazing to have won this race, and even better that it's my second one. To sweep it twice is kind of unheard of, so I'm pretty happy! I've met every objective I set myself and then some."

In the final leg Brad sailed 3,809 miles from his hometown of Charleston, South Carolina to La Rochelle in 12 days, 23 hours and 52 minutes at an average speed of 12.21 knots. Over the entire race Le Pinguoin covered 31,924 miles.

Second place in final leg is soon to be decided with British skipper Chris Stanmore-Major currently leading Polish rival Zbigniew 'Gutek' Gutkowski into La Rochelle by less than 35 miles with 50 miles left to sail. The next skipper is expected to cross the finish line at around 0400 GMT tomorrow.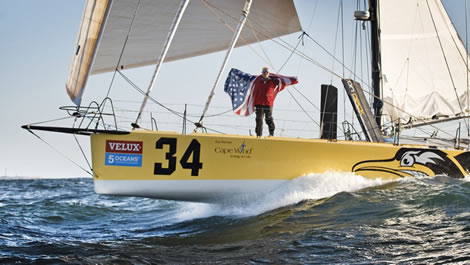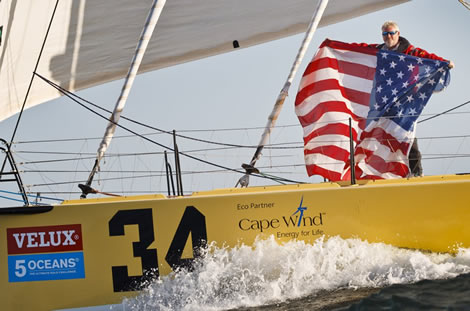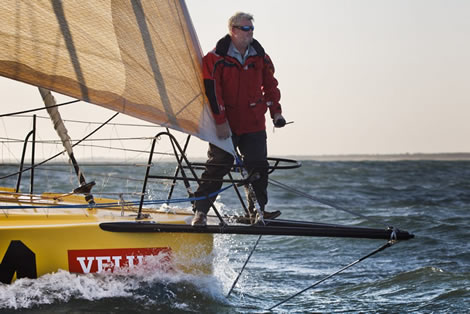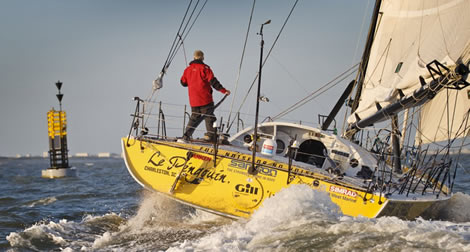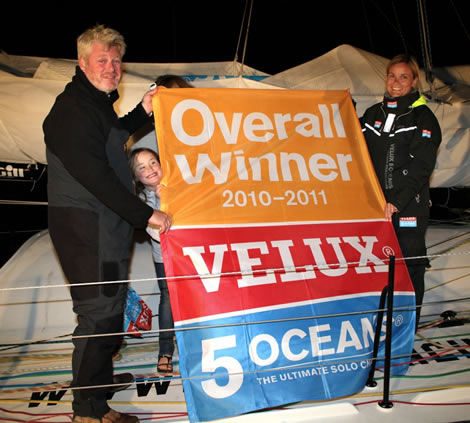 Back to top
Back to top