First arrivals home, tattered and torn
The 2011 Normandy Channel Race has been won by Initiatives Saveurs. Co-skippers Tanguy de Lamotte et Sébastien Audigane, crossed the finish line at 11:25:25GMT today despite having to complete the final 70 miles of the race with their mainsail shredded in two...
Tonight the first seven crews have crossed the finish line of this second Normandy Channel Race. The two remaining podium places have gone to Fabien Delahaye and Bruno Jourdren aboard Port de Caen–Ouistreham and Damien Seguin and Yoann Richomme aboard Des pieds et des mains.

"The mainsail ripped in half just after Raz Blanchard," commented De LaMotte. "We must have lost an average of 1 knot, but we kept the gennaker up in 30 knots, so we were flying! We were making between 16 and 20 knots over the ground, flat out! We dumped the gennaker two hours before the finish. We knew we were going slower. Séb was helming and I was keeping an eye on the scheds and the distance between us and our pursuers. It's no secret, we certainly didn't think we'd bagged the win… We feared we'd lose out on the first place all the way to the finish, but we gave our all to sail at our best.

"We're happy to win the race. It was a closely fought battle from beginning to end! We haven't changed our clothing since the start. I'm still in the same lycra and the same socks. All I want is to get my boots off. We're exhausted, but we've really enjoyed it. It was fantastic! Intense, but fantastic!"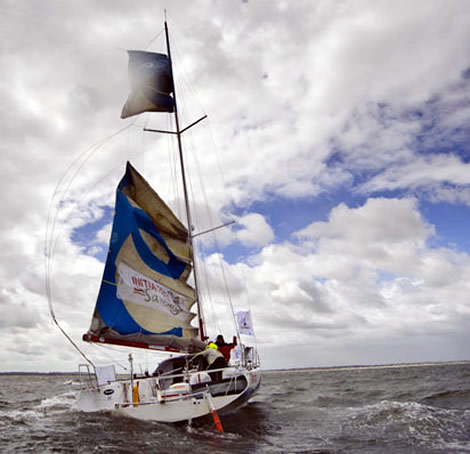 Fabien Delahaye and Bruno Jourdren on second-placed Port de Caen–Ouistreham commented: "We had some peaks of speed of 24 knots, which was nice! In conditions like that, you're just linking together a series of manœuvres and it takes a lot out of you. I can't even remember the last time I slept. We haven't eaten much. All of a sudden we had no gas left in the bottle so we couldn't cook up a hot meal or a tea during the race. We tried to eat cold ready-made meals, but it wasn't great.

"At 1800 GMT yesterday, we were neck and neck with Initiatives Saveurs. One minute they were ahead, the next it was us. That's all we were doing the whole night until a big cloud came along. It was full-on. We decided to reduce the sail area and pull the sock down over the spinnaker, but it got caught. We struggled with it for an hour and then finally the spinnaker was unusable. After that we had issues with our code 0, so to cut a long story short, it was one thing after another. We lost six miles with all that. That was enough for them to get ahead! But we didn't give up, because at 0700 GMT, Des pieds et des mains were ahead of us, and suddenly we were working flat out on deck. Bruno went into overdrive! We were constantly on the sheets and managed to get level with them two miles from Barfleur and ultimately we recovered our second place!"

Damien Seguin and Yoann Richomme aboard Des pieds et des mains, finished third: "We were on the attack as soon as we rounded the southwest tip of England. We were under full mainsail and small spinnaker. I think we were the only ones to be carrying those sails at that point. It made the difference. We were flat out, sailing at 200% of our potential throughout the night and all the way to the finish. We were second just off Caen - Ouistreham, but whilst we were on a reach they got past us. We're happy to be back. Throughout the race, we just got closer and closer to this third place, without ever managing to snatch it back for good, so it's great that we got there in the end!

"We had a ball. There were some phases that were more difficult than others. When you're having to take the close-hauled sailing on the chin like that, it's hard. If I'd be asked whether I was enjoying myself halfway round, I'm not sure if I'd have given the same response as today! It's just as well we didn't go to Fastnet because that really would have been long, especially for those at the back of the fleet!"
Results:
1 INITIATIVES SAVEURS Tanguy de Lamotte / Sébastien Audigane 3d 22h 25m 25s
2 PORT DE CAEN OUISTREHAM Fabien Delahaye / Bruno Jourdren 3d 23h 4m 12s
3 DES PIEDS ET DES MAINS Damien Seguin / Yoann Richomme 3d 23h 12m 35s
4 MARE.DE Jorg Riechers / Etienne David 3d 23h 40m 14s
5 L'EXPRESS – SAPMER Pierre-Yves Lautrou / Dominic Vittet 3d 23h 42m 56s
Back to top
Back to top