Groupama 4 launched
Today, Franck Cammas' Groupama 4, the first Volvo 70 ever built in France, was launched outside the Groupama Sailing Team's base in Lorient. Groupama's representatives, the sailing team, members of the shore team and an enthusiastic crowd attended this important stage of the project, following nearly 50,000 man hours in build.
Australian Ben Wright, head of the shore team with five Volvo Ocean Race build projects already under his belt, was satisfied with the work achieved by the team: "It's a big day… in a long series of big days! We still have a few miles to cover with Groupama Sailing Team. However, at least now we're done with the sketches: the boat is here in front of us. We're tired but that's par for the course after all these man hours. We've worked hard but we're not stopping here! It's only just begun in fact!"

Franck Cammas commented: "In the construction of a yacht, the further you push the thought processes, the better you understand things, but the more difficult it becomes to make choices. You're always keen to go into things deeply but there's a deadline where you have to stop thinking and concentrate on making ideas a reality. Today, a new side to the work begins in the form of sail trials. And for the all those involved in the project, now is the moment of truth."

In yacht racing, the competition begins well before the start gun. It's in the minds of those behind the boat's design, in the boat builders and all those taking part in the project, that victory is built.
Cammas continues: "You encounter difficulties everyday. When you have to make choices, you're bound to have to overcome obstacles. As was the case during construction of the first three Groupama boats, we encountered problems here too: it was inevitable that there were differences to the original schedule… There were a few timings which weren't adhered to, some adhesion processes which had to be redone and parts that had to be rebuilt… That's another reason why I'm proud of the work my team has done. Thank you to them, thanks to Juan Koujoumdjian, our architect, and thanks to Groupama, without whom we wouldn't be here!"

Jean-Luc Baucherel, President of Groupama, travelled to Lorient with around 50 representatives from Groupama Loire Bretagne: "It's an important day for Groupama as our first monohull has been launched. Five years of new adventures lay in store. We'll be able to weigh up our performance against the best Anglo-Saxon crews during the next two editions of the Volvo Ocean Race. This is a whole new concept for Groupama but we are in no doubt about the abilities of Franck Cammas and his crew to be up there with the frontrunners. We're taking over from a great sailor called Eric Tabarly and we hope we can be worthy of him and carry France's colours high. We were familiar with the multihull and, today, we're ready for a new series of competitions aboard a monohull. It is with great enthusiasm and pride that we are competing in this new competition".

Although the phase in the yard is over for the members of the shore crew, sail trials are set to begin on Tuesday 17 May for the sailing crew. The next major stages which will punctuate the life of Groupama Sailing Team between now and the start of the Volvo Ocean Race will be the christening of Groupama 4 on 11 June in Lorient, then the Rolex Fastnet Race in the UK on 14 August. In the latter, Franck Cammas and his crew will, for the very first time, be able to see how Groupama 4 fairs in relation to her future rivals in the Volvo Ocean Race.

Technical specifications for Groupama 4:

LOA: 21.50m
Beam: 5.70m
Water draught: 4.50m
Displacement: 14 tonnes
Keel: swing
Material: carbon honeycomb sandwich
Upwind sails: 315m²
Downwind sails: 675m²
Architect: Juan Kouyoumdjian
More photos by Yvan Zedda - click on images to enlarge them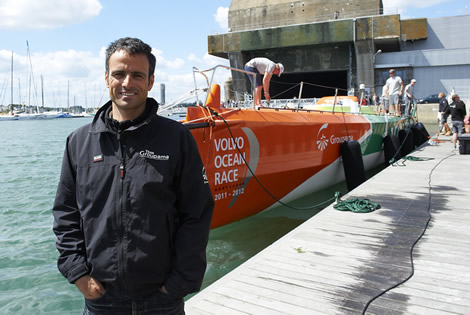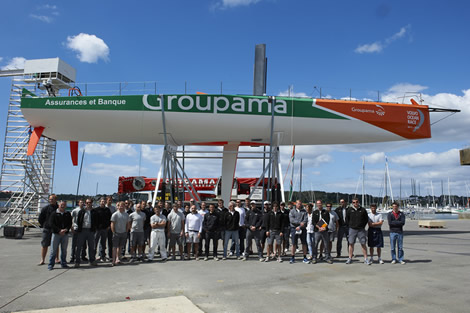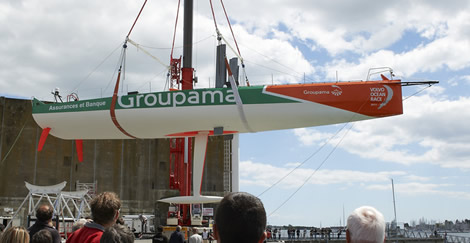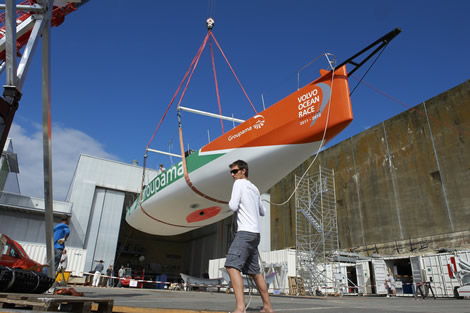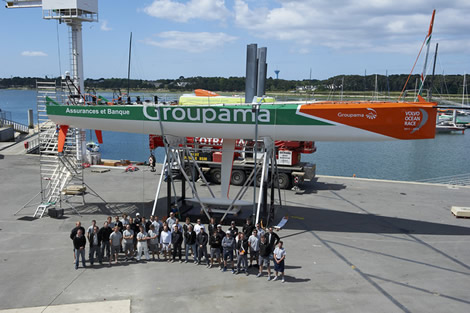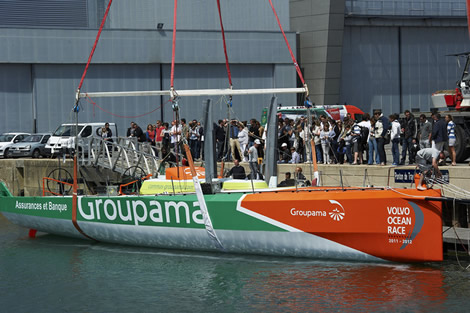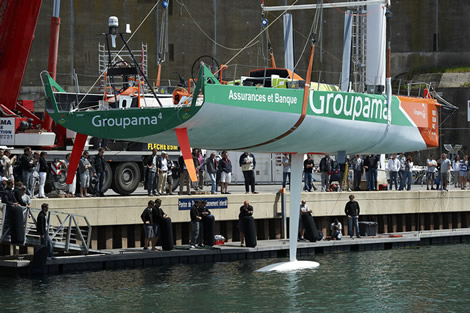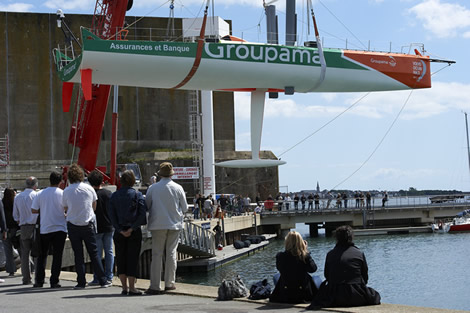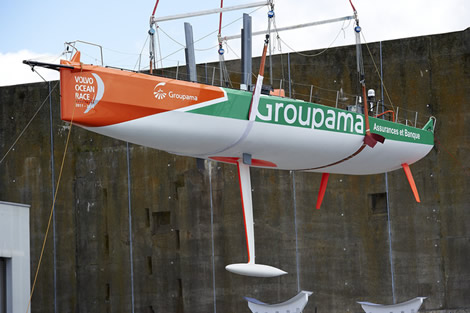 Back to top
Back to top