The scow Mini
Over recent years the complexion of Classe Mini racing has changed. As ever there remains the 50-50 divide between the 'Proto' class, for the full-on one-off race boats, and the 'Series' class for the slightly less extreme one-designs, but increasingly hot competition among the Series class Pogo 2s has resulted in the Series class no longer being viewed as the poor cousin of the Proto elite. Meanwhile there has been a slight downturn in interest in the Protos and wading through the latest entry list for this September's Charente Maritime-Bahia Transat 6.50 (aka the Mini Transat) – as ever oversubscribed for its 72 available places - we can only find three new Protos built over this two year cycle.
Due to escalating costs and the bar being continually raised, so new Protos are by no means as prolific as they once were and sadly this has also reduced the opportunity for young yacht designers to use these radical 21 footers as a test bed for new ideas. Once upon a time you could wander along the dock prior to the start of the Mini Transat and you would come across wild-eyed inventors who were trying radical new ways of canting their boat's rig or its keel. Among them in 1991 for example was one Michel Desjoyeaux who entered the first offshore boat to feature a canting keel (adopted two years later for the first time in the Open 60 class on Isabelle Autissier's Ecureuil Poitou Charentes II subsequently de facto in the IMOCA 60 class, then the VO70s and offshore maxis) and the class' now familiar articulating bowsprit.
If the Proto class is generally losing its innovative spirit, then bucking this trend is long term Mini sailor and designer David Raison. After a few years in the Figaro, Raison has returned to the class where he first cut his teeth back in the late 1990s, with his third Mini – and the second of his own design. Resembling a slab-sided bath tub, the hull of TeamWork Evolution has been much commented upon since it was launched last April, but her blunt bow will be familiar to scow sailors and would put a smile on the face of our former Yachting World colleague, the late Peter Milne, designer of the Fireball.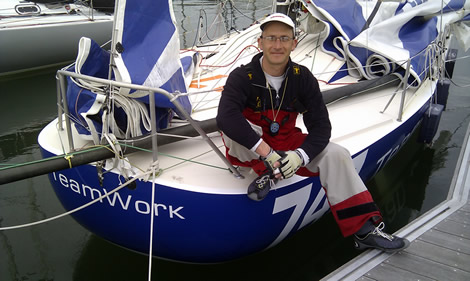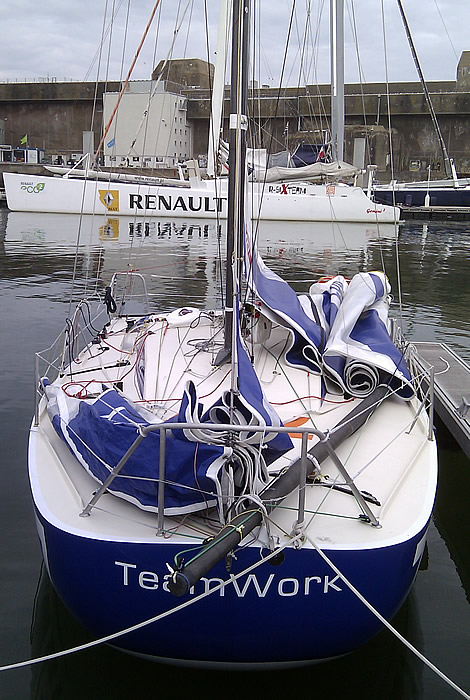 As Milne used to say of his most popular design, the scow inherently has more hull form stability and hence can carry more sail and it is for these exact same reasons that Raison has chosen it. As he explains: "Maximum power: More beam means more righting moment and power so the ability to withstand more sail and more power. And even in light winds I don't have too many problems. It is quite an efficient hull shape."
Minis are already bullet-shaped when viewed in plan and to prevent their beam increasing further the class rule limits this to 3m maximum (ie approaching 50% of length). Going down the Scow route, Raison's Mini literally takes hull form stability to the maximum permissible under the rule.
In addition to its ground breaking hull shape TeamWork Evolution also features a rotating wingmast rig. Nothing very out of the ordinary here except that the chord on the Raison's wingmast seems to be substantially greater than the few other wingmasts used on other Protos, even though Raison says it is only 2cm larger. The wing can also be canted to weather and raked fore and aft by up to 4deg, however unusual is that Raison is more interested in this latter feature that moves the centre of effort of the sail plan, which he says is important for balancing the trim on the helm. Lateral canting is limited and Raison says it is really a by-product of being able to rake the rig.
The boat features a canting keel, but the keel is what is known as 'constant draft' a cunning feature which complies with the Classe Mini rule of 2m maximum draft when centred, but allowing the kin fin to extend as it is canted. We are certain that in the distance past we have published some video of how this works but can't find it. In essence the lifting tackle (on Minis it is a block and tackle rather than hydraulics) attaches to a secondary hoop, acting like an asymmetric gear, causing the keel to be 'raised' automatically as it is centred.
However this is relatively conservative compared to Raison's first Mini where he could not only cant the keel but could also trim/rotate it...
We caught up with Raison as he was training out of Lorient recently along with several of the other big guns of the Proto class such as Bertrand Delesne, Sébastien Rogues and Guillaume Le Brec. So how has his Mini scow been performing against them? "It is quite balanced," said Raison. "Sometimes I am better and sometimes I'm not as good. We didn't have a lot of wind at the beginning of the year, a maximum of 12 knots in training, so it was not always the best weather for the boat. Under 8 knots it can be a bit difficult but I compensate with a choice of sails that are more powerful. Most of the time I am happy with that."
To date Raison says his results haven't been that good. "The first race I did not start – that was the Mini Pavois last year and we were due to set off downwind in 25-30 knots. I hadn't tested the boat and didn't know if I could get back home. In the second race, the Trophée Marie-Agnès Péron my tactics were very weak and I finished in the second third. And in the Mini Fastnet we dismasted – we were in third place at that time, beating upwind in 25 knots." The mast broken just above the step and has since been repaired. In the Mini Barcelona, Raison says he was forced to retire when a turnbuckle cracked while sailing in rough seas.
However Raison has just scored his best result to date, coming home second in the Grand Prix d'Italie, astern of class veteran Andrea Caracci. This will bode well for his participation in the Mini Transat later this year as given his patchy record with the boat to date he has yet to qualify, despite his past participation in the race. Raison reckons he should get one of the last entries once he has sailed the Selection 6.50 Pornichet.
Teamwork Evolution is part of a two boat Mini campaign Raison shares with well known Switzerland lake sailor and Tour de France a la Voile competitor, Etienne David. David is racing a more conventional boat – a 2007 Sam Manuard design that was sailed to fourth place in the Mini Transat in 2009.
Images below by Loris von Siebenthal/www.myimage.ch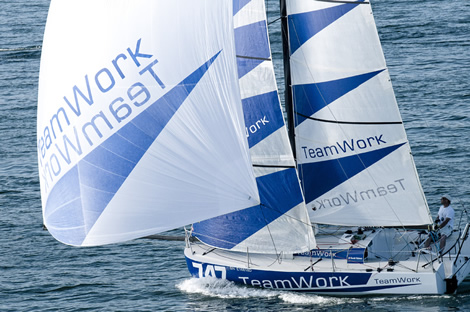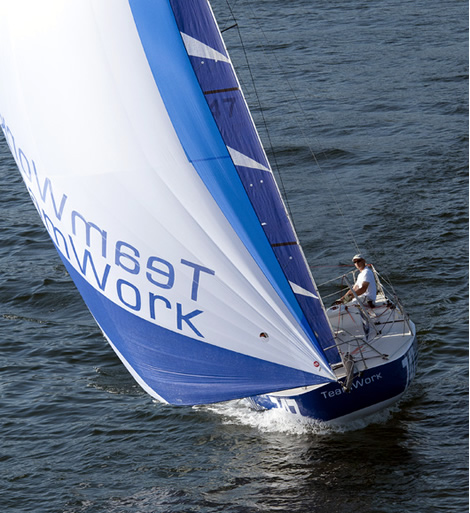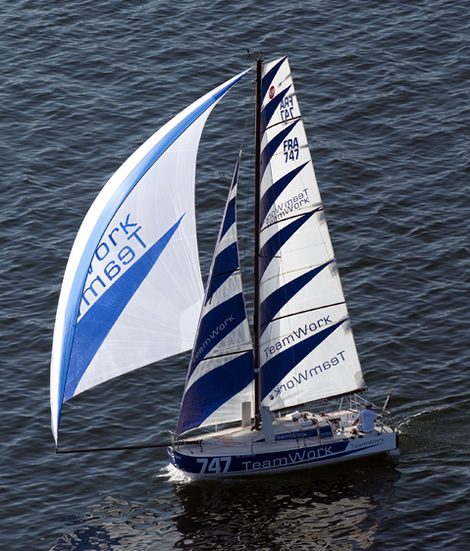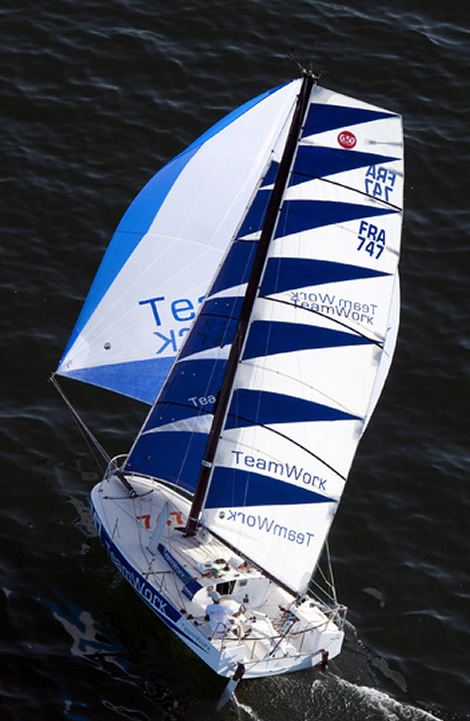 Back to top
Back to top