Why the laughing cow went sailing
Soft cheese and the sea – not an association easily made, but a partnership that has proved most successful for French sailor Kito de Pavant and his sponsor Groupe Bel.
One might not make an immediate association with the name Groupe Bel, but the French company's brands of packaged soft cheese are familiar household names globally – Babybel, Leerdammer, Boursin and the Laughing Cow, being the top four of Bel's 30 brands.
Understandably this is not a one man and his cheese mould in a French farmyard operation. Groupe Bel turned over 2.2 billion Euros in 2009 (ie a vast quantity of cheese wedges), they have bases in 30 countries across the globe, they employ 11,500 people and their soft cheese finds its way onto supermarket shelves in 120 countries.
The union first came about when Kito de Pavant, winner of the Solitaire du Figaro in 2003, was introduced to Antoine Fiévet, the Chairman and CEO of Groupe Bel back in 2005. The company initially dipped their toe in the water backing de Pavant's Figaro campaign but warmed to him to the degree that at the end of 2006, they agreed to go ahead with the build of a new IMOCA 60 for the Vendée Globe.
It should be pointed out that Antoine Fiévet isn't a sailor. In fact the company heralds from eastern France, the side of the country furthest away from the sea although their headquarters are in central Paris. Fiévet is said to have simply admired what de Pavant was doing and took to him as a individual.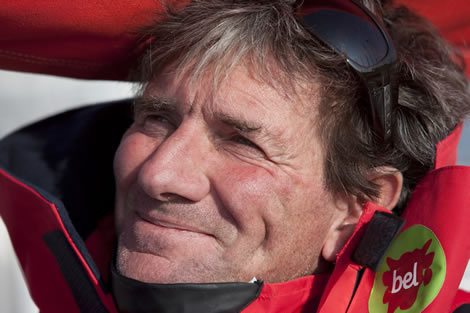 According to Guillaume Jouët, the Vice President of Communication for Groupe Bel, it was a case of "okay, we have never done this before. We know exactly what we do in terms of communication when it comes to buying space on TV. We should try and innovate and try a different way of communicating. Typically these things happen from an encounter between two guys at the beginning. It is not often a decision from the communications people in a company. It is someone in the company who decides to give it a try and it works or not. What I am saying is that it really has gone beyond my expectations from four years ago. Because for Syrian people it is not obvious that we should go and have a boat to go around the world. It is a sport they have never thought of. Myself, as someone responsible for the communications, I am surprised by how well it works."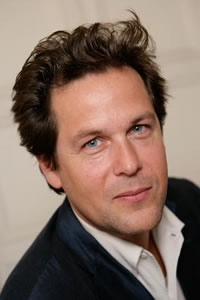 Within Groupe Bel, Jouët says that they quickly saw that the amiable de Pavant, who only became a pro sailor in 2000 (previously he was a delivery skipper), was an excellent ambassador, as at ease with those working in their factories as he was with the main Groupe Bel Board of Directors.
"He loves to sail and he loves to travel and to meet people," says Jouët of the laughing cow skipper. "There is a kind of alchemy, a guy and a program that works well."
The reasons for the sponsorship are not for column inches or as a substitute for TV time. These are added bonuses, the cream on the cake, explains Jouët. The principle reason is for internal communications, "to bring some cohesion between the different subsidiaries we have all over the world," as Jouët puts it. As part of this de Pavant regularly sails his red IMOCA 60 to countries where the company has a subsidiary. There he visits the factory, PR events are organised and a lucky few get to go sailing with him on the boat.
Also, as we demonstrated at the beginning of this article, Groupe Bel is also not as well know as its brands and hence why this is the only sports sponsorship the company run at a group level. Typically the brands themselves run their marketing at a national level.
Unlike other corporate giants who have got into sailing, most notably Swedish lock giant Assa Abloy, who backed a Volvo Ocean Race to bring union to the large number of lockmakers around the world they had recently acquired, Groupe Bel's expansion internationally has taken place over decades. According to Jouët their greatest expansion mostly occurred over 1950-1970 although since 2000 they have opened new subsidiaries in Iran, Syria, Vietnam, Canada, Mexico, etc and it is really a continuous process. Today only 15% of their sales are in France and their biggest markets are in the USA, western Europe, Africa and the Middle East.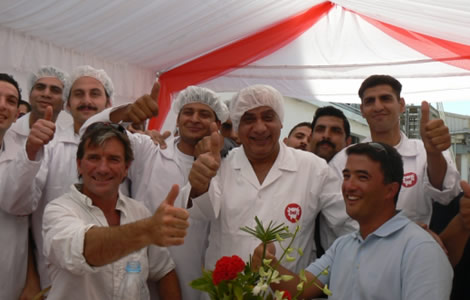 So why did they choose sailing rather than any other sport? "Actually there is no particular reason historically. We work with milk, so there's not much relation to the sea, but we thought it was the kind of program which can emotionally grab people who work for us in the different countries. You can see the laughing cow head on the mainsail and it is 14 metres high! So it is a nice flagship for all the countries."
But having the boat being able to move around between countries where they have subsidiaries is a real bonus. They could back a football a cycling team, but they wouldn't have the same impact, says Jouët. "Symbolically and in terms of image it is something that drives people emotionally within the group. It was a good choice from that point of view."
Then, as ever, there is a sailing boat's USP of being able to take clients afloat. Of course their skipper had to be willing to do this, and de Pavant has proved not only happy to do this but is very good at entertaining guests on board. Over four years, de Pavant has taken the Groupe Bel IMOCA 60 to 15 countries and 700 guests have sailed on board. Personally de Pavant has visited 20 of Groupe Bel's plants.
In addition before Christmas Groupe Bel organised a regatta for their employees in the south of France (the boat is based in Port Carmargue) where teams from 25 countries came and sailed with or against their skipper.
"They all now know Kito de Pavant," says Jouët. "He is their hero literally and they have met him and spoken to him and we have been doing that for four years. Now there is a map of the race [Barcelona World Race] in every plant in the world and in every Bel office and the guys will follow the news every day that we send them by email. This is a world tour for the boat, but it is a world tour for Bel also. I think we could almost say that this boat will be followed by more people internationally than any other one. There are people all around the world who follow this story."
Clearly the international visits have been a real hit. When Groupe Bel visited places such as Eygpt and Syria, the sleek red IMOCA 60 was like a UFO, none had ever seen a fully fledged ocean racing yacht before. Many had never even seen the sea before.
"It was spectacular and so special and when they see their famous brand to which they are dedicated the whole year long on this tour, they really enjoy it," continue Jouët. "Of course there is no cultural link between sailing and what they do on an every day basis, but it has gone well beyond what we expected. When Kito is visiting the plants, you see all these guys clapping their hands, waiting for him and carrying him on their shoulders, like a hero, they are so proud of him. You can imagine all the messages he receives all year long.
"On the mast we have 8000 fingerprints [from Groupe Bel employees], all made on a voluntary basis. We had postcards made and we gave them ink and they had to make a print of their figure and put their name on it and then we scanned it and put it on the mast. We have 11,000 people working for Bel so one finger print might be an Iranian, next to an American or a Ukrainian. It is really amazing. This boat, this tool is much more than a boat – it is symbolically the link between the subsidiaries."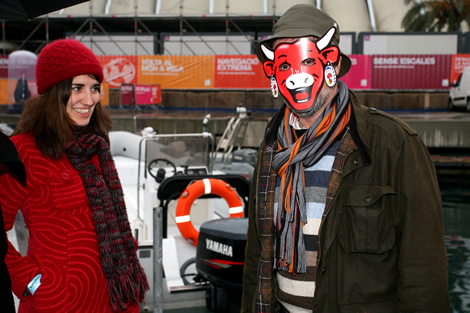 Given the nature of Groupe Bel's business Jouët says that they would be very pleased if the IMOCA class visited not just the Middle East, as they did in 2009 and will do again this year when they sail to Istanbul for the start of their European Tour. As a company they would be pleased to see it go to the Far East, Australasia and the USA too. Prior to the start of the 2009 IMOCA European Tour, de Pavant set out on his IMOCA 60 two months early and took the opportunity to visit Groupe Bel plants and employees throughout North Africa, Morocco, Algeria, Egypt and Syria en route to Istanbul.
While moving it out of Europe may not be on the cards for IMOCA, this won't stop Groupe Bel who are looking at possibilities for after the Transat Jacques Vabre next year. If this finishes in Costa Rica then it is possible they might repeat what they did last year and take the boat up to Key West, to where they shipped in their employees from both the USA and Canada. Alternatively there is an embryonic more ambitious plan to ship the boat to Australia for the Rolex Sydney Hobart and then sail it back via their bases in the Far East such as Vietnam, prior to the start of the next Vendee Globe in 2012.
At present the sponsorship runs until the end of the Vendee Globe in 2013 and given it has been so successful there seems to be no appetite, from Groupe Bel's end at this stage, for it to end. They have also got their own company hero now, one that they have spent the last four years building up and have invested a lot of money in their hero. They don't seem about to let him go - a really great tale of sailing sponsorship.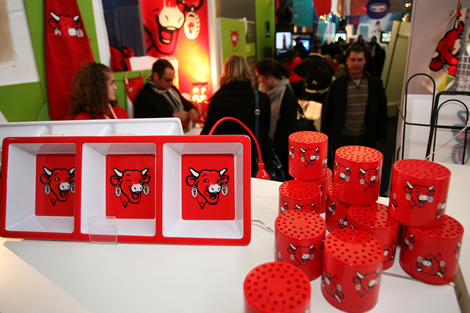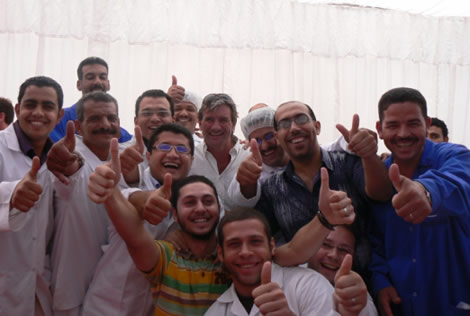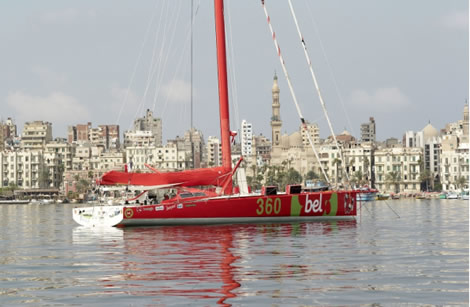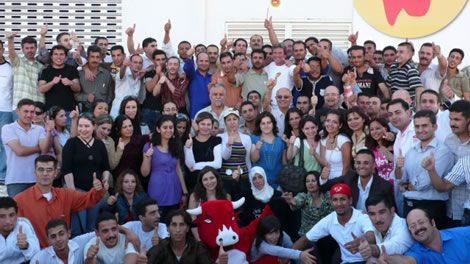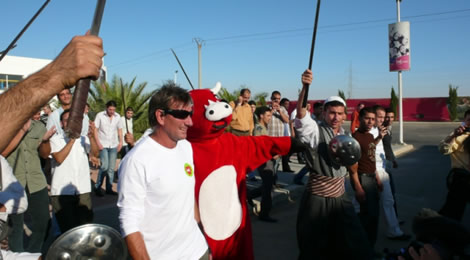 Back to top
Back to top