Third new Clipper Round the World Race fleet announced
Friday January 7th 2011, Author:
Zoe Williamson
, Location: none selected
Sir Robin Knox-Johnston is celebrating 15 years as chairman of the Clipper Round the World Yacht Race by announcing a brand new fleet of twelve 70-foot racing yachts for his global ocean challenge.

"Racing around the world still remains one of life's great challenges and I'm extremely proud to have witnessed over the past 15 years how the Clipper Race has changed people's lives and turned almost 3,000 sailing novices into experienced ocean racers," says Knox-Johnston. "With the eighth edition of the race, Clipper 11-12, set to start in August 2011, we have commissioned the highly respected naval architect, Tony Castro, to design us a new fleet that will bring the Clipper Race to the next level for Clipper 13-14 and beyond."

Tony Castro's Clipper 70 will form the third generation of Clipper racing yachts and his design is an exciting one, perfectly suited for this particularly gruelling sailing event. The new yachts will be built in China and fitted out by UK and international suppliers and the fleet will increase from ten to 12 yachts, with an option for a further four. The crew capacity of each yacht has also increased from 20 to 22.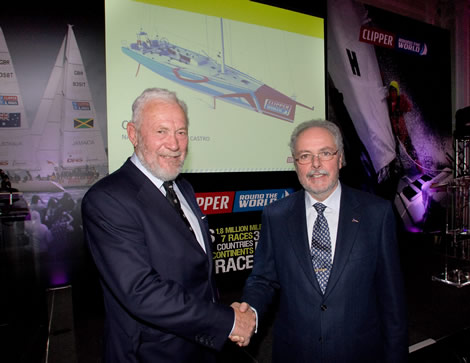 The original Clipper 60 fleet completed four races between 1996 and 2003 before being replaced by the longer, lighter and faster Clipper 68 for the next four races. For the Clipper 13-14 Round the World Yacht Race the introduction of the Clipper 70 steps things up a gear once more.

The inclusion of state of the art features in the new hull design will give better performance and, when surfing on big following seas, the Clipper 70 is likely to set new speed records compared to the previous fleets; crews can expect to top 30 knots when conditions suit.

New features include twin helms, twin rudders and a six-foot bowsprit which allows the inclusion of a huge Code Zero sail to complement a suite of Yankee headsails, staysail and main. This new sail will increase performance in light airs and deliver higher daily average speeds across the 40,000-mile race. The mainsail will have three reefing points and will be set from 92-foot mast.

Clipper Ventures Plc's chief executive, William Ward, believes the race has carved a unique niche in the market which has given the UK based company the confidence to commit to a multi-million pound (GBP) investment in a new fleet in order to meet the growing demand from crews and sponsors.

He says, "We have amassed huge experience in the last 15 years. The Clipper Race is the only event of its type in the world. We have had to develop robust crew training, race management, international relations and business development expertise. Crew places on the last race sold out well in advance and Clipper 11-12 is set to do the same. We will therefore be using the 2011 London International Boat Show to launch our crew recruitment drive for Clipper 13-14 and beyond."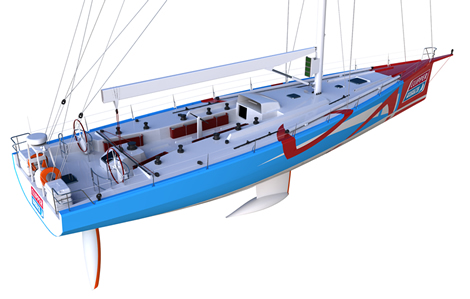 Back to top
Back to top