Hooligan continues her winning ways
There was a spectacular start for passage racing in the Cruising Yacht Club of Australia's Rolex Trophy Rating and Passage Series' today as the combined fleet took off from Watsons Bay sailing sprung sheets as they headed out past North Head on a passage race of approximately 24 nautical miles.

Bob Oatley's super maxi Wild Oats XI, skippered by Mark Richards, looked imperial as she took pole position at the leeward end of the line and gunned it, clearing out on the rest of the 31 boat fleet.

However, the day belonged once again to Marcus Blackmore and Hooligan. The former Emirates Team New Zealand TP52 is proving to be a tough competitor in the Rating fleet and even a challenge from Loki was rebuffed, Hooligan the winner overall by over two minutes to the RP63, Loki.

Pittwater yachtsman Marcus Blackmore, of Blackmore's health products fame, continues to be overjoyed at the performance Hooligan has produced since being plonked in the water just three days ago after undergoing IRC modifications.

Hooligan's owner should be proud; he now has a five point lead over nearest rival Shogun, Rob Hanna's TP52, with a drop score in place. With one race remaining, it is improbable Hooligan will be beaten.

Blackmore took particular satisfaction today when, he says, he stood at the stern of his yacht and looked back. "There were boats behind us that should have been in front of us; it was the most satisfying moment I've had for some time," he said.

"The crew work was outstanding today; especially the foredeck. I've got three guys who'll be doing the next VOR (Tom Addis, Stu Bannatyne and Tony Rae) and they put our young guy Tyson Lamond to the test – they did peel after peel – he did a great job and really got a work out," chuckled Blackmore, who withdrew his protest of yesterday against Rodd & Gunn Wedgetail.

Recounting the day, second place getter Stephen Ainsworth, owner of Loki, said: "The course was pretty interesting. We were able to stretch our legs a bit and I think we did okay. We looked good to win, but Hooligan came down the last run in a bit more pressure."

However, the Sydney businessman was more pleased in their performance against near sistership, Alan Brierty's RP62 Limit. "I'm absolutely happy with our performance and preparations for Hobart. Limit is our gauge and so far we're on top of them."

West Australian Brierty, feeling a little downhearted with his sixth place this afternoon, responded to Ainsworth's comment with a wry smile: "We're going to reverse that, but like Loki, we're stoked that we are there to push each other."

On their Rolex Sydney Hobart aspirations, Ainsworth commented: "We're fast and the boat is solid – it won't break. We're faster than Limit. We can see it and feel it. Yesterday we were neck and neck with them; we traded places mark by mark. It doesn't get any better.

"The unknown factor is Rán. We know she's quick, but we'll just have to wait and see – there's a question mark in my mind…," he said.

While the Division 1 boats were thrashing it out, in Division 2, famous Sydney plastic surgeon Howard de Torres found his handiwork was needed aboard his own boat. "Our forward hand, Don McPhee, elbowed my mainsheet hand James Martin Coney in the nose. His nose was on an angle, so I gave him a nose job while he trimmed the main," he said.

In the Rolex Passage Series, which started today and is being sailed concurrently with the Rolex Rating Series, Melbourne yachtsman Rob Date was happy with his RP52's day after scoring a bullet in the 21 boat fleet.

"Not bad," was how he related his day's handiwork. "We only got the boat to Sydney last Sunday. We've got a brand new crew who've never sailed together, and one person didn't show up," Date said.

"As the race went on we got better. We're very happy to beat boats like Jazz – by a blur and Ragamuffin – that's quite pleasing,' said Date whose crew includes Kiwi former world match racing champion, Adam Minoprio calling tactics, top sailmaker David Eickmeyer, along with Scott "Scooter" Hinton and Gary Adshead.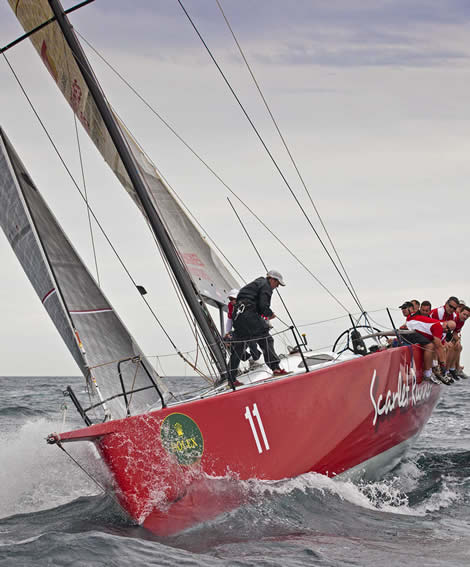 Following a slow upwind leg today on which they lost places, Date commented: "We absolutely need the wind behind us to win the Sydney Hobart."

Contrary to the past two days of racing in the Rolex Trophy Rating Series in which the fleet struggled in light airs, the two fleets enjoyed a pleasant 14-19 knots from the north-west, veering north-north-west during the day.

Today's race took the yachts on a course from Watsons Bay to laid Rolex marks offshore stretching as far as Long Reef, with the finish back in Watsons Bay.

Racing concludes tomorrow with an offshore passage race of up to 27 nautical miles, due to start at 11.00am, weather dependent.
Rolex Trophy Rating Series results:

| | | | | | | | |
| --- | --- | --- | --- | --- | --- | --- | --- |
| Pos | Boat | Skipper | R1 | R2 | R3 | R4 | Tot |
| 1 | HOOLIGAN | Marcus Blackmore | 1 | 1 | [3.0] | 1 | 3 |
| 2 | SHOGUN | Robert Hanna | [7.0] | 3 | 2 | 3 | 8 |
| 3 | LOKI | Stephen Ainsworth | 2 | 5 | [6.0] | 2 | 9 |
| 4 | RODD&GUNN WEDGETAIL | Bill Wild | 4 | 2 | 4 | [7.0] | 10 |
| 5 | LIVING DOLL | Michael Hiatt | 6 | [10.0F] | 1 | 4 | 11 |
| 6 | GEORGIA | Farmer & Meads | 3 | [6.0] | 5 | 5 | 13 |
| 7 | LIMIT | Alan Brierty | 5 | 4 | [7.0] | 6 | 15 |
| 8 | LAHANA | Peter Milliard | [10.0R] | 10.0Q | 8 | 8 | 26 |
| 9 | TERRA FIRMA | Nicholas Bartels | [10.0F] | 10.0S | 10.0C | 10.0C | 30 |
Rolex Trophy Passage Series results:
| | | | |
| --- | --- | --- | --- |
| Pos | Boat | Skipper | R1 |
| 1 | SCARLET RUNNER | Robert Date | 1 |
| 2 | JAZZ | Chris Bull | 2 |
| 3 | RAGAMUFFIN | Syd Fischer | 3 |
| 4 | TERRA FIRMA | Nicholas Bartels | 4 |
| 5 | WILD OATS XI | Bob Oatley | 5 |
| 6 | WOT EVA | Sailors with disAbil | 6 |
| 7 | PRETTY FLY III | Colin Woods | 7 |
| 8 | PIRELLI CELESTIAL | Sam Haynes | 8 |
| 9 | VICTOIRE | Darryl Hodgkinson | 9 |
| 10 | CHUTZPAH | Bruce Taylor | 10 |
| 11 | BRINDABELLA | Justin Cooney | 11 |
| 12 | VAMP | Garry Linacre David | 12 |
| 13 | GINGER | Leslie Green | 13 |
| 14 | BALANCE | Paul Clitheroe | 14 |
| 15 | ROCKALL III | Christopher Opielok | 15 |
| 16 | MATRIX | Andrew Parkes | 16 |
| 17 | PAPILLON | Phil Molony | 17 |
| 18 | L'ALTRA DONNA | Anthony Paterson | 18 |
| 19 | PATRICE SIX | Tony Kirby | 19 |
| 20 | NIPS N TUX | Howard De Torres | 20 |
| 21 | NIKON SPIRIT OF THE | Bruce Absolon | 21 |
| 22 | ICHI BAN | Matt Allen | 27.0C |
| 22 | INVESTEC LOYAL | Sean Langman | 27.0C |
| 22 | YUUZOO | Ludde Ingvall | 27.0C |
| 22 | FLYING CLOUD | Howard Piggott | 27.0C |
| 22 | QUEST | Bob Steel | 27.0C |
Back to top
Back to top