Round the world joyride
Brian Thompson is set to get the ride of his life sometime this winter when he sets off on his fourth non-stop round the world lap of the planet as the sole Brit on board Pascal Bidegorry's Banque Populaire Maxi, the world's largest and fastest offshore racing trimaran.When it comes to offshore multihull racing, Thompson has the longest and more impressive CV of anyone in the UK. This began when the lanky giant competed in the 1992 OSTAR aboard the 35ft trimaran Transient. It was followed by 11 years as the late Steve Fossett's wingman, that took him through the ORMA 60 Lakota, to some alarming moments racing Dennis Conner's Stars & Stripes softsail America's Cup catamaran offshore around the USA and ultimately on to the mighty 125ft catamaran Cheyenne/PlayStation.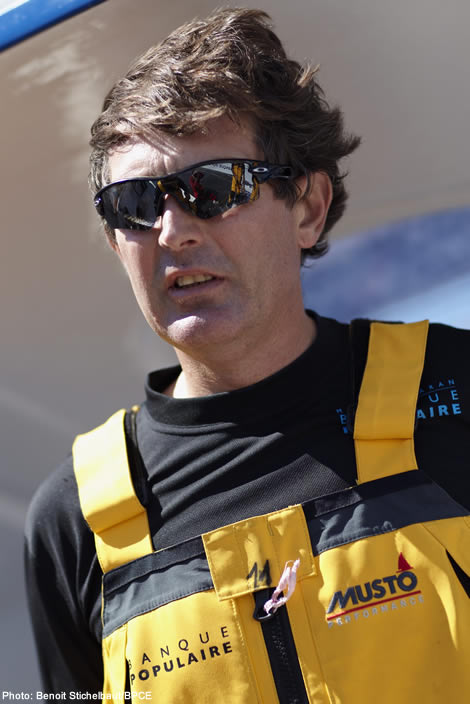 With Fossett, Thompson notched up numerous sailing records, including the fastest non-stop lap of the planet in 2004. After competing with Karine Fauconnier on board the ORMA 60 Sergio Tacchini, he skippered Tracy Edwards' maxi-cat (ex-Club Med), Maiden 2, subsequently renamed Doha 2006 and in this won the Oryx Quest in 2005. And all this is in addition to his singlehanded racing in monohulls including the Mini Transat and most recently the last Vendee Globe as skipper of Bahrain Team Pindar.
His latest ride came about following a chance meeting with Banque Populaire crewman Kevin Escoffier, who Thompson had raced against in the 2007 Transat Jacques Vabre. Escoffier said they were looking for crew with a range of experience for the maxi-tri – it seems he isn't on board to up the 'international' flavour of the crew as Banque Populaire only operates and has interests in France.
Thompson hasn't sailed on board during any of Banque Populaire's record attempts, but he has notched up considerable miles on the world's fastest offshore boat on deliveries and during training. In fact Banque Populaire's record attempts this year have been limited solely to the TransMed record between Marseille and Carthage which she handsomely demolished back in May, covering the 477 miles at an average speed of 33.24 knots...
While Thompson has sailed on numerous trimarans and maxi-multihulls, Banque Populaire is his first ride on one of the new generation of maxi-tris. She and Groupama 3 are very different animals to the older generation cats.
"It is definitely the best one I've been on," says Thompson. "Firstly it is the first one I've been on with such long bows. That makes it so much safer downwind. I don't think anyone on the boat yet – and quite a few of them have sailed quite a lot more than I have on the boat - have had a worry about pitchpoling.
"Three hulls makes it much easier in way. You are not crossing the trampoline, so a lot safer there. The cockpit can be much more ergonomic, because you are not limited to it being long and narrow." Instead of the catamaran layout with typically a cockpit in each hull, as was the case on Maiden 2 and PlayStation, Banque Populaire has a large elliptical cockpit between the aft beam and the semi-circular beam for the main sheet track, the same as the later ORMA 60s, only scaled up quite considerably. "The beams are so tall, there is actually a lot of protection. And they have windscreens. It is really quite protected, which I think is quite important when you are doing those sort of speeds."
For this boat is shockingly fast. The highlight for Banque Populaire to date occurred last year she set a new west to east transatlantic record in a time of 3 days 15 hours and 25 minutes, or an average speed of 33 knots for the duration of this 2,440 mile passage. During this she established a new 24 hour record, covering 908.2nm at an average speed of 37.84 knots – twice as fast as when Laurent Bourgnon had set this same record 15 years earlier on his Primagaz ORMA 60.
So what is Thompson's high score so far? "For me personally - 44. My old record was 40 on Maiden 2 - that was in the North Channel of the Solent in flat water!
"Both of them [Maiden 2 and PlayStation] could get quite high speeds. I guess the difference with Banque Populaire is that she is also very quick in light airs. We were sailing around off Lorient in 10 knots of wind with Groupama 2, the ORMA 60 tri and we were quite easily outpacing, which I didn't think we'd be doing. I thought at best we'd be matching her as she's an inshore specialist, with a very high power to weight ratio."
Banque Populaire will readily sail into the early to mid-20s upwind, so, summaries Thompson "it has got light airs speed, it is fast upwind and you can push it quite hard downwind because you aren't so worried about pitchpoling [because of the three long bows]. All those things add up to a good increase in speed over the boats I'm used to."
This is vital as the Jules Verne Trophy time they are setting out to break for the outright non-stop lap of the planet stands at 48 days 7 hours 44 minutes and 52 seconds, set earlier this year by Franck Cammas and the crew of Groupama 3. This is 10 days and some 18% faster than the 58 days, 9 hours, 32 mins and 45 secs Thompson last managed with Steve Fossett on Cheyenne.
"We had quite a lot of equipment problems, so even when we did it we thought we could have done it two days faster," says Thompson of the Cheyenne record. "But design and construction has moved on in 10 years."
But nonetheless... "The average you have to got to do around the world is 24 knots and that's just to tie the record. If you are not doing 24 you are falling behind – that is the amazing thing. If you are not doing a 570 mile day, you are not doing well."
At 40m (131ft) long with a 47m (154ft) tall mast, from which hangs the 450sqm main, a 270sqm jib and a 610sqm genniker, the sails are giant, but in fact only marginally larger than what they carried on PlayStation/Cheyenne, which had a 45m tall mast.
"It is all big gear - all the sails are in bulletproof Cuben fibre. We have seven sails in all which doesn't sound very many, but they are up 300kg some of them," says Thompson.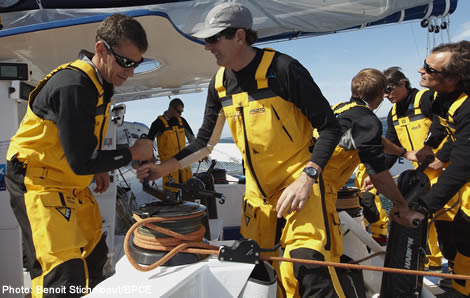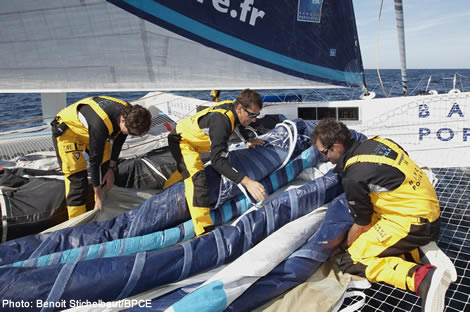 The way they sail it, he says, reminds him of the Sergio Tacchini ORMA 60. "You lower the foil by 20cm and then you move the daggerboard so much an amount and you are regularly adjusting the cant angle of the rig - we are really playing it like a big dinghy."
Helming Banque Populaire he says is pretty similar to the big cats. "You are steering two rudders at a time with one in the air and with a lot of linkages. So it is not like steering a monohull at all - it is heavier, you don't get the feedback, but it is fairly positive. When you are doing those speeds you don't have to turn the helm much.
"The boat can fly the hull quite easily. You are right on the edge of hull flying most of the time. It is relatively narrow with a very tall rig. It is very happy to get up on one hull and with the foil, it means the leeward hull isn't very buried," he says referring to the huge curved lifting foil that resides in each float.
Typically they change down to the 'trinquette' jib in around 17 knots upwind and 'throw' in the first reef at 20. "That's a little bit more than an ORMA 60 when you go to the smaller headsail at 12-13 and reefing at 17. You might say it is less power to weight ratio – but it doesn't feel like it!"
Impressive about Banque Populaire is not only her scale and her incredible performance. Pascal Bidegorry's team have approached every aspect of their cutting edge race boat, which genuinely rests at the very edge of what present technology allows, with the meticulous attention to detail of a Cup campaign.
"The team has in-house designers," says Thompson. "They work full time for the team on the project looking at every little detail, which makes a difference. And the reliability (I am here touching wood) has been incredible. That is down to all the thought that has gone into it before and I guess the improvement in technology as boats have got bigger and more powerful over the last few years. It is at the limit of everyone's hardware with a lot of custom gear as well."
Crew

On board Thompson's role is as a helmsman/trimmer. Pascal Bidegorry runs a three watch system with Yvan Ravussin (brother of former ORMA 60 skipper Steve), Solitaire du Figaro winner and IMOCA 60 skipper Jeremie Beyou and another ex-ORMA skipper, Fred le Peutrec as watch leaders. For le Peutrec, who once upon a time sailed with Grant Dalton on Club Med during The Race, this will be his second non-stop lap of the planet in the last 12 months, for he was on board Groupama 3 for their record. Thompson is on Ravussin's watch along with Thierry Chabagny who usually skippers the Figaro Suzuki Automobile.
Thompson isn't fluent in French but understands enough and can speak enough to deal with the sailing side. "The only thing I am missing out on at the moment is chatting when you are off watch as a group. I am fine one to one with people because you know what the conversation is about, but when it is a group of people and the conversation is flitting around with lots of Breton slang, then I miss out on it. It is still a lot more sociable than the Vendee... I think during the trip my French is going to get better."
The other new boy on board is former Alinghi/illbruck navigator Juan Vila, who is standing in for the boat's regular navigator Marcel van Triest, who will be routing them from his residence in Majorca. This will be no less of a task for van Triest. As Thompson describes it: "You are so involved when you are on the shore. You are only missing out on the getting cold and wet bit."
The long wait

At present the crew are once again playing the waiting game for the optimum weather window to materialise, something that is becoming increasingly necessary as the top sailing records – this and the transatlantic – become ever harder to break. Pascal Bidegorry and his crew were on stand-by throughout last winter waiting for a weather window that never arrived, but which allowed Franck Cammas and Groupama 3 team a last gasp of glory with their smaller 105ft long trimaran.
With the record being so hard to break it is important to make sure the weather scenario you leave on is the right one. An addition problem is that given that most forecast models run 10 days into the future, that is enough to get them not only across the Equator, but down the South Atlantic and into the Southern Ocean. "With weather forecasts as they are, although it is not totally accurate, you must be looking at the weather as far as Cape Town. On Cheyenne we just looked as far as the Canaries! If we could get the Canaries in four days we'd go. Now we are looking at Rio and looking at the St Helena high while we are sitting there in Brest."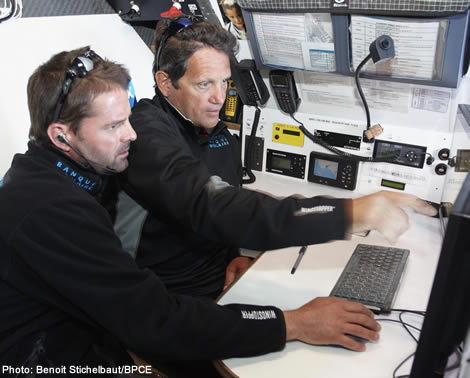 More ominous is the success rate. Groupama 3 only achieved their round the world record on their third attempt. On their first their boat was nearly destroyed when one hull broke, albeit conveniently close to New Zealand so that they could initiate a salvage. Thompson is more than aware of this risk. "It is tremendously tough. When you look at it historically, there is only a 33% success ratio. Steve Fossett used to look at that as well."
As to a possible time, Thompson says he would be happy if they squeaked home an hour inside of Groupama 3's record. "I think the quickest you could ever do it is 45 days, but I don't think you'd ever get everything lined up to get that far. That would the quickest."
Not surprisingly Thompson is thrilled at the prospect of being on board: "You can't get much more exciting sailing than this. I am really happy about it. I think after sailing with Steve Fossett I got the record bug and appreciated the value of records over races as well. Obviously when the Route du Rhum started for 24 hours I was thinking it would be great to be off on that race, but you can't do everything and if we get this record around the world, it will stand for a long, long time."
We agree. Banque Populaire is the fastest offshore boat in the world at present and there is nothing in the pipeline at present, sadly, that is likely to be any faster, unless someone wants to have a go in an AC72...
The Base

Aside from his imminent lap of the planet, Thompson is currently working on another project alongside another former Mini Transat skipper, Paul Peggs and solo sailor Pip Hare, to establish The Base in Gosport.
"It is a facility to help shorthanded sailors who have got their own boats. I have been thinking for some time that they should all try and be in the same place, just to gain the benefits of the collaboration of being together, shared knowledge, shared people and perhaps do some coaching from there and just to get the level up a little bit." Given the pitifully small British turn-out, both in the Class 40s and IMOCA 60s for this year's Route du Rhum, we agree with him.
"A lot of people are all dotted around the south coast. Dean and Reddyhoff have been nice enough to give some space over in Haslar with a special discount for people who want to be part of it."
The reason for the cool-sounding name, 'The Base', is that is what the submarine silos in Lorient, where the likes of Banque Populaire, Groupama and Virbac have their...bases.
Earlier this year, Thompson and Peggs were the recipients of one of the RYA's rare RYA Keelboat racing coaching courses and Thompson says the idea for The Base germinated there. "It is slow in fruition, because Paul has been involved with Marco [Nannini's Class 40 campaign] and I have been off doing Banque Populaire, but hopefully it is something that will get going more next year. Haslar is a great place to be based, the marina is five minutes from open water sailing and it is very sheltered, with a great big dock."
Alex Thomson's AT Racing is based there, while Dee Caffari keeps her IMOCA 60 nearby in Clarence Marina.
"The Base it is quite complimentary to what Artemis is doing with the Academy. This is specifically for people with boats already, most of them will be a little bit older and probably doing the RORC races and JOG races and perhaps Minis and Class 40s," says Thompson.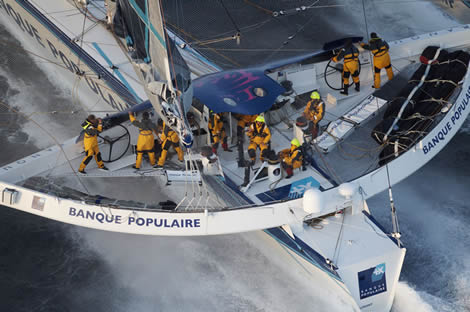 Back to top
Back to top