Mid-Atlantic capsize
Lalou Roucayrol's Multi50 trimaran Région Aquitaine - Port-Médoc has capsized while on a delivery back from the finish of the Route du Rhum. At the time the boat was probably in the worst position, around 1,000 miles from Bermuda, the Azores and the Caribbean.
Roucayrol, one time skipper of the Banque Populaire trimaran, and his three crew are safe and were sheltered in the interior of central hull as they awaited rescue. Unfortunately due to the powerful sea state the main hatch and escape hatch have both broken and the crew have had to clamber out and wait on the trimaran's upturned centre hull.
The international rescue services diverted a cargo ship to recover the crew. This afternoon the La Scala arrived at the scene and recovered the crew. This British flagged vessel is bound for Gibraltar where she is due in the middle of next week.
Being so far from land recovering the upturned trimaran will be hard however the organisers of the Route du Rhum-Banque Postale have alerted other competitors returning from Guadeloupe to keep an eye out for the boat and if spotted to report its position.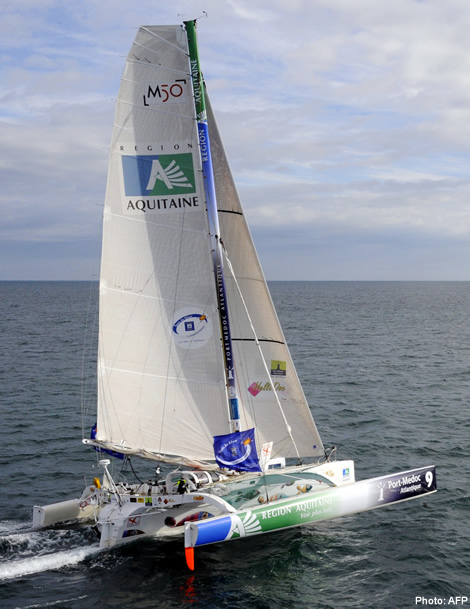 Back to top
Back to top